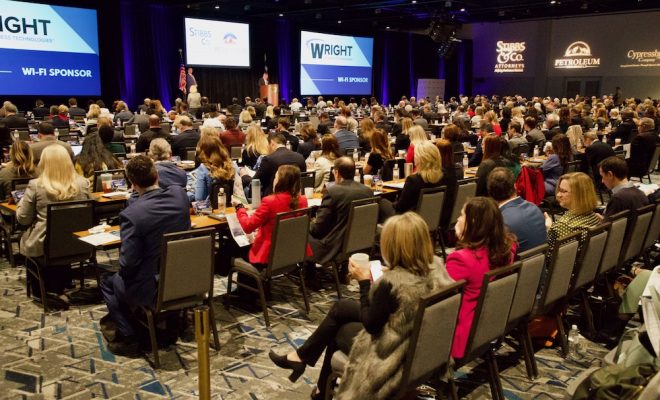 Photography by Rod Prado, Hello Woodlands
Business
Economic Outlook Conference 2020: Healthcare leads as Major Employer in The Woodlands Area
By |
The Woodlands Area Chamber of Commerce, the largest business association in Greater Houston, hosted the 34th Annual Economic Outlook Conference on Friday, February 21, 2020, at The Woodlands Waterway Marriott Hotel and Convention Center.
This year's conference, themed "Innovative Solutions in a Diverse Community," featured a community, national and economy update, a CEO panel focused on technology and innovation, and keynotes highlighting the projected growth of the economy in Montgomery County and beyond.
View photos from the event on the Hello Woodlands Facebook Page!
U.S. Congressman Kevin Brady of the 8th District of Texas delivered a National Update sharing local and global economic priorities that we will face in 2020. Congressman Brady shared data on the increase of new jobs (500K new manufacturing jobs), updates to the tax code to encourage companies to stay and conduct business in the United States, and lowering regulation costs by $80 billion. He stated that after the United States lowered the tax rate, six countries have also lowered their tax rates – three of which have lowered their tax rate lowered than the United States. Congressman Brady finished his speech by encouraging our community to turn off the TV and put down the phone – the arguments and hostility towards one another is not who we are, stating, "Don't ever forget who are in America."
Gil Staley, CEO of The Woodlands Area Economic Development Partnership, provided a regional update detailing the job growth and economic vitality of The Woodlands area. Staley shared the following data:
2019 there was a 8.8% vacancy rate for Class A Commercial Inventory in comparison to 19.7% vacancy rate for Houston overall.
In 2010 there were 48 non-retail companies recognized as Major Employers, companies with 100 or more employees in The Woodlands area, and in 2020 there are now 80 non-retail Major Employers.
Jobs have steadily increased in The Woodlands area with Heathcare and Energy leading as top employment sectors.
Heathcare now is the #1 Employment Sector in The Woodlands sector at 26% with Energy at 22.4% in 2020 in comparison to 2019 where Energy was at 27% and Heathcare at 24%. in 2020, Education ranks as 3rd with 17.8% and Professional Services as 4th with 13.7%.
Healthcare now represents 40% of the Top 10 Employers with 10,027 Jobs and is the largest industry by 3.6%.
Education now represents 20% of the Top 10 Employers with 6,879 jobs and is the 3rd largest industry.
The Top 5 Major Employers (Non-Retail) in The Woodlands Area are Conroe ISD (4514), Memorial Hermann The Woodlands Medical Center (2650), ExxonMobil (2317), Occidental (2020), and CHI St. Luke's Health – The Woodlands Hospital (1650).
Jesse Thompson, a senior business economist of the Houston Branch of The Federal Reserve Bank of Dallas, also shared an economic update with modest growth ahead in 2020 and data on the following topics:
2019 (Dec/Dec) job growth around 1.6% (55,000 jobs)
Low unemployment limits growth
Limited upside potential from energy next two years
Limited growth stimulus from U.S. and international economies
2020 Outlook Firming: Houston around 1.7% (likely range 1.2-1.9%)
The Innovation Panel included four CEOs who discuss how the latest trends in innovation are helping to solve economic issues. Panelists included Clint Brinkley, Your Business Solutions CEO; Ashok Gowda, Biotex, Inc. President and CEO; Tony Nash, Complete Intelligence Founder and CEO; and Gabriella "Gaby" Rowe, The Ion Executive Director will discuss how the latest trends in innovation are helping businesses to solve economic issues.
Renu Khator, the University of Houston System Chancellor and the University of Houston President, gave an inspiring keynote presentation during the luncheon. Chancellor Khator shared her journey from India to the United States and her passion for education, working together with the community, and giving opportunities to students who are willing to learn – no matter what their circumstances.
Learn more about the 2020 Economic Outlook Conference at woodlandschamber.org/EOC.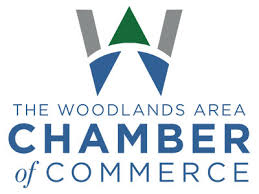 As the largest business association in the Houston region with more than 1,500 members, The Woodlands Area Chamber of Commerce is committed to advocating for businesses, creating marketing and networking opportunities, serving as a professional and community resource and supporting charitable causes. For more information on The Chamber's programs and services or to become a member, please visit woodlandschamber.org or call 281-367-5777.