Photo provided by The Woodlands Area Economic Development Partnership
Business
Major Employers in The Woodlands Area report Job Increase for 2020
By |
The Woodlands, TX – The Woodlands Area Economic Development Partnership (EDP) recently concluded its annual employee count survey of local non-retail employers. Since 2001, the EDP has tracked the major employers to determine job growth trends in the area. Companies with 100 or more employees are surveyed annually and reported in the EDP's major employer report.
In addition to providing information on which companies are growing, the EDP also looks at growth trends in various business sectors including Banking, Chemical, Distribution/Transportation, Education, Energy, Healthcare, Hospitality/Entertainment, Life Science, Professional Services and Public Agencies.
Currently there are 80 companies in The Woodlands Area who employ more than 100 people, compared to the 2019 report of 73 companies. The January 2019 report represented 38,019 total jobs. Due to multiple mergers and acquisitions throughout that year, it was evident that the workforce survey would begin with a loss of approximately 2,300 jobs; however, the 2020 report revealed an amazing increase in jobs by over 500 with an employee count of 38,559.
For the first time in our survey history, Healthcare is the leading industry representing 26% of the workforce with 10,027 jobs. 40% of the top ten employers are in the healthcare industry and it is the largest industry by 3.6%. The second leading industry is Energy, which fell from 27% to 22.4% representing 8,621 jobs. Education represents the third largest sector with 6,879 jobs and makes up 20% of the top ten employer list.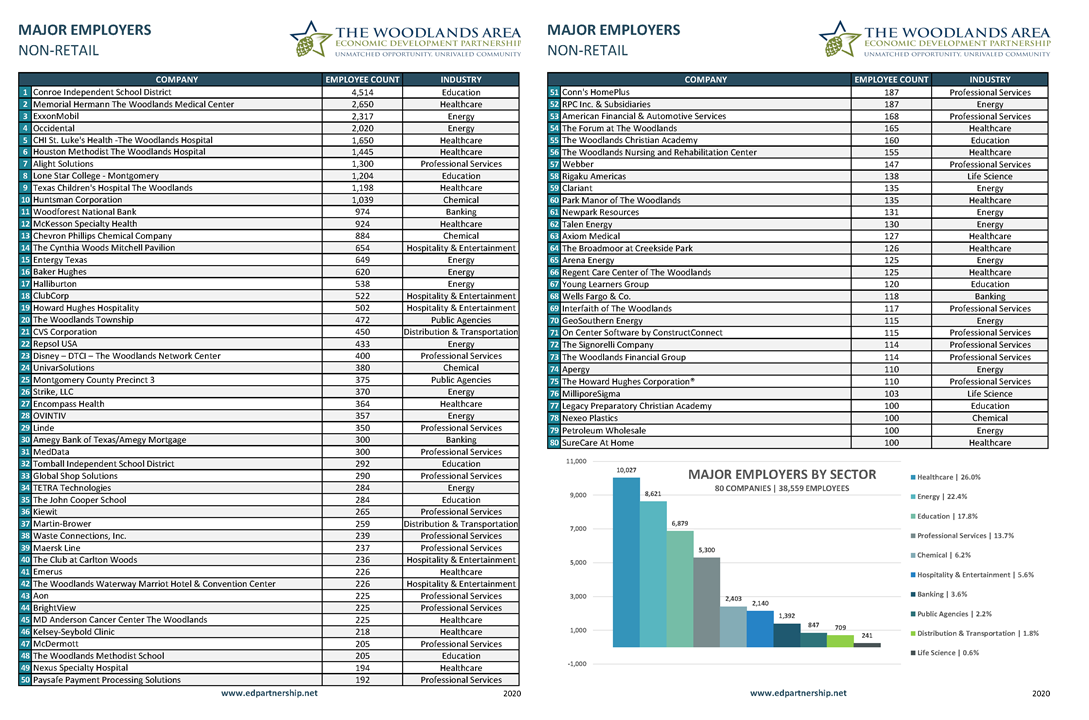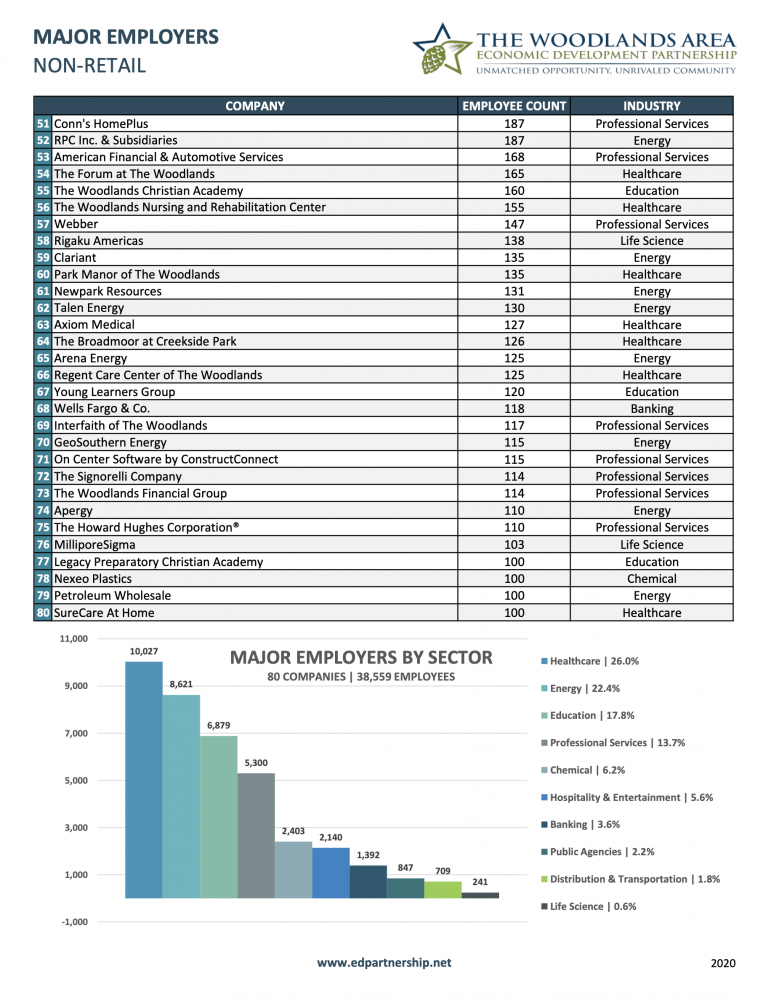 Gil Staley, Chief Executive Officer stated "Our top ten employers are a diverse group from the Healthcare, Energy, Education and Professionals Services sectors. We have been anticipating the day that Healthcare would take the lead and we are confident it will continue to rise with the multiple hospital expansions underway. Houston Methodist The Woodlands Hospital and Memorial Hermann The Woodlands Medical Center expansion projects total to over $490 Million combined, which represents capital investments equivalent to approximately two of The Waterway Towers, formerly owned by Anadarko. Due to the growth of Healthcare, our economy is healthier than ever. Here's to a new decade."
The Woodlands Area Economic Development Partnership (EDP) is a non-profit organization dedicated to promoting the economic development of The Woodlands Area through the support of existing businesses and the recruitment of new businesses that can bring job opportunities and capital investment to the area.
The EDP is a public/private partnership with 96 funding partners active in the organization. For further information on the EDP, log on to: www.edpartnership.net or call 281 363-8130.