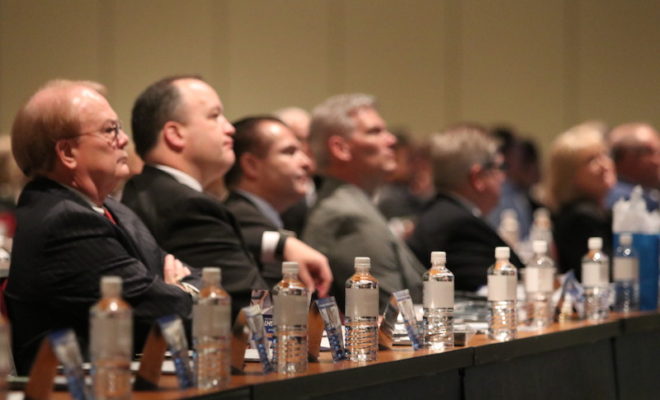 Business
Economic Outlook Conference highlights impact of Harvey, future developments
By |
The 32nd Annual Economic Outlook Conference brought together community leaders, corporations, local businesses, and nationally-recognized speakers at The Woodlands Waterway Marriott on Friday, February 16.  The Woodlands Area Chamber of Commerce hosts the Economic Outlook Conference every year to provide valuable insight into the projected growth of the economy in Montgomery County and Texas. This year the theme was a "Resilient Community, Innovative Future" to highlight the economic impact of Hurricane Harvey on Montgomery County, Houston and the surrounding areas.
The conference included a full morning of events from 8 a.m. to 1 p.m. including a community update, regional update, CEO panel, luncheon, networking, and the opportunity to visit vendors and conference sponsors in the lobby area.
During the community update, attendees gained insights about the impact of Harvey and future developments in The Woodlands and Montgomery County:
The Woodlands Township update provided by Gordy Bunch, The Woodlands Township Chairman of The Woodlands Township Board of Directors:

Waste Services: Manages 37,000 tons of garbage and 16,000 tons of recycling; Provided immediate response after Hurricane Harvey; Picked up 882 tons of storm-related debris
The Woodlands Fire Department: Ranks top 60 in North America of 47,000; Handled 2,493 emergency 911 calls and calls for service during Hurricane Harvey; Rescued and evacuated 844 citizens
Public Safety: Supplement Law Enforcement for a total of 122 personnel assigned to The Woodlands, Reached thousands of subscribers several times a day during Hurricane Harvey through social media and online newsletters
Hurricane Harvey's Impact: 33 inches officially recorded rainfall; 4,000 homes damaged or destroyed; 10,000 volunteers assisting neighbors and friends; Emergency Operations Center launched running 24/7 for a full week during and after Hurricane Harvey; 1,110 individuals sheltered during peak of storm; 10,000+ volunteers turned out to help
Montgomery County Reservoirs Project has an estimated cost of $1.6 billion; USACE is the proposed funding source; other possible funding sources include CDBG-DR; for congressional district 8

Going forward: Project will secure property, engineer and construct a new reservoir system along Lake Creek, Little Lake Creek and Spring Creek watersheds
Benefit: This project will benefit the entire county area by allowing for flood control by means of reservoirs which will protect against large flooding events such as the recent Hurricane Harvey.
Return on Investment: This $1.6 billion project will allow the county to buy property, design and build new reservoirs along creek watersheds which will allow for flood control during large-scale flood events in the future.

Incorporation Discussion and Planning: New legislation was signed last year, Senate Bill 1014 and 1015; Provides a clearer process for The Woodlands to change from a special purpose district to a city, with voter approval of incorporation and a maximum initial tax rate; The Township has hired lead consultant (Matrix) and peer review (Novak Group); The Township Board is holding public planning sessions every month in 2018 to discuss potential future incorporation of The Woodlands as a City; Public input sessions will be part of the process: "One Woodlands" will pertain to the consolidation of fragmented governance, access to new funds, and voting membership with HGAC to impact regional projects like I-45 etc.
Changing Revenue Patterns: Build-out of residential areas will be completed within the next few years; Sales and use tax revenue growth (which offsets the need for property tax revenue) is changing (both positively and negatively): Additional shopping districts in region, online sales, oil & gas cycle, expanding medical and education facilities, diversified industries
Sales and Use Tax Revenue from 2013 to 2017: Cumulative Growth of 17%; 2013 $45 million, 2014 $49.3 million, 2015 $51.3 million, 2016 $50.1 million, 2017 $52.7 million
Revenue: 42% Sales Tax, 36% Property Tax, 8% Hotel, 7% Program Fees, 3% Grants, 4% Other
Focusing on Visit The Woodlands (Convention and Visitors Bureau) who drives demand for hotels and retailers in The Woodlands, Creates new revenue for local businesses, Increases Sales and hotel occupancy tax

Hotel Occupancy Tax Revenue: Cumulative Growth 34%, 2013 $6.4 million and 2017 $8.7 million
Tourism means business in The Woodlands:$25.8 million State & Local Tax Revenue, $289 million Total Visitor Spending, 3,800 Jobs in Travel & Tourism

Cultural Arts Study: The Woodlands Township is currently conducting a Cultural Arts Feasibility Study; Two projects under consideration include a Science Museum and Performing Arts Venue
Laura Lea Palmer, The Woodlands Area Economic Development Partnership Vice President of Business Retention & Expansion, shared an update on major employers, employment, healthcare and developments in our community:
Top major employers (non-retail) include Conroe Independent School District with 3759 employees, Anadarko Petroleum Corporation with 3309 employees, and Memorial Hermann The Woodlands Medical Center with 2454 employees.
Employment Sectors in 2018 (including 75 companies and 36,684 jobs): Energy 25%, Healthcare 24%, Professional Services 17%, Education 15%, Hospitality and Entertainment 6%, Chemical 5%, Public Agencies 2%, Distribution and Transportation 2%, and Life Science >1%
Healthcare: 8,625 healthcare jobs in 2018 compared to 4,270 in 2013
Tim Welbes & Alex Sutton III, The Woodlands Development Company/A Division of The Howard Hughes Corporation Co-Presidents, shared an update on future developments and projects in The Woodlands:
Upcoming expansion project for The Westin
Multifamily living in The Woodlands including the Millennium Waterway, Millennium Six Pines, One Lakes Edge, and Creekside Park The Residences up in capacity; a future development of One Lakes Edge Phase 2 in progress, includes 380 units and 12,000 SF in retail space.
Future Four Hughes Landing will include a (proposed) 13-story building with 350,000 SF Class A Office space and 10 Waterway Office Tower will include a 20-story building with 500,000 SF Class A Office space.
Future Hughes Landing Restaurants on Hughes Landing Boulevard and Grogan's Mill Road.
Lake Woodlands Crossing Retail Development (read more here)
Proposed Research Forest Crossing Retail, located north of Research Forest and east of Grogan's Mill Road.
Creekside Park The Residences will feature townhomes with attached garages and fireplaces, 4-story garden style apartments, fenced yards for select units, home automation in every unit, children's play area and dog park.
HHC Self-Storage Sites (CubeSmart) on FM 2978 and SH 242 are open and leasing spaces on schedule.
Open Space in The Woodlands includes 216 miles of Pathways, 148 Parks, 4200 acres Open Space, 1690 Golf Courses, 1900 acres Forest Preserve, and 7790 acres of total open space. The Woodlands holds 28,032 acres and 28% of total open space at build out.
The Woodlands Hills is being developed at FM 830 West of I-45 in Willis and Montgomery County, Texas. (read more here) Builders announced: Century Communities, Chesmar Homes, Gehan Homes, K. Hovnanian Homes, Ravenna Homes, and Westin Homes.
"Economic Outlook is very good. And even better thanks to new tax rates."
U.S. Congressman Kevin Brady, United States House of Representatives Serving the 8th District of Texas, challenged attendees to discuss Who Gets to Decide what happens to tax dollars and gave an update on tax reform.
The regional update included speakers Dr. Latha Ramchand, C.T. Bauer College of Business, University of Houston Dean and Professor of Finance, William F. McKeon, Texas Medical Center President & CEO and John B. Jung, Jr., Branch Banking & Trust Senior Managing Director of BB&T Capital Markets that proved the Houston region is still the energy capital and the Texas Medical Center is the largest in the world. The Woodlands is an important asset to both the energy and medical world for the future.
Gil P. Staley, The Woodlands Area Economic Development Partnership, moderated the CEO Panel with Peter R. Huntsman, Huntsman Corporation Chairman & CEO Patrick K. Mullen, Chicago Bridge & Iron President & CEO Cathleen Nash, Woodforest National Bank President & CEO Ron Mittelstaedt, Waste Connections, Inc. Chairman & CEO.
Jim "Mattress Mack" McIngvale, Gallery Furniture Owner and Philanthropist, was the keynote speaker, giving an inspiring speech about Hurricane Harvey and life after the storm.
Hello Woodlands interviewed Jose Palafox with Starfox Financial Services, Randy Lovelace with Paragon Independent Insurance Agencies, Inc, and Zach Richmond with The Richmond Group RE/MAX The Woodlands & Spring at the conference:
Learn more about the Economic Outlook Conference and The Woodlands Area Chamber of Commerce at EOCTheWoodlands.com
View more videos and photos on the Hello Woodlands Facebook page!