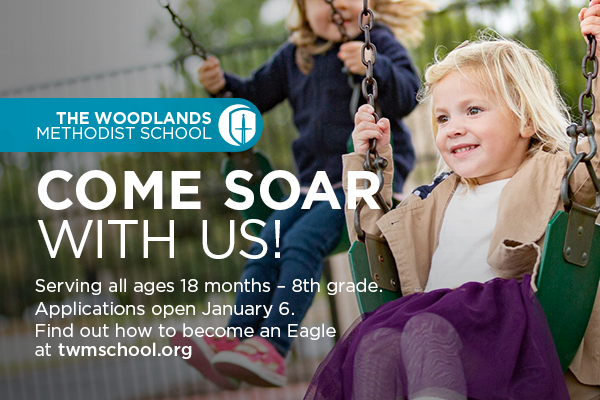 Apply for the 2021-2022 School Year
By |
Come SOAR with us! The Woodlands Methodist School will be accepting applications for the 2020-2021 school year beginning December 20, 2020. Find more information, visit twmschool.org and schedule a tour by calling 281-822-8220.
Applications for preschool, lower and middle school are currently being accepted for 2020-2021 school year on a first-come, first served basis.
Applications for the 2021-2022 school year will be accepted beginning January 6, 2021.
Assessments are required for applicants in lower and middle school grades and may be required for Preschool applicants.
Students are placed in classes based on their age as of September 1 of the current school year, consistent with Texas public school placement.
The Woodlands Methodist School provides an exceptional, Christian education for all ages from 18 months through 8th grade. Learn more at twmschool.org