Photo Credit: South County 4th of July Parade
Events
Experience the 47th Annual South County 4th of July Parade in The Woodlands
By |
The 47th Annual 4th of July Parade, "America! Our Classroom For Freedom," will begin at 9:00 a.m. with the singing of the national anthem from the balcony in Market Street and at Town Green Park. More than 20,000 spectators will line the streets in Town Center to celebrate.
An expected 150 entries will parade along the 1.3-mile route through Market Street, including marching bands and federal, state and local dignitaries, Color Guard, fire engines, horses, street performers (superheroes, balloonists, jugglers, stilt walkers, cowboys, and mimes) and the most military of any parade in the region. Prior to the parade, street performers and The Woodlands Concert Band will entertain parade goers in Market Street's Central Park.
Conroe Independent School District Superintendent Dr. Curtis Null is named Grand Marshal.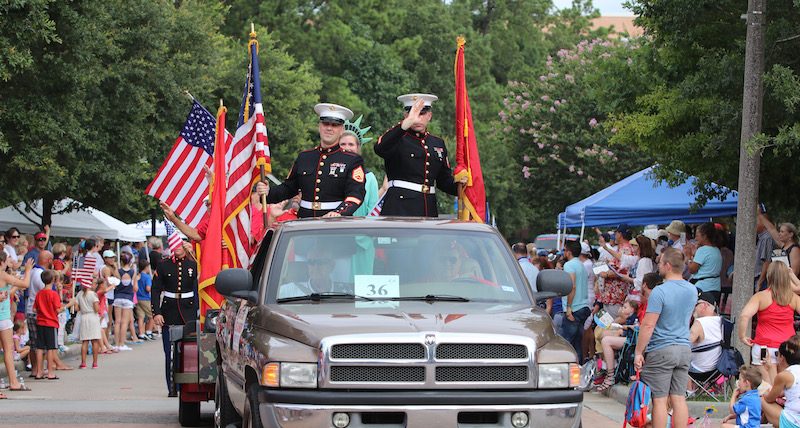 In accordance with this year's parade theme, "America! Our Classroom For Freedom", the coveted Parade Grand Marshal position has been awarded to Conroe ISD Superintendent Dr. Curtis Null for his dedicated leadership of the 9th largest school district in Texas with approximately 71,000 students.
"We're honored to have Dr. Curtis Null as our Grand Marshal this year. Under Dr. Null's leadership, Conroe ISD has continued to receive the highest rating from Texas Smart Schools for high academic achievement while maintaining cost-effective operations. Conroe ISD is one of only two districts in the State to receive this recognition for 12 consecutive years. He embodies the great qualities we seek in our distinguished Grand Marshal and we are honored to recognize him" said John Powers, President of the South County Fourth of July Parade Committee.
This year's Title Sponsor is Kelsey-Seybold Clinic – The Woodlands, a local multi-specialty clinic serving The Woodlands and surrounding areas and the first nationally accredited Accountable Care Organization by the National Committee for Quality Assurance in our region. Kelsey-Seybold has 20 clinic locations, including The Woodlands Clinic and The Woodlands OB/GYN and Women's Health, and more than 400 physicians representing 50 medical specialties caring for patients in the Greater Houston area.
For more information about the event and how to become a sponsor for this year's parade, go to 4thofjulyparade.org. The parade is funded through community donations and would not occur without the support of The Woodlands Township. The parade is produced with help from 200 volunteers, including special guest announcers Nick Wolda, President of Visit The Woodlands, and Ramon Torres., renowed musician and voice-over professional. Announcer booths are also located in front of Town Green Park, The Cynthia Woods Mitchell Pavilion and 24-Hour Fitness.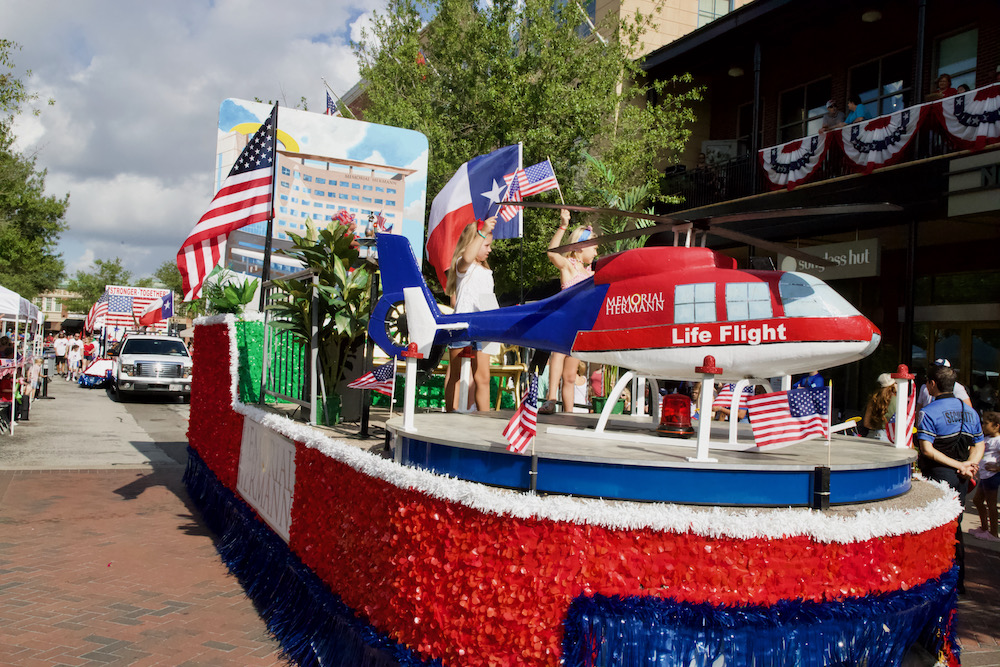 Community Judges score the entries to culminate in 10 Parade Entry Awards. This year's judges include Monique Sharp, President and CEO of The Woodlands Township, Dr. Christina Frome, Kelsey-Seybold Clinic, Lt. General Steven Hummer, USMC (Ret.), Erik Secrest, President The Woodlands Professional Fire Fighter's Assoc., Bruce Tough, Tough Law Firm, Nicole Preston, General Manager, Community Impact News and Amanda Trapp, Trapp Law PC and Secretary/Treasurer Conroe ISD Education Foundation.
The committee hosts an annual Marching Band Scholarship Program. This year five marching bands have been invited including:
The Woodlands High School (Conroe ISD)
College Park High School (Conroe ISD)
Oak Ridge High School (Conroe ISD)
Hempstead High School (Hempstead ISD)
Willis High School (Willis ISD)
Calling all Parade Entries! The deadline for parade entries Monday, June 19, 2023. Space is limited. Application forms are available at 4thofJulyparade.org or by request at scounty4thofjulyparade@outlook.com.
View photos and winners from the 2022 4th of July Parade
Parade Timeline:
Market Street Stage (Above North Commons on the Balcony) Sponsored by Trademark Properties:
8:00 am – The Woodlands Concert Band
8:00 am – Pre-Parade Entertainment with Strolling Performers 8:30 am – Parade Entry Award Judges Arrive
8:45 am – Announcements with Nick Wolda (President, Visit The Woodlands) & Ramon Torres, (renowned entertainer and voice-over professional)
9:15 am – National Anthem
Town Green Park Stage Sponsored by the Woodlands Lion's Club:
8:00 am – Pre-Parade Entertainment with Strolling Performers 8:15 am – Music begins
8:55 am – National Anthem
9:00 am – Announcements with Miguel Lopez (President, Montgomery County Hispanic Chamber of Commerce and Owner of CONGANAS)
About The Woodlands Concert Band in Market Street
The Woodlands Concert Band, directed by Paul Worosello (Woo-row-sell-oh) has the honor of being invited to perform at the Texas Bandmasters Association, Texas Choral Directors Association, and Texas Orchestra Directors Association on July 25, 2019 in San Antonio, Texas. In its 16th season with more than 65 members, the band rehearses at Christ Church United Methodist on Research Forest, Thursday evenings from 7:00 to 9:00 p.m. All musicians are welcome to join – from those who are picking up their horns or sticks after a hiatus, to semi-professional and professional players seeking a relaxed atmosphere with fulfilling program choices.
About Kelsey-Seybold Clinic
Kelsey-Seybold Clinic is Houston's premier multispecialty group practice, founded in 1949 by Dr. Mavis Kelsey in Houston's famous Texas Medical Center. More than 400 physicians and allied health professionals practice at 20 locations and an accredited Sleep Center in the Greater Houston area. Medical services offered by Kelsey-Seybold include medical care in 55 medical specialties, including primary care and specialty care, outpatient surgery centers, an accredited Sleep Center, a Radiation Therapy Center, laboratory services, advanced radiology services and other diagnostic services, 15 onsite Kelsey pharmacies, and a secure web portal for patients to communicate with their Kelsey-Seybold doctors, get test results, and schedule appointments. Patients enrolled in a KelseyCare health benefits plan have access to Virtual Health managed by Kelsey-Seybold providers, including E-Visits and Video Visits.
Kelsey-Seybold has been recognized by the National Committee for Quality Assurance (NCQA) as the nation's first accredited Accountable Care Organization and a Level 3 (highest) Patient-Centered Medical Home. Kelsey-Seybold has many physicians in the Greater Houston area certified for excellence in diabetes and heart and stroke care by the NCQA. In 2018, KelseyCare Advantage, a Medicare Advantage plan affiliated with Kelsey-Seybold Clinic, was awarded a 5-out-of-5 star rating by Centers for Medicare and Medicaid Services for the third year in a row. In addition to these recognitions, Kelsey-Seybold is home to a nationally accredited Breast Diagnostic Center, Endoscopy Center, Infusion Center and Cancer Center.
About South County Fourth of July Committee:
The South County Fourth of July Committee is a 501(c)(3) corporation funded by community donations and sponsorships, comprised of dedicated volunteers responsible for the annual 4th of July Parade in The Woodlands area. The parade was originally organized by The Woodlands Lions Club in the late 1970's before the formation of The South County Fourth of July Committee in the early 1990's.
For updates:
Visit 4thofJulyparade.org and follow on Facebook, Twitter and Instagram.
Use the hashtag #TheWoodlands4th and tag us in your photos for RTs and shout-outs!
Source: South County Fourth of July Committee