Business
Fall Business Extravaganza to host Community Networking Event
By |
Conroe, TX – Brett Rohloff is known for initiating an event in the community that brings entrepreneurs into an arena to share their knowledge, experience, and community investment that increases their business. This next event on Thursday, October 25 from 5-8pm is no exception.
The fifth semi-annual North Houston Business Extravaganza presented by The Network and hosted by Madera Estates Wedding and Event venue will top even the last year event that highlighted "Mattress Mac" Jim MacIngvale.
"We outgrew the Costo building, added additional local powerhouse leadership speakers, and were able to partner with Madera Estates to offer a location that can accommodate over 350 people inside or outdoors for people to gather, meet other like-minded professionals, and exchange contact information", said event organizer, Brett Rohloff.
Ready about the previous North Houston Business Extravaganza and view photos from the event here.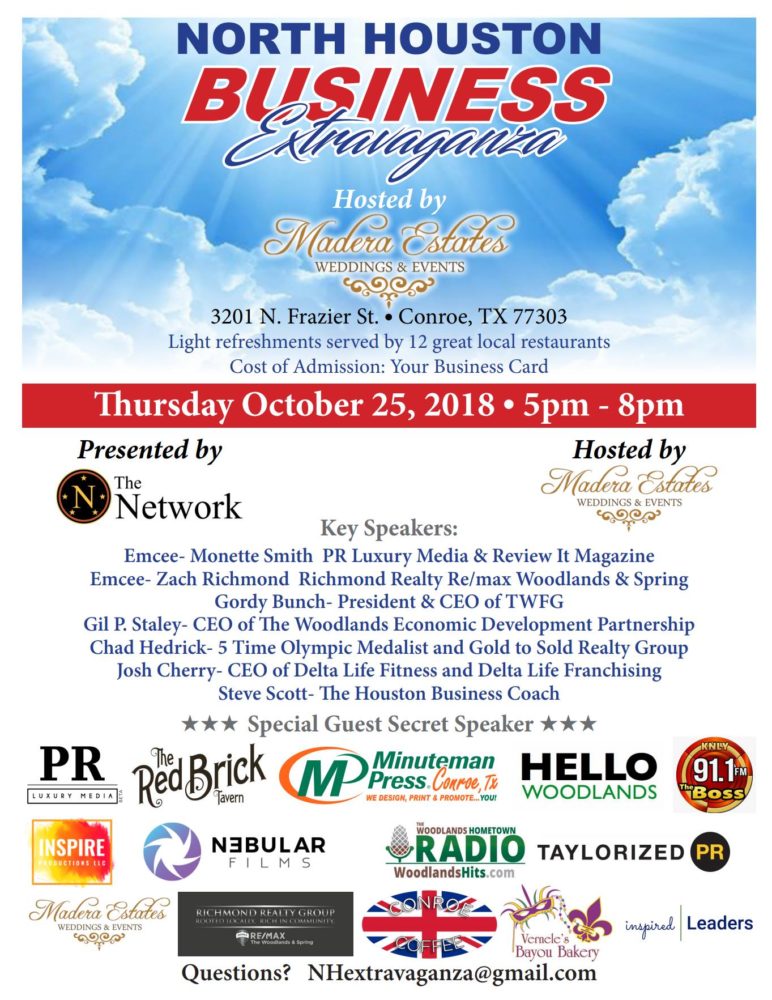 Key speakers for the 5th Business Extravaganza include Gordy Bunch, President and CEO of TWFG, Gil Staley, CEO of The Woodlands Economic Development Partnership, Chad Hedrick, 5 time Olympic Medalist for inline speed skating and ice speed skating, Josh Cherry, CEO of Delta Life Fitness and Delta Life Franchising, Steve Scott, the Houston Business Coach, and Henry Musoma, a Business Professor at Texas A&M University.
Musoma received his undergraduate and master's degrees from Texas A&M University and his doctorate at Texas Christian University after growing up in Zambia. His experiences and academic leadership have awarded Musoma many awards through the university. The recent "Mays Spirit Award" was presented for an act of kindness to a student who couldn't find a babysitter during class time and Musoma encouraged the mother to bring the baby to class. Dr. Musoma will speak on leadership through humility in the community.
Rohloff planned his first Business Extravaganza in the Fall of 2016 to offer an opportunity for groups to meet professionals in one place combining several network groups. Each event has proven more successful by adding strong leaders in the community as speakers that share personal insights into increasing business through lasting relationships as well as their own method of giving back to the community through volunteer efforts. The goal for 2019 is to have the 501©3 status complete so sponsors of the event can contribute to the community in a bigger way.
Community partners and sponsors for this event include the Glades Arts Foundation, Nebular Films, PR Luxury Media, The Red Brick Tavern, Minuteman Press Conroe, Hello Woodlands, the New 91.1 FM The Boss, Inspire Productions, Richmond Realty Group RE/MAX The Woodlands and Spring, Conroe Coffee, Inspired Leaders, Vernele's Bayou Bakery, Madera Estates Wedding and Event Venue, Woodlands Hits Radio, and Taylorized PR. Twelve restaurants from the community will have free food bites and drinks.