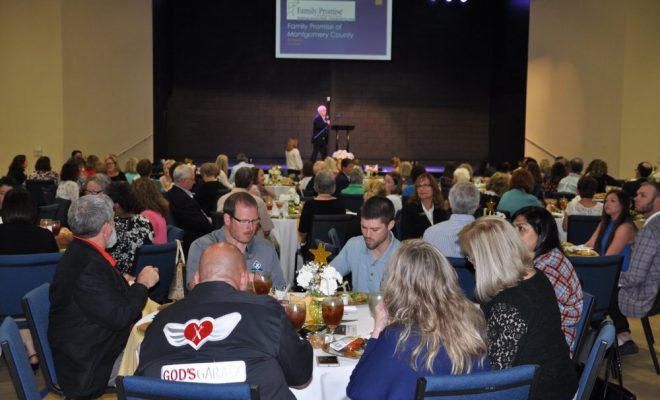 Events
Family Promise Luncheon Offers Promise of Hope to Homeless
By |
CONROE, TX – Family Promise of Montgomery County, a local nonprofit serving homeless families, will hold its 6th Annual Luncheon on Tuesday, March 31 from 11:00 a.m. – 1:00 p.m. at Glade Cultural Arts Center, 2000 Woodlands Parkway, The Woodlands.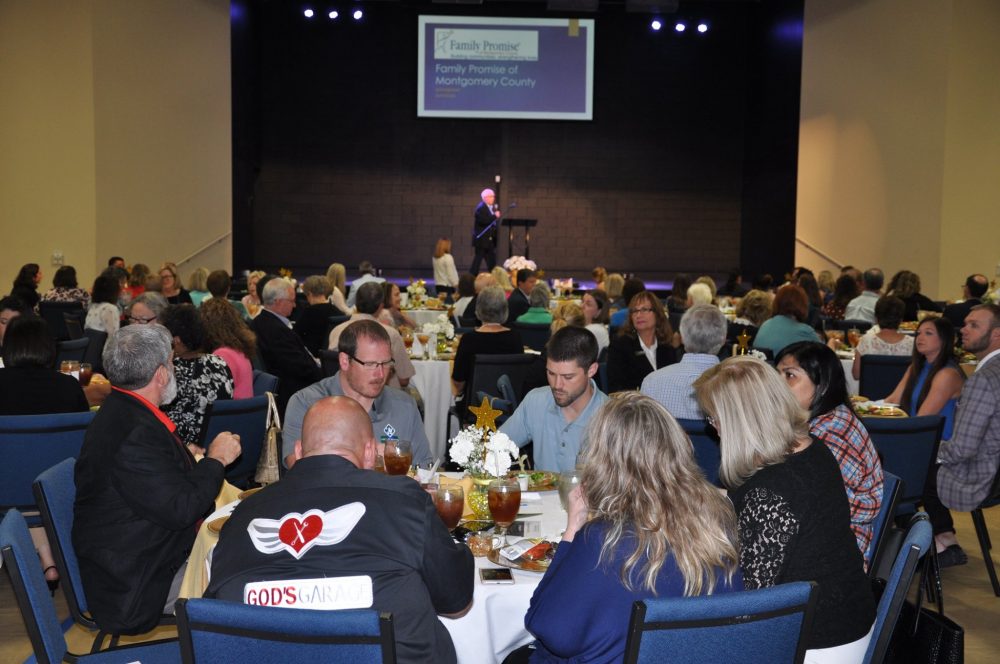 Family Promise serves four homeless families at a time in rotating faith communities in a collaborative mission to increase their job readiness and stability to enable families to be self-sustainable. Approved families with children are entered into Family Promises' 90-day personal plan to reach attainable goals with a case manager. Topics include positive parenting skills, stress management, family safety, and budgeting. Families are provided meals, hygiene items, clothing, childcare, transportation, and shelter through partnering churches in the community.
Family Promise families graduated from the 90-day program in 2019 with a 100% success rate securing employment in fields as a pharmacy technician, an administrative assistant, and a prison guard to name a few. Graduated families stay connected to the program through private group forums and staff engagement. It is important for families to know that the organization is still interested in supporting the families that graduate.
Church partners set up bedding accommodations on Sunday afternoon for a week long stay through the following Sunday morning. Volunteers with the church provide a morning breakfast for the guests and evening meals. Each family must leave each day to seek work, get children to school or daycare, or work on their goals at the Family Promise Day Center located near downtown Conroe. Church involvement is critical to the success of Family Promise. The Day Center is where the families conduct job searches, receive case management, cook mid-day meals, do laundry, and store most of their belongings.
Conroe Church of Christ is one of collaborating faith community with Family Promise. "Family Promise gives us the opportunity to be the hands and feet of Jesus through hospitality," said Lisa Van De Walle, a volunteer coordinator with the church. "The church is simply an extension of our own homes; a place we can offer rest and reassurance to families needing a little extra help getting back on track."
Currently there are 9 churches sharing the hosting responsibilities for a week at a time. Without church support, Family Promise must pay approximately $562/week for food and lodging in a hotel for each client family.
"The families that enter our program have come from trauma," said Marilyn Kasmiersky, Executive Director of Family Promise of Montgomery County. "The sudden loss of a job, accident, illness, or domestic violence and not being able to provide for your family is a hopeless and scary feeling. The families have used all of their resources and may be going from couch to couch for shelter. Some families end up in their car with their children. You can see sadness and fear on the faces of the children. They did not have a choice in this situation.
Marilyn continued, "Our program starts from a foundation of love and compassion with each individual family as their circumstances are all different. Family Promise assists with finding a job that will sustain their family, pays for childcare so families can go to work, provides gas cards to go to and from work, assists with finding safe, affordable housing, literacy educational advancement, GEDs, or whatever it takes to transition each family into stability. Children are back in school and thriving. We change lives as the saying goes by truly teaching a man to fish and build sustainable futures."
Luann Riley, Keynote Speaker for the luncheon, is an experienced corporate leadership trainer and assistant pastor at The United Methodist Church of The Woodlands. Riley received a B.S. in Business Management from the University of Alabama. From a store manager at Babies "R" Us to Distribution Manager at Target to Vice President and Branch Manager at Wells Fargo, she has been leading teams for 20 years.
Riley learned from some of the best leadership training programs in the country and six years ago, God called her to use that experience in her local church. She trained more than 75 churches and pastors on how to transform their ministries through intentional relationships to multiply disciples and leaders. She was the first female member of her church's preaching team and is passionate about value of women and minorities in leadership and in the pulpit.
American Idol finalist Phil Stacey is the special guest at the luncheon. He will hold a special benefit concert for local pastors and the community as a partnership with Family Promise of Montgomery County on March 31 at 6:30 p.m. Tickets for the luncheon are available for $35 online at www.FamilyPromiseofMC.org or on Facebook @FPMCT. There will be a silent auction at the luncheon and those wishing to donate an item may contact Jennifer Steen at jsteen@bleylengineering.com.
Since 2001, Family Promise of Montgomery County has served 350 families; including 600 children, to secure a stable housing, provide for their families, and contribute to the community. Additional programs include ROC (Reaching Our Children) Program that provides counseling and supportive services for children, and KAR-GO (Keeping Autos Reliable – Gas & Oil) Program to pay for repairs, tires, registration, and gas.
"Attending the luncheon, sponsoring or getting your church or organization to be involved with Family Promise is a few of the ways to make a difference," said Shawn Johnson, Board President of Family Promise of Montgomery County. "There are homeless families, children here in Montgomery County that need a program such as Family Promise to turn their lives around! Only with the support of the community will Family Promise continue to be that answer."
Annual Sponsors include Bleyl Engineering, Cowboy Kia, 5 Point Credit Union, MJR Services, America's Home Place, and Conroe Church of Christ.
All donations directly assist families with needs of obtaining their driver's license, meeting medical needs, paying rental deposits, providing families with gas cards, and covering childcare amongst many other essential services. Additional costs for the organization include maintaining the Day Center and supplying household supplies to support approximately 20 families a year.

Family Promise's mission is to help low-income families and families experiencing homelessness achieve sustainable independence through a community-based response. Find out more about Family Promise of Montgomery County by visiting www.familypromiseofmc.org or call (936) 441-8778, 7:00 a.m. – 5:00 p.m. Monday – Friday.