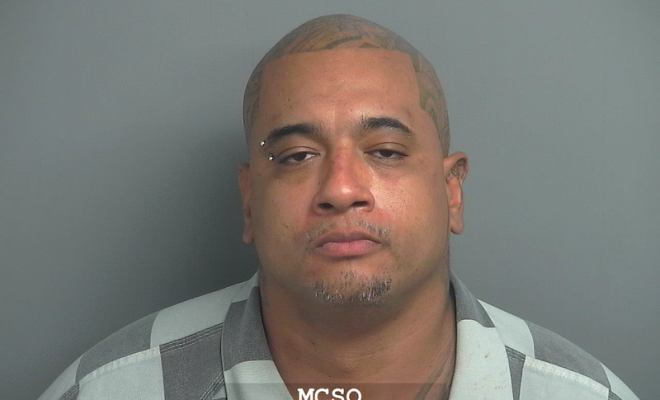 News
Family Violence Defendant receives 50 year sentence
By |
On Wednesday, July 10, 2019, a jury in the 9th District Court of Montgomery County, Texas, found Jeffrey Olivera, 36 years old, guilty of Aggravated Assault with a Deadly Weapon – Family Violence. District Court Judge Phil Grant sentenced him to 50 years in Texas Department of Criminal Justice – Institutional Division. The case was presented by Echo Hutson, Chief of the Domestic Violence Division.
On November 5, 2018, around 5:15pm, Montgomery County 911 received a frantic call of a stabbing at 106 South Shirley Lane in Willis, Texas. Officers from Willis Police Department, Sheriff's Office and Constable Precinct One immediately responded. Upon arrival, children at the house pointed officers to the back of the house. Officers found Jeffrey Olivera exiting the back door. Olivera immediately told officers he stabbed his girlfriend, Krista Alvarez, in self-defense after she threw a cell phone at his head. Officers found Alvarez sitting on a couch in the living room of the home. Alvarez had a stab wound on the back of her right shoulder. Alvarez stated Olivera stabbed her, but said it was an accident and she did not want police to take him to jail. Alvarez's son told police he watched Olivera stab his mother in the living room of the house while she was seated on the couch. Alvarez's injuries included a collapsed lung, a fractured rib, and other serious injuries.
At trial, Alvarez testified the defendant stabbed her in self-defense after a verbal argument became physical. Alvarez claimed she threw the phone at the defendant's head, and then hit him with her hands as he bent over to pick it up. This testimony matched the defendant's original statement to police. Alvarez's son claimed he lied to police and testified the stabbing occurred in another room where he did not see it happen. Both Alvarez and her son stated they met with the defense before trial and provided notarized statements mirroring their testimony. Hutson introduced evidence of recorded calls, in which Olivera manipulated the Alvarez and her son into changing their testimony. The jury deliberated approximately two hours before rejecting Olivera's claim of self-defense and found him guilty.
During the punishment trial, Hutson presented the defendant's lengthy criminal history, including four prior prison sentences, multiple violent offenses, and evidence of gang membership. Witnesses testified about a prior assault, the defendant broke his ex-girlfriend's nose while she was pregnant. Considered a habitual offender, with a range of punishment from 25 years to life in prison, Judge Grant assessed a 50-year prison sentence, noting that Olivera's violent act, and his history of violence could not be ignored.
Echo Hutson, Lead Prosecutor stated, "Unfortunately, we often see batterers continue to manipulate and control victims and families in domestic violence cases, even when the acts are extremely violent. Montgomery County is fortunate that the citizens who served on this jury were able to see past the victim's testimony and understand these complicated dynamics to determine the truth. These jurors sent a strong message to batterers in Montgomery County who abuse, and their verdict protected this family and our community from a dangerous and violent offender. Judge Grant agreed, and further safeguarded our community with a 50 year sentence, ensuring that this defendant will not return to our community for a long time to come."
Source: J. Tyler Dunman, Assistant District Attorney, Chief, Special Crimes Bureau, Montgomery County District Attorney's Office