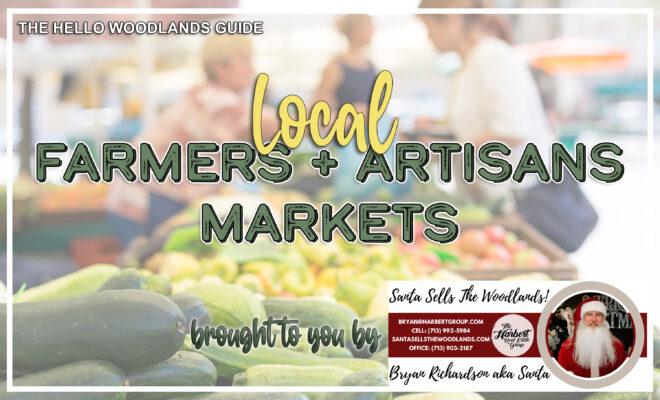 Events
Farmers & Artisans Markets in The Woodlands Area 2023
By |
Enjoy the outdoors and support small businesses by heading to one of these local farmers and artisans markets.
The Hello Woodlands Farmers and Artisans Market Guide is brought to you by Bryan Richardson (aka Santa) of Santa Sells The Woodlands. Bryan Richardson, as a REALTOR with the Harbert Real Estate Group, will help you find your Miracle on 34th Street.
Thursdays
Sip, Shop and Stroll in Conroe – Come to downtown Conroe for the Sip, Shop and Stroll! Retail shops are open late with light bites and drinks, bars and restaurants have live music and food and drink specials, and the market with local vendors and food trucks is open late. The event is held on the 4th Thursday of the month, on Main Street in downtown Conroe. Learn More
Saturdays
The Woodlands Farmers Market – Located in the Grogan's Mill Shopping Center, The Woodlands Farmers Market is home to vendors offering locally grown produce, grass fed beef, Texas handmade artisan cheeses, goat cheese, sustainably cultivated coffee, local honey, breads & pastries, no sugar-added baked goods, prepared tamales, Indian cuisine & Mediterranean food, gluten-free options, and seasonal products. The market is open every Saturday, rain or shine, from 9:00 a.m. to 1:00 pm (October – June), and summer hours are 9:00 am – noon (July – September). Learn More
Montgomery Farmers Market – The Montgomery Farmers Market brings together a select group of naturally-oriented farmers, ranchers, and food manufacturers from all over the North Houston region into a collective of vendors that are intent on one thing – providing the purest and most nutritious foods possible to the local community. The market is held every Saturday at the Lake Conroe/Houston North KOA Holiday Campground, 19785 Hwy 105 W, Montgomery, TX 77356, from 9:00 am to 1:00 pm. Learn More
Artisans Market at B.E. Winery – Stroll through vendor booths filled with homemade edibles and unique handmade items, while sipping on some of B.E. Winery's award-winning wines. There's no cost to attend, so come out and support your local vendors. Markets are held on property from noon to 6:00 pm on the last Saturday of the month. Learn More
The Farmers Market on Tamina – The Farmers Market on Tamina hosts 40-50 high quality local vendors each week including produce and micro-green farmers, grass fed/pasture raised meat and egg farmers, specialty food producers, bakers and cookie makers, soaps and body care products and select artisans of unique handmade goods. In addition to our amazing vendors our market family includes these fantastic on-site local restaurants: Victory Pie Co. Café, Brick & Brews, Wing Nuts Express, and Magnolia Eats & Treats. You can also find several vendors with food ready to eat on-site and guest food trucks on select Saturdays. Come by the Welcome Roost and grab a complimentary cocktail to enjoy while you shop local! The market is open every Saturday from 9:00 am to 1:00 pm rain or shine. Learn More
Lone Star 1st Saturday – Venture down to Lone Star 1st Saturday where everything is homemade, handmade, or homegrown. Nestled under the trees of the Old Community Center in Montgomery, this market is held on the first Saturday of every month from 9:00 am – 3:00 pm. Bring the family (or your well-behaved furry friends) to this crafters market to shop antiques, boutiques, and uniques! Learn More
Main Street Market – The Main Street Market is a farmers and artisan market, held every Saturday in downtown Conroe from 10:00 am to 2:00 pm rain or shine. Shop and support local vendors, farmers, makers, chefs and artists! Learn More
Wunderlich Farm Farmers Market – Wunderlich Farm is a real working farm that features a farmers market from 10:00 am -2:00 pm on the last Saturday of the month. All vendors make their products locally, including leather goods, pre-packaged foods, produce, locally grown flowers, woodworks, soaps/lotions, and more. The farm is located at 18218 Theiss Mail Rte Rd, Spring, TX 77379. Learn More
Tomball Farmers Market – Tomball Farmers Market is a registered nonprofit and works as a cooperative effort of local families dedicated to providing the highest quality food and handmade products to the community. Visitors will find fresh local produce, culinary herbs, garden fresh veggies, the freshest olive oil, raw honey, old fashioned jellies, salsas, relishes, homemade soaps, lotions, hand made crafts and much more. The market has a vast selection of pasture raised beef, pork, chicken and lamb that is never given antibiotics steroids or hormones. The Tomball Market is held every Saturday, 9:00 am – 1:00 pm at 205 W Main St. in Tomball. Learn More
The Corner Cravings Vendor Market – The Corner Cravings presents a vendor market at Bushels & Blooms, 6019 W Davis St, Conroe, TX 77304, from 10:00 am to 4:00 pm on select Saturdays with shopping, food, games, face painting, and fun! Learn More
Sundays
Conroe Sunday Market – Kroger 336 North hosts the Conroe Sunday Market – a little bit farmer, a little bit flea, a little bit craft and a little bit of all the things you love, want and need! Stop by anytime between 11:00 am and 4:00 pm. Learn More
Magnolia Farmers & Artisans Market – At Magnolia Farmers & Artisans Market, you can find a variety of farmers, artisans, beekeepers, canners, chefs, crafters, leatherworkers, woodworkers, quilters, seamstresses and costuming experts, jewelry makers, glass artists, candle makers, painters, candy makers, crocheters, bakers, and more. Participants are required to either grow or make the products they sell. Many also offer custom work. The mobile vet is at the market the 1st Sunday of every month and leashed pets are welcome anytime. The Magnolia Farmers & Artisans Market is held every 1st, 3rd and 5th Sunday from 11:00 am to 3:00 pm and is located in the field at the intersection of FMs 1488 & 1774, right next to Walgreens in Magnolia. Learn More
Second Sunday Champagne and Chocolate Art Show and Sale – Come sip champagne, nibble on chocolates and stroll through open artists' studios at The Bella Bottega to see behind the scenes and check out available works on the second Sunday of the month at 1:00 pm. Make sure to head down to Ardest Gallery to see their latest exhibit. The Bella Bottega is located at 903 Honea Egypt Rd., Magnolia, TX 77354. Learn More
Rayford Sunday Market – Head to the Imperial Oaks Shopping Center at 2301 Rayford Road for food, fun, and shopping. The market brings together a collection of artisan crafters, small businesses, and food trucks for shopping and entertainment. Markets are from 11:00 am – 4:00 pm. Learn More
Markets not currently operating:
Montgomery Sip-n-Stroll Farmers Market
Shenandoah Farmers Market
Sterling Ridge Village Artisans & Farmers Market
Gosling Sunday Market
About Santa Sells The Woodlands
Bryan Richardson (aka Santa) is a long-time resident of The Woodlands and knows every chimney, nook and cranny, and the best fireplaces to hang your stockings by. Bryan, as a REALTOR with the Harbert Real Estate Group, is ready, willing, and able to assist you in selling your house or finding the perfect home for you and your family. Reach out to him with any real estate questions and he will assist and guide you through the process of buying your dream home. Let Santa help you find your Miracle on 34th Street. Contact Santa at Bryan@HarbertGroup.com, by phone at (713) 992-5984, or visit www.SantaSellsTheWoodlands.com.