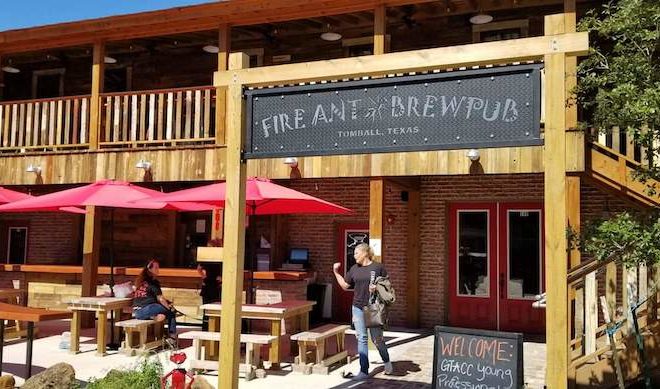 Food & Drink
Fire Ant Brewing Company, Old Town Tomball's First Brew Pub
By |
Bruce and Sylvia Kissinger, along with their good friends Carl and Kurt Hohnholt recently opened the highly anticipated Fire Ant Brewing Company in Old Town Tomball. Fire Ant's awesome space with its spacious patio, a balcony overlooking Market St. and both indoor and outdoor bars is, just blocks away from The Depot, Tomball's festival and events central. They are also a family and pet friendly establishment, making them a perfect fit for The Depot area.
Brewing an impressive 15 different styles of beer and three seasonal brews, customers can try everything from a Hefeweizen to a Dunkel and everything in between including a Pale Ale, IPA and Double IPA for those who like things on the hoppier side. The brewing tanks and equipment can be seen through a glass window from the inside seating area. 
In addition to some truly great beer, Bruce's choice of Chef Jay Stone as Fire Ant's Executive Chef definitely adds to their appeal thanks in no small part to Jay's reputation for coming up with unique and incredibly tasty dishes. Unsurprisingly, Jay has come up with an impressive menu offering something for every palate. Many dishes incorporate some of their brews to make them one of a kind.
Appetizers to go with your beer are plentiful, starting with fan favorite the Texas Pretzel – a freshly baked 1 lb Slow Dough pretzel twist with sea salt served with Slam Dunk Pilsner beer cheese & German mustard. Togarashi Fries – fresh cut fries dusted with Japanese chili pepper, parmesan & truffle aioli. Brat Board – grilled pork & chicken sausages, soft pretzel toast, Hell's Heavenweizen aioli, German mustard & pickled stuff. Other starters include Fire Ant Nachos, brown bag chicharrones, creole bbq shrimp, 2920 IPA braised meatballs, mac n beer cheese and chili cheese fries. Tomball residents are glad to see some German inspired dishes also on their "Handheld Creations" section of the menu, with already bestseller Schnitzel Sandwich – giant Panko crusted pork loin with Vermont White cheddar, Hell's Heavenweizen aioli, baby arugula, and caper mustard on a Slow Dough pretzel bun. The Fire Ant Rueben – Mosaic Ant Pale Ale braised corned beef, pepper jack, house made sauerkraut, smoked poblano peppers, caramelized onions, German mustard aioli on a toasted Slow Dough pretzel bun. Bratwurst, all beef frank or chicken sausage can also be found on the BYO "Fancy" Dogs menu, where one can chose from many different styles of buns, toppings and condiments. Other notable menu items are a sweet tea fried chicken sandwich, pimento cheeseburger and Fire Ant Bock braised pork carnitas tacos.
For those looking for some healthy options, Fire Ant has you covered with their "Fresh Greens" section of the menu. The three signature salads, Ant Hill House Chop, Pickled Peaches and Romaine or Roasted Beets and Arugula, can be topped with grilled chicken, sweet tea fried chicken or grilled shrimp.
Dessert features a warm Challah Bread Pudding – Texas peach brulee, Steen's cane syrup butter, candied pecans and vanilla bean ice cream. Mason Jar Parfait – layers of delicate chocolate mousse, homemade strawberry jam & fresh whipped cream topped with destination Dunkel Stout fudge and graham crackers. Lastly, Fried Cheesecake Empanadas or vanilla bean ice cream.
Hello Woodlands sat down with Bruce, Sylvia and Jay to find out more about Old Town Tomball's hot spot.
Well, it took a long time to get here for Fire Ant Brewing Company to open. What were some of the set backs?
Bruce: "Setbacks to opening Fire Ant Brewpub were mostly due to the construction of the actual building. After the building was turned over to us the delay was mainly getting the restaurant completed to obtain occupancy and obtain City of Tomball permits."
What made you decide to open a brewery in Tomball?
Bruce: "It was always going to be Tomball. You have a German heritage town without a brewery. Also the location of Tomball is centrally located to The Woodlands, Spring, Magnolia and the Cypress areas."
Who makes your beer and where did they learn their craft?
Bruce: "Our Brew Master is Kurt Hohnholt. He started brewing 20 plus years ago because you could not find craft beer anywhere so he decided he would try to brew his own. He is a chemist by trade and over the years he read a lot of books about brewing and the brewing process. The turning point in producing consistent quality is when we got our first Braumeister 50L brew system. From that point forward, the rest is history.
What was you inspiration for the decor and feel of Fire Ant?
Bruce: "My vision of the decor for Fire Ant Brewpub was always a true to feel Pub like environment. Initially I wanted more of a German look to the outside and inside, but we did not have control of the outside look, although as it turned out, the rustic look really fits Tomball and we carried that look inside."
Who decided and why naming it Fire Ant Brewing Company?
Bruce: "The Fire Ant name was derived obviously from an encounter with fire ants themselves by one of the owners Carl Hohnholt. This name was used during our tailgating years and once the decision came up to start pursuing a business the name was catchy and many tailgaters already associated to the name so we stuck with it."
What will be some limited edition/seasonal releases?
Bruce: "Our Seasonal brews are our Antoberfest, Phantom Pumpkin and our Starkbier."
How often will you have live music or special or events?
Sylvia: "We will have live music and have a few special events in mind that will remain private until that time comes. The live music will come but right now we are focusing on providing the best experience we can for our customers."
What have been your best selling beers so far and what has been your favorites?
Sylvia: "All of our beers have been doing quite well, some of the most popular ones are our lighter ones including our Heavenweizen, Summer Craze Blonde, Sand Castle Kolsch, & Slam Dunk Pilsner. Then on our hoppier side Mosaic Ant, 2920 IPA and Double Warning."
What was your inspiration for the menu?
Jay: "I wanted to have a diverse menu that didn't really push the limits yet offered unique twists to classic dishes and I didn't want to be labeled as any style of cuisine. Everyone loves good nachos, burger or chicken wings. How could we elevate those to the next level? I drew from my past experiences and feature hints of Korean, Japanese, American, Indian and German fare. In addition, we source great local products such as 44 Farms beef and Slow Dough Bakery breads."
What dishes do you use Fire Ant Brewing Company beers in?
Jay: "Our goal was to use as much of our house beers as possible. To name a few Our Pork Carnitas are slow braised for 15 hours with Fire Ant Bock, our Corned Beef with Mosaic Ant Pale Ale, and the Tikka Masala Meatballs are simmered in 2920 IPA."
Glad you put some German inspired dishes on the menu, since Tomball has such a long lineage of German Heritage.  Tell us about some of those dishes.
Jay: "I've never fully immersed myself in German style food, but I knew we needed to feature a couple items. Growing up in the Midwest we would eat these giant pork tenderloin sandwiches. I envisioned our Schnitzel being a close cousin to those bad boys. We ferment our sauerkraut in house and spike it with toasted caraway seeds to really make it stand out. Our German style mustard is made daily with our Fire Ant Market St. Brown Ale and has a nice sweet and spicy kick. Lastly, who doesn't love a good sausage? Hence the addition of our Build Your Own dog section. Here you can choose a 44 Farms all beef dog, a good Texas bratwurst or chicken sausage and top it how you like it. It is fun and interactive for our patrons."
What do you all have for Happy Hour specials and what days and times are those available?
Bruce: "We are talking right now about having Happy Hour specials on Monday, Wednesday and Thursday between 5 and 7, we will announce it on our Instagram page and our Facebook page, so be sure to like and follow our social media pages!"
Fire Ant is Family friendly and Pet friendly, tell us about that aspect. 
Sylvia: "Fire Ant Brewpub is all about family, so absolutely we are family friendly, and we are also pet friendly as well in our outdoors areas."
How is Fire Ant Brewing Company revitalizing Tomball's nightlife?
Bruce: "We have been told over and over how we are what the City of Tomball has been looking and waiting for. It's cool to see our following isn't just here in Tomball but surrounding areas like Cypress, Spring, The Woodlands and from all over Houston. The people of Tomball are regulars at Fire Ant Brewpub and we are seeing more regulars from the surrounding areas as well. They seem to love to come and hang out with friends and enjoy the food and beer, so yes, we believe Fire Ant Brewpub has revitalized Tomball's nightlife."
Do you have lunch specials?
Jay: "We will be rolling out specialty nights, lunch specials and weekend brunch items very shortly. I want my crew to be confident with the execution of our core menu before we roll out new items. Our features will draw influences from across the globe and will include steaks, seafood and wild game."
5 Words to describe Fire Ant Brewing Company?
Bruce: "Good Food, Good Beer, Good times"
Fire Ant Brewing Company is located at 308 Market Street, Tomball, TX 77375 and is open Monday, Wednesday, Thursday, and Sunday 11am – 9pm, Friday and Saturday 11am – 11pm, and is closed Tuesday.
Visit Fire Ant Brewing Company's website at www.fireantbrewing.com and like their Facebook page at www.facebook.com/fireantbrewpubtomball/
Nick Rama is a food writer, contributor of Hello Woodlands, and shares his restaurant experiences on Nick's Local Eats at NicksLocalEats.com and the Q Up The Burgers Facebook page. Nick enjoys helping the small business owner, supporting his community with fundraising for food banks, and plans tasting events with locally owned mom and pop restaurants.