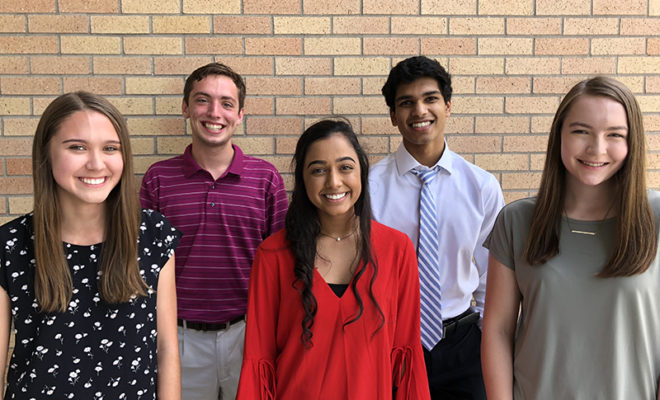 News
Five John Cooper Seniors Named National Merit Semifinalists
By |
THE WOODLANDS, TX – Five members of The John Cooper School Class of 2019 have been selected as Semifinalists in the 64th Annual National Merit Scholarship Program.
Erin Frankland, Samyuktha Hari, Vidyal Pradeepkumar, Brian Ross and Madeleine Smith will continue in the competition for approximately 7,500 National Merit Scholarships, worth approximately $31 million, that will be offered next spring.
These Cooper students are among 112 members of Cooper's Class of 2019. They are among 16,000 Semifinalists named from academically talented high school seniors from around the country by the National Merit Scholarship Corporation, representing less than one percent of U.S. high school seniors.
About 1.6 million juniors from more than 22,000 high schools entered the 2019 National Merit Scholarship Program by taking the 2017 Preliminary SAT/National Merit Scholarship Qualifying Test that serves as an initial screen of program entrants.
A Semifinalist must have an outstanding academic record throughout high school, be endorsed and recommended by a high school official, write an essay, and earn SAT scores that confirm the student's earlier performance on the qualifying test. Over 90 percent of the Semifinalists are expected to advance to the Finalist level, and about half of the Finalists will win a National Merit Scholarship, earning the Merit Scholar title.
The John Cooper School is a PK-12 independent, college preparatory day school that has been serving The Woodlands and greater Houston area since 1988. For more information, visit www.johncooper.org.