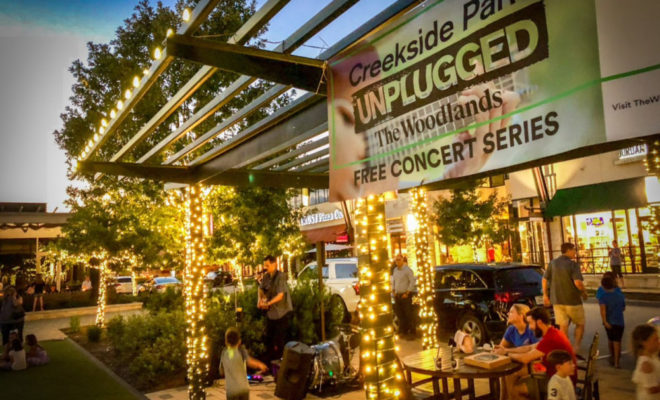 Music
Free Acoustic Concert Series Creekside Park Unplugged to Start April 17
By |
THE WOODLANDS, TX – The Howard Hughes Corporation will host Creekside Park Unplugged, a free acoustic concert series Wednesday nights on April 17, April 24, and May 1 from 6:00 – 8:00 p.m.
The family-friendly Creekside Park Unplugged Concert Series in The Woodlands at Creekside Park Village Green will feature JP Kendrick (multiple genres from the '60s to today) on April 17; Jeff Canada (rock and country) on April 24; and Troy Ita (rock, pop, and more) on May 1.
"The Creekside Park Unplugged series continues to be a popular attraction every spring," said Rip Reynolds, Vice President, Leasing & Commercial Land for The Howard Hughes Corporation. "This lineup of talented acoustical musicians will provide fun outdoor concert entertainment for residents and visitors with the convenience of restaurants and retailers nearby within Creekside Park Village Green."
Creekside Park Village Green is located at 26400 Kuykendahl Road between Creekside Forest Drive and New Harmony Trail.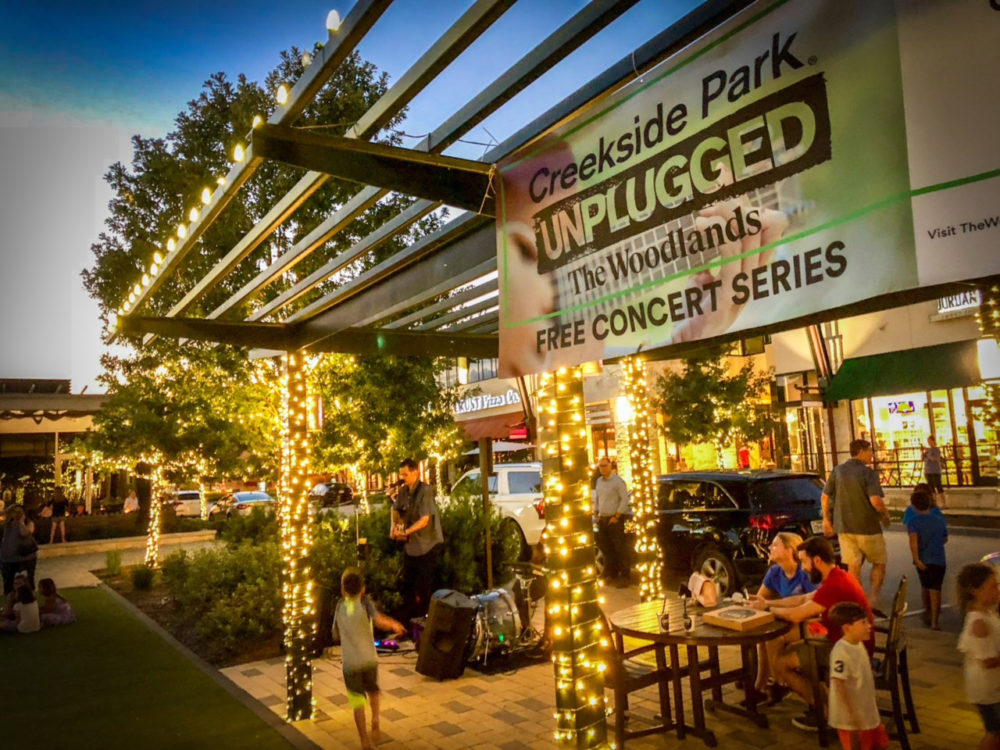 The Woodlands Township is the Park Sponsor of Creekside Park Unplugged. Visitors are invited to bring their own lawn chairs and blankets to the concerts (no glass permitted). For additional information, visit www.TheWoodlands.com and click on Things to Do > Upcoming Events.
The Woodlands is a 28,000-acre master planned community located 27 miles north of downtown Houston. Throughout its 45-year history, The Woodlands has led the way among master planned communities that practice environmental preservation. It is home to over 117,000 people, and nearly 68,000 people work in the community. The Woodlands is one of the top-selling master planned communities in Texas and the nation. The Woodlands was named "Trailblazer of the Year" in 2018 by the Greater Houston Builders Association. The community was also consecutively named "Humanitarian of the Year" in 2017 and 2016 and "Master Planned Community of the Year" in 2015 by the Greater Houston Builders Association. For more information, visit www.thewoodlands.com.
The Howard Hughes Corporation owns, manages and develops commercial, residential and mixed-use real estate throughout the U.S. Its award-winning assets include the country's preeminent portfolio of master planned communities, as well as operating properties and development opportunities including: The Seaport District in New York; Columbia, Maryland; The Woodlands, The Woodlands Hills, and Bridgeland in the Greater Houston, Texas area; Summerlin, Las Vegas; and Ward Village in Honolulu, Hawaii. The Howard Hughes Corporation's portfolio is strategically positioned to meet and accelerate development based on market demand, resulting in one of the strongest real estate platforms in the country. Dedicated to innovative placemaking, the company is recognized for its ongoing commitment to design excellence and to the cultural life of its communities. The Howard Hughes Corporation is traded on the New York Stock Exchange as HHC.