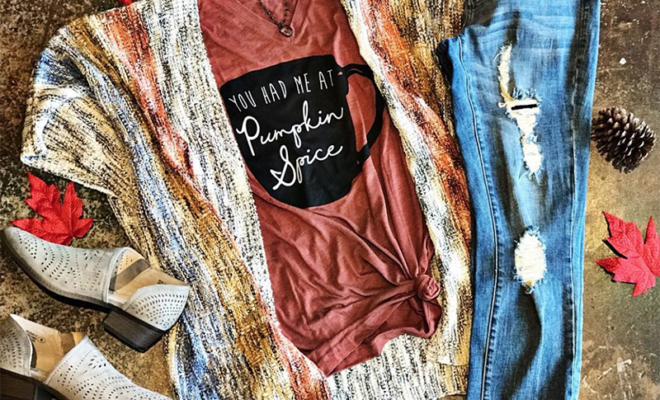 Fashion
Get Your Wardrobe Ready for Fall with These Local Boutiques
By |
It may not be here yet, but the cooler weather will be arriving soon! Get your fall and winter wardrobe ready at these local boutiques. New arrivals are coming in now for fall clothing, so it's time to get those boots and jackets and say goodbye to the summer heat!
Marta's – A long-standing staple of the Panther Creek Shopping Center, Marta's has offered customers boutique women's clothing at their current location since 2001. Marta Pate, the owner of Marta's, has been in the women's boutique fashion industry for over 30 years. Marta's staff specializes in helping customers pick out and style each outfit. The boutique carries a diverse selection of fashionable women's apparel, jewelry, shoes and accessories. Marta's offers both in-store and online shopping.
Diva Boutique – Diva Boutique has been dressing the women of Montgomery County for over 20 years and is the exclusive retailer for Joseph Ribkoff in The Woodlands. The store aims to be the one stop shop for career, casual, cruise to cocktail or for just that right outfit for a night on the town. This specialty boutique is geared toward for the young mom and her mom with fabulous tops, bottoms, dresses, jeans and accessories with many designers that are exclusive to Diva Boutique. Customers can experience the atmosphere of old world tuscan charm in-store or order online.
Vida Bella Boutique – Vida Bella, the beautiful life, is a set of two sister boutiques offering flattering, comfortable and distinctive apparel for women of all ages. The stores are owned by a local family: The Caspers, an all-American mix of Latin-American (Claudia) and European (Paul) live in Spring, Texas with their four girls. Claudia brings to The Woodlands and Spring the fun from Miami & South America, the style and elegance from New York & Europe and the trendiness and comfort from Los Angeles. Vida Bella Boutique's locations are at Hughes Landing and on Kuykendahl.
Mainstream Boutique – Mainstream Boutique has two local locations: one in The Woodlands and one in Spring. Both locations are stocked with plenty of fall items and both get frequent new arrivals. Mainstream Boutique carries trendy, fashion forward designs at affordable prices.
Philanthropy – Local husband and wife team and Christine and former NFL player Jackie Battle are passionate about helping others both locally and beyond. At Philanthropy, customers can shop for a cause and help others worldwide while staying right here on Market Street. Philanthropy provides customers a unique platform for giving through a commitment to give a minimum of 10% of every sale to charity through local, national and global opportunities. The store curates and designs apparel, home and gift products with purpose, passion, style and quality. Philanthropy is proud of its Christian base, and even has a prayer wall where customers can write their prayers and affix them to the wall.
Rhinestone Leopard Boutique – Rhinestone Leopard is owned by a mother daughter duo who love fashion. Their passion is to help others feel beautiful in their own skin. They can be found in-store helping customers get just the right look with accessories to match their outfits, or help finding just the right gift.
Hello Beautiful Boutique – Located in downtown Conroe, Hello Beautiful Boutique carries designers such as Kendra Scott, Brighton, Makeup Junkie, Pandora accessories, and more name brands.
Tumbleweeds & Notions – This store is known for its motto: gifts, decor, and whimsy! Tumbleweeds & Notions' carries women's clothing and accessories by 31 Roots, another locally owned business. Another fun attraction: Stella the shop dog comes to the shop on occasion to greet customers with puppy love. The store is well stocked with gifts for young children and a vast selection of teacher's gifts. There is also an option to personalize many items by local embroidery business Sam & Lucy.
The Turquoise Door – In the heart of Tomball, right on Main Street, The Turquoise Door can't be missed. This colorful boutique is filled with clothing for women and children, jewelry, gifts, home décor, and seasonal items. The Turquoise Door offers online shopping, or visit the store for the bright and fun atmosphere.
Sweet Texas Treasures – The owner of Sweet Texas Treasures, Morgan, started out with a love for vintage and thrift finds. She believes that every piece has a story and a greater purpose. Her boutique is filled with women's, children's, and men's, clothing, with home decor and gifting items too. Sweet Texas Treasures designs are also now found in boutiques nationwide, while all the production is done in Morgan's hometown of Montgomery, Texas. On the website, customers can custom create hats and clothing, choosing from a selection of patterns, fabrics and styles.
Cactus Flower Boutique – This boutique supports other local businesses by carrying clothing and jewelry by local designers, in addition to a wide variety of brands. Cactus Flower also now carries gifts and clothes for tweens.
Sunny's Boutique – This boutique is another family owned business. Sunny's offers a wide range of clothing sizes, including children's sizes. Sunny's carries vintage band shirts, intimates, gifts, mommy & me matching outfits, women's clothing, jewelry, and accessories.
Stay updated and discover what's happening this fall by subscribing to our email newsletter and visiting the Hello Woodlands calendar.