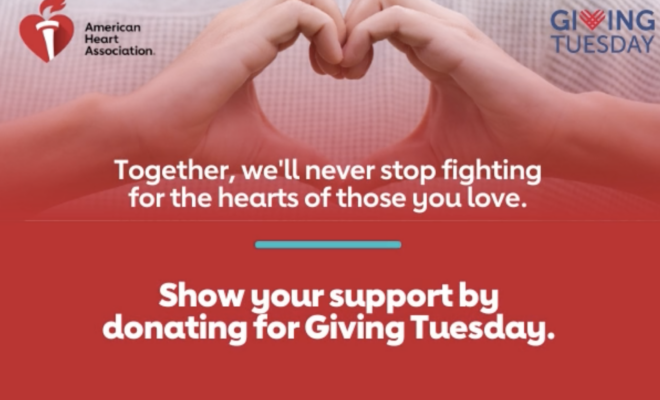 Photo Credit: American Heart Association
People
This GivingTuesday, American Heart Association seeks support to ensure all Houstonians enjoy more moments that matter
By |
The American Heart Association, the world's leading nonprofit organization focused on heart and brain health for all, is driving toward realizing its 2024 Impact Goal with its Giving Tuesday campaign on November 30.
GivingTuesday is built on the concept of "radical generosity" that the suffering of others should be as intolerable to us as our own suffering. The movement reimagines a world built upon shared humanity and generosity and aligns with the American Heart Association's own 2024 Impact Goal that states that "Every person deserves the opportunity for a full, healthy life. As champions for health equity, by 2024, the American Heart Association will advance cardiovascular health for all, including identifying and removing barriers to health care access and quality."
At the center of the American Heart Association's 2024 Impact Goal, the definition of health equity underscores the focus of the Association's boots-on-the-ground work across Greater Houston and in Montgomery County, in particular. Health equity means that everyone deserves an optimal and just opportunity to be healthy, giving special attention to the needs of those at greatest risk of poor health. No one is disadvantaged from achieving their potential because of social position or any other socially defined circumstance.
For years, the American Heart Association has addressed the root causes of heart disease and stroke, striving to ensure everyone has an optimal, just opportunity to be healthy. But this is not the reality for many people of color and others whose health suffers because of social factors beyond their control. In fact, people in some under-resourced ZIP codes have shorter life expectancies than their neighbors just a few miles away. Alarmingly in Greater Houston, that variance is almost 24 years. And people in remote rural areas face significantly higher death rates from heart disease and stroke. A person's zip code is as important as one's genetic code in determining health outcomes.
COVID-19 has illuminated these unacceptable health disparities and worsened the problems. The pandemic and economic hardships have disproportionately harmed the health of Black, Latino and Native American people. That's why the Association's 2024 Impact Goal affirms the focus on identifying and removing barriers to health equity.
Americans who live in counties deemed "socially vulnerable" based on census variables are more likely to die from cardiovascular disease before age 65, according to research published in the American Heart Association's flagship journal Circulation. Amidst a global pandemic it is important to remember that heart disease and stroke remain the number one and five killers both nationally and here in Greater Houston. Locally, 32.8% of the adult population are obese, 13.3% use tobacco products, 31% have high blood pressure. While this does not paint a healthy picture of the community, the good news is that the American Heart Association, as a sustainable systems-change organization, is taking action.
"The American Heart Association has identified Greater Houston's most urgent needs to combat the root causes of heart disease and stroke. By addressing key issues like high blood pressure, women's health, and nutrition security we drive towards more equitable health at the community level," said Mel Edwards, Senior Vice President and Executive Director, American Heart Association Greater Houston Division. Edwards added, "Recent interventions and policies and systems changes have been enacted thanks to the generosity of donors and supporters who funded grants for blood pressure control equipment, CPR training, nutritious food distribution and so much more. Volunteers also helped us advocate for statewide legislation to train 911 dispatchers in Telecommunicator-CPR to save lives. We could not fund the lifesaving research and work we do every day without the generosity of our community."
Campaigns like Giving Tuesday on November 30, provide volunteers more opportunities to help solve community problems and to focus on health and the mission of the American Heart Association during a time when the community is looking to emerge from the COVID-19 pandemic stronger and thriving. The reality is that lives are at stake. People suffer when they lack access to quality care, nutritious food and other basic health needs. Without opportunities to enjoy full, healthy lives, people often get sicker and die younger. By supporting the American Heart Association on GivingTuesday, November 30, Houstonians can make a meaningful difference in the lives of their families, friends and neighbors.
"When I began working with the American Heart Association in Montgomery County over a decade ago, I was the CEO of an organization and my objective was to provide wellness resources to empower my team. Since then, and especially in my new role as Chairman of the Board, I am amazed at the transformational work being done to advance health equity in our own backyard," said Stu Brightman, retired CEO of TETRA Technologies and Chairman of the Board for the American Heart Association – Gulf Coast. It is an honor to collaborate with this incredible team to enact positive change addressing many of the root causes of heart disease and stroke. I'm excited to see our fellow Houstonians walk alongside us in these efforts by supporting the American Heart Association in Montgomery County on Giving Tuesday. November 30 is a day we come together to make a big difference in our community, and this year, any donation up to $500,000 will be doubled thanks to a matching gift from a group of generous donors!"
"On Giving Tuesday we are celebrating all the moments that matter. The big moments like when a medical breakthrough occurs that results in lives saved, but it's also the birthdays, weddings and graduations – the moments families can enjoy together because of that research. We are also celebrating this moment, too. The moment when our community makes a meaningful donation to help save lives from heart disease and stroke. Now, your gift will have TWICE the lifesaving impact," said Tracy VanNostrand, VP of Development, American Heart Association – Gulf Coast. "I'm proud of the work being done in Montgomery County to give hope, healing and more moments that matter with our loved ones – thanks to support from donors like you, there's nothing we can't accomplish together."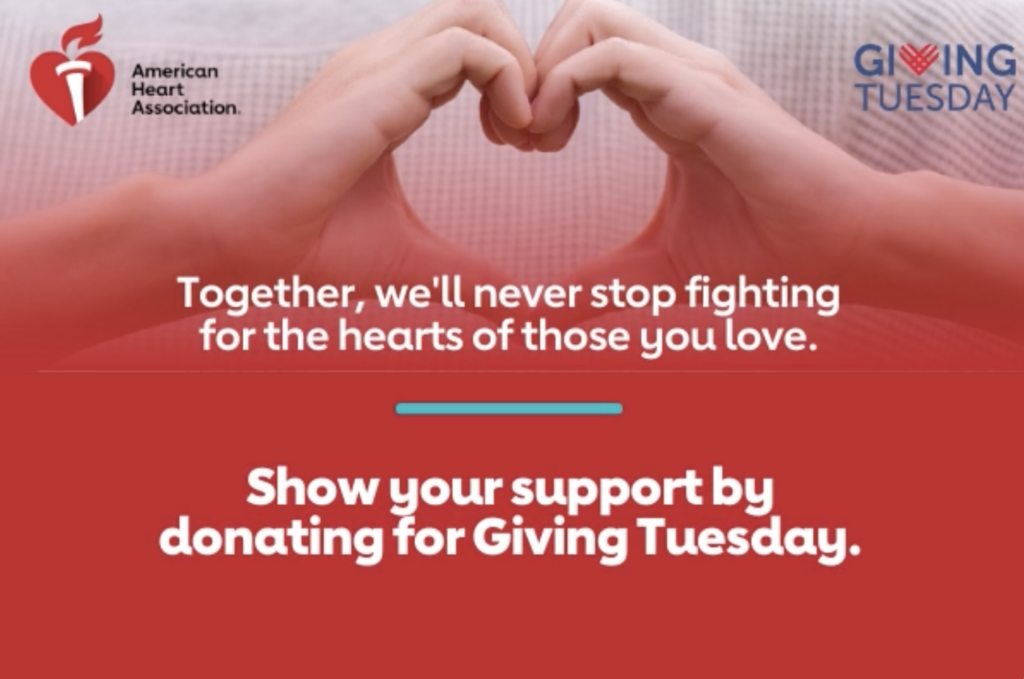 About the American Heart Association
The American Heart Association is a relentless force for a world of longer, healthier lives. We are dedicated to ensuring equitable health in all communities. Through collaboration with numerous organizations, and powered by millions of volunteers, we fund innovative research, advocate for the public's health and share lifesaving resources. The Dallas-based organization has been a leading source of health information for nearly a century. Connect with us on heart.org, Facebook, Twitter or by calling 1-800-AHA-USA1.
Source: American Heart Association