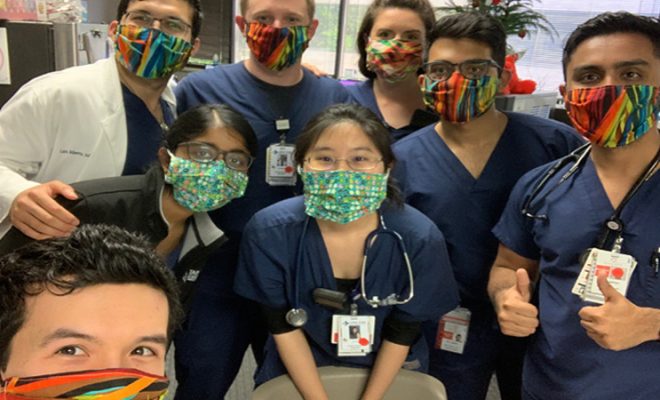 Health
Group Connects Community to get PPE to Local Workers on the Front Lines
By |
THE WOODLANDS, TX – What began as an idea and a Facebook page has turned into a full-fledged operation to get Personal Protective Equipment (PPE) to medical professionals and those working on the front lines risking their lives to save others who are quickly running low on supplies.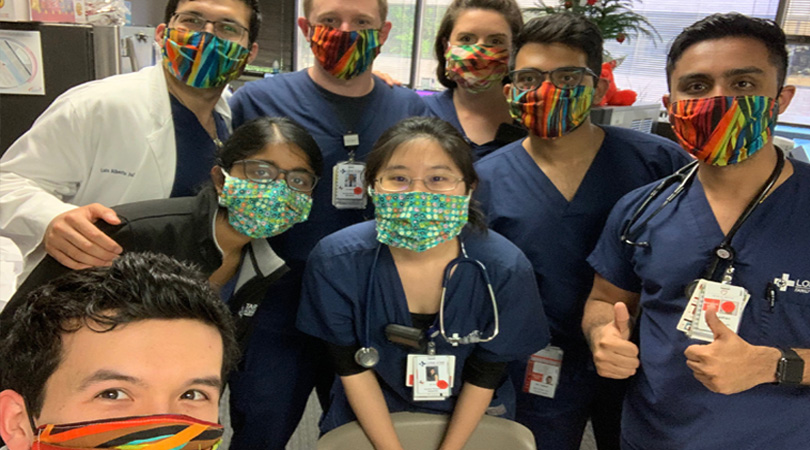 On Thursday, March 19, Stacy Strehlow of Magnolia, aware that her friend Amanda Van Dusen is a proficient seamstress, inquired if she was making masks. Strehlow and her husband are both physicians and both wanted homemade masks on hand for when their supply of PPE ran out. "Before her inquiry, I didn't even know there was a need," said Van Dusen. But after hearing her friend's concerns, she was eager to help.
That evening, Strehlow created the Facebook group Houston Helpers Taking on Covid-19 to coordinate the few people they knew who wanted masks with people who could make masks. In less than 48 hours, the Facebook group had over 200 people join all from around the Houston metropolitan area who either wanted to help or needed masks.
Stehlow and Van Dusen were quickly overwhelmed with the number of requests for PPE and the number of people who wanted to help. Van Dusen brought her Woodlands neighbor, Brooke Stach, on board to help respond to people and compile a list of needs. The trio was surprised when they were contacted by Nick and Heather Combs of Woodforest who had stumbled upon the Facebook group and wanted to help. Combs was able to utilize his business software to build a website to register volunteers and those who needed supplies. By Sunday night, the group had a functioning site that allowed them to better track inventory, needs, and communicate with volunteers and those requesting PPE.
The group then developed a systematic operation to organize requests and donations. When someone joins the Facebook group, they are asked to visit the corresponding website and register. Users complete an application that asks if they can make PPE, if they have supplies they can donate for making PPE, or if they need PPE. After registering, volunteers have access to the list of all the donation drop off locations. Requests have been coming in from all over the city, and the group was able to find volunteers from all over to collect and distribute the completed masks.
From the website, the group is able to track if people have a need for supplies or if they have extra supplies that they can share. They coordinate with all parties to get mask makers the supplies they need.
Van Dusen has a daily schedule she maintains to stay organized and keep up with demand. "I start my day by looking at requests for supplies to make masks. Another Woodlands resident, Hannah Yau, wanted to help but doesn't sew. She donated $100 which allowed me to purchase a large quantity of fabric and elastic. I cut portions of them, bag them up, and leave them on my porch for mask makers to pick up," explained Van Dusen.
"Next I look at the report of requested PPE and the report of available PPE and see if there are orders we can fill and deliver. Heather, Brooke, and I are doing the majority of the administration and coordination of volunteers and donations," continued Van Dusen.
After completing those tasks, Van Dusen begins sewing.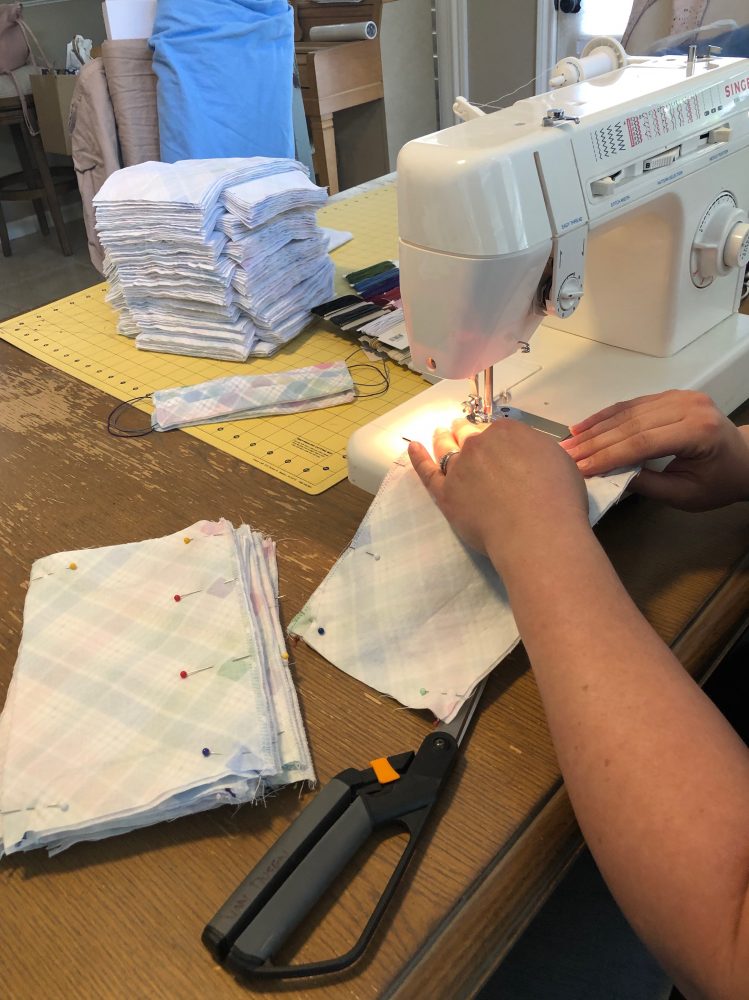 Making the most effective mask possible is important to Van Dusen. After extensive research, she chose a pattern from Deaconess, a hospital system that is accepting homemade masks and released mask patterns on its website.
The group behind Houston Helpers taking on COVID-19 is aware that cloth masks do not protect as well as commercially produced, specialized N95 masks and will not filter particles as well. However, desperate medical professionals are faced with few choices. The group is able to create masks that will fit better than other alternatives. Explains Van Dusen, "Medical professionals who have contacted us have been told by their facility that when PPE supplies run out, they are recommended to use a face covering such as a bandana."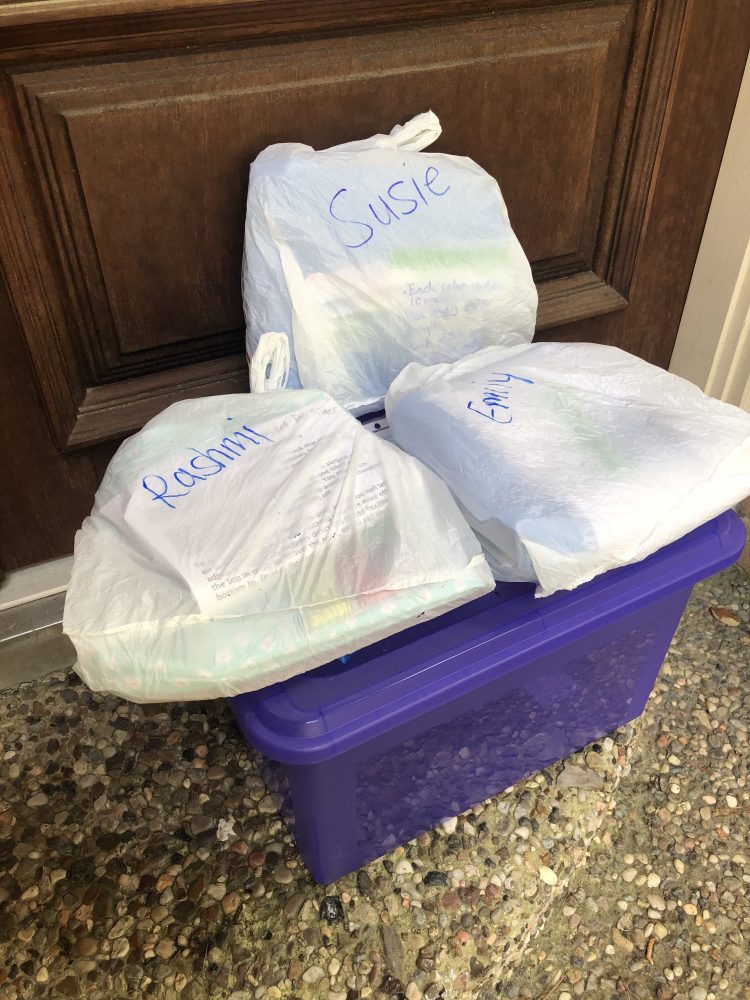 In the Facebook group, Strehlow notes that in addition to being used alone, cloth masks can be worn over an N95 mask and cleaned between uses to try to prolong the effectiveness of the N95 mask without contaminating it.
The majority of the sewing and coordinating is done in The Woodlands area, with materials and masks being delivered or shipped nearby or to the Houston area. The group has collection points all over the city in preparation for demand. "We anticipate that as the days and weeks go by, we will start getting more masks at all of our locations," said Van Dusen.
The group has designated volunteers who are collectors. These volunteers provide bins for makers to drop off completed projects, log what they have collected, and coordinate distribution of masks in their possession. The logs get sent to an admin and inventory gets updated daily. Then, from the website, the group runs reports on what inventory is available and where there are requests for PPE. In the registration process, the requester designates if they want to pick up their PPE from a collection point or if they would like it to be delivered. When supply is available, the group will reach out to the person who needs them to make arrangements for delivery or pick up.
Van Dusen offered a recent example of process. "We had one order that needed to go to the south side of Houston. Rather than sending anyone on a 1.5 hour round trip drive to deliver from The Woodlands, we decided to ship the masks overnight. One of our volunteers, Jennifer Keon, wanted to help in ways other than sewing. I called her and she picked up the order, took it to be shipped, and donated the cost of the shipping."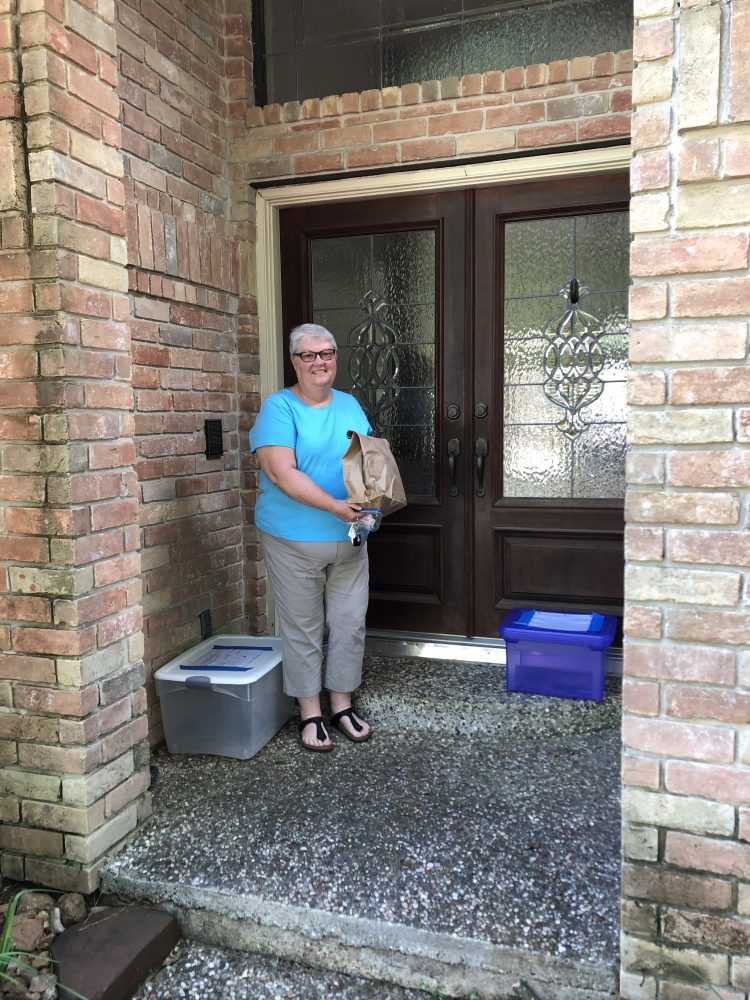 In addition to masks, the group provides scrub caps and face shields.
Recently, Houston Helpers Taking on Covid-19 was contacted by Montgomery County Food Bank to supply PPE to its volunteers. The group was also contacted to supply scrub caps and face shields for medical workers at St. Luke's Hospital.
In addition to providing places to request PPE and coordinate delivery, the website and Facebook group have become valuable sources of information. There are patterns for two different types of masks available on the website as well as a pattern for a scrub cap, and instructions for making a face shield. The Facebook group has become a resource for mask makers to share tips and ideas. As of April 7, it has over 600 members.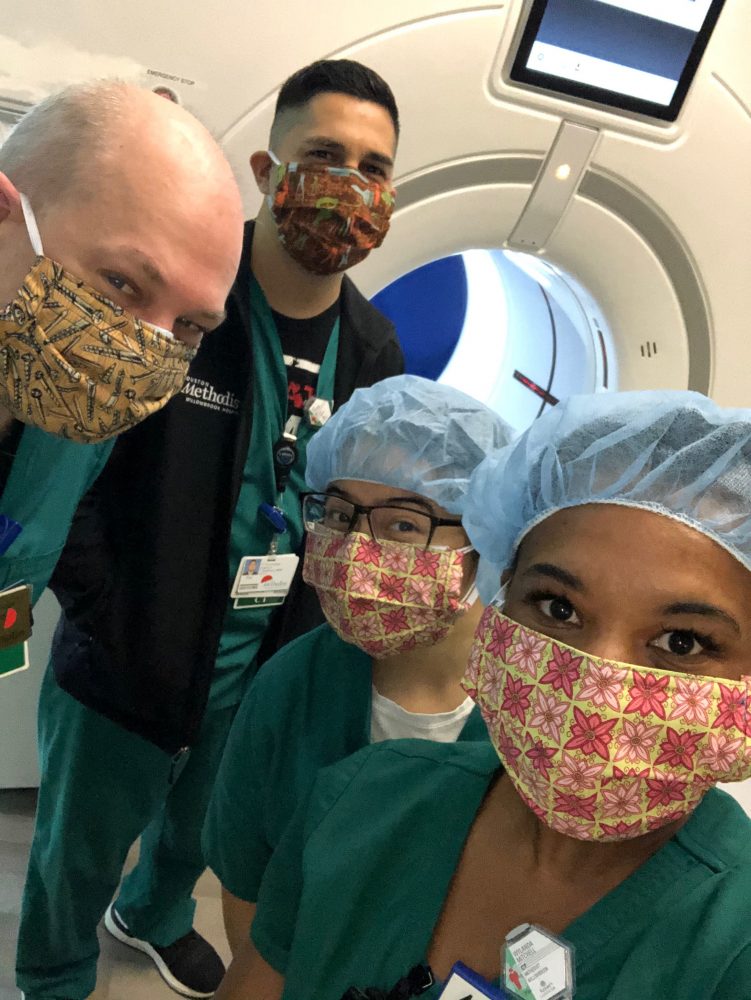 Houston Helpers Taking on Covid-19 has filled requests for 1,266 masks and 103 caps. The group currently has requests for 2,442 masks, 482 caps, 993 face shields, 20 headbands with buttons, and 112 gowns. More requests come in every day.
Van Dusen is grateful for the opportunity to watch the community connect for a common purpose. "It has been incredible to see the eagerness to help from so many. I feel a kinship with these strangers who have come together with us to do something so much greater than Stacy and I ever imagined when she asked me if I could make some masks."
Van Dusen has seen the first hand the impact her group has made. "There are people out there who question the need for these mask and who question if we should be making them. When I speak to the people who are receiving these masks, all doubt is eliminated. One physician came by my home to pick up masks on his way home from work. I popped out to wave at him as he returned to his car. He had left a note that said, 'Thank you SO much! You're helping to save lives!' THAT is why we're doing this. That is why my dining table has turned into a makeshift sewing station."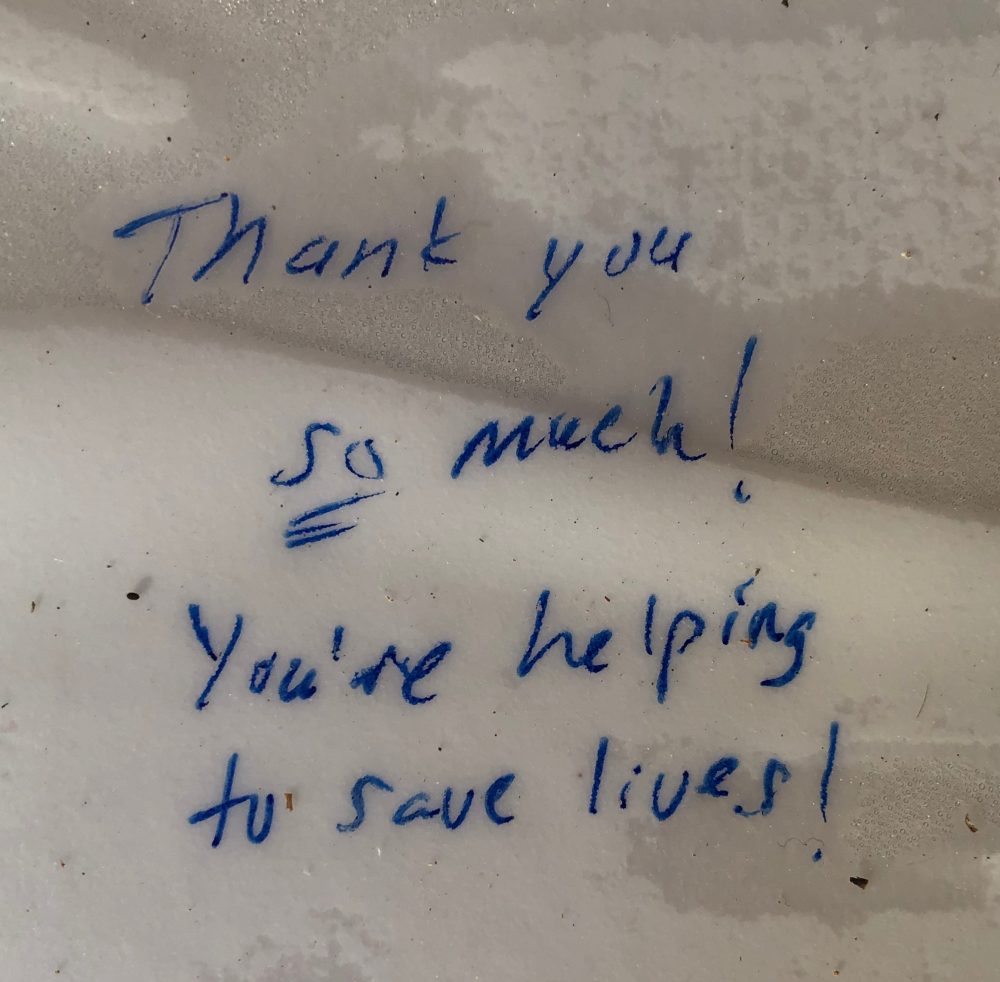 Currently, the group's priority is to get PPE to those on the front lines helping others, and is not supplying the general public with masks. In addition to medical staff, the group provides PPE to police and fire departments, first responders, grocery store staff, staff and residents at senior living facilities, as well as daycare workers and others who are risking their health to save others.
The group is no longer accepting monetary donations at this time, but urges those willing to donate to reach out to local nonprofits who can better utilize monetary gifts.
To learn more about the group, visit www.facebook.com/groups/514060756205629/.