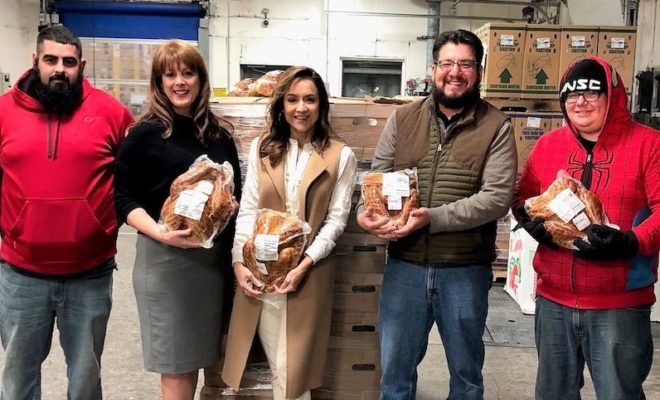 News
H-E-B Donates 2,500 turkeys for the holidays to Montgomery County Food Bank
By |
Tis' the season to give back and H-E-B did just that when donating 2,560 turkeys to the Montgomery County Food Bank (MCFB) to distribute to those in need during the holidays.
The donation comes on the heels of a $20,000 donation by H-E-B following their Help End Hunger campaign in which customers were encouraged to donate $1, $3 or $5 at the checkout to provide awareness about hunger issues as well as senior and family nutrition.
"The holidays are a special time for families and friends to gather around the table to share a meal. H-E-B is committed to supporting our communities and helping families in need with the necessary resources to avoid hunger so they can enjoy the holiday season," said Winell Herron, H-E-B Group Vice President of Public Affairs, Diversity and Environmental Affairs.
"Helping in the fight against hunger is a constant mission of ours, knowing that we have partners like H-E-B makes the impact that much stronger," said Allison Hulett, Montgomery County Food Bank President and CEO. "These actions continue H-E-B's 113-year legacy of contributing to worthy causes throughout the great state of Texas.
Montgomery County Food Bank began in 1985 as a door-to-door operation run out of car trunks by a small group of volunteers wanting to serve those in need in their community. Throughout the past 30 years, generous donors and volunteers have built it into an organization capable of distributing over 10 million nutritional pounds of food annually. The Food Bank also hosts mobile food distributions, offers nutritional education programs, emergency assistance in the time of a disaster or crisis, and provides meal programs for children and senior citizens.
Montgomery County Food Bank is 501(c)(3) chartered by the state of Texas and is a member of the Texas Food Bank Network and Feeding America. Its headquarters is located at 1 Food For Life Way in Conroe, near Hwy. 242 and I-45, just north of The Woodlands.
For more information, to book a tour or volunteer at the facility, or to make a monetary donation or food contribution, visit www.mcfoodbank.org or call 936.271.8800.