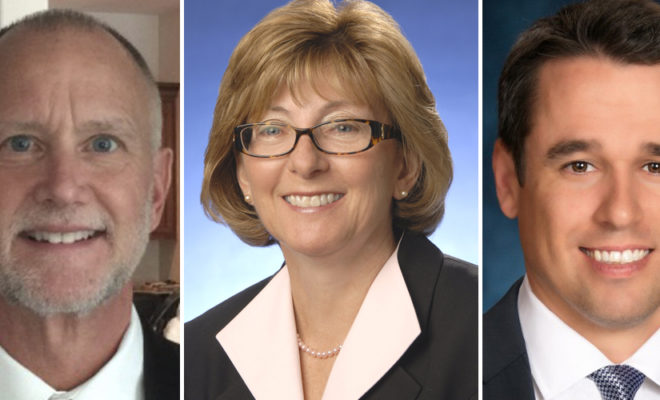 News
Meals on Wheels Announces New Board for 2019
By |
CONROE, TX – Meals on Wheels Montgomery County (MOWMC) is pleased to announce their new Board of Directors effective for the 2019 fiscal year to continue the mission fostering the dignity and independence of homebound seniors by providing them with nutritious meals, transportation, and caring connections.
Rich Burket, who retired after a 32-year career in Human Resources with Exxon/ExxonMobil joins the Board; along with Denise Essenberg, a Certified Public Accountant and partner with PricewaterhouseCoopers with more than 38 years of experience advising clients in the financial services industry; and Rudy Wentzler, a Financial Advisor at Woodforest Financial Services who has a Masters of Business Administration from The University of Texas at Austin, and a West Point graduate and combat veteran with two Bronze Stars.
Continuing on the Board of Directors to offer oversight to MOWMC is the elected Chairman – Joanne Tikkanen of Portik Enterprises, Past Board Chairman – Charles W. Crowl, Jr, Founder of Crowl and Associates, PLLC; Vice Chair and Treasurer – Louise Crider, a senior finance analyst with Chevron Phillips Chemical; Gary Conwell – Secretary for the Board with First Phase Communication; Patricia Schwartz – Adjunct Professor with Lone Star College Montgomery in the Nursing Department; Kelly Rogers of Movement Mortgage, Matthew Hammit – orthopedic surgeon with Texas Orthopedic and Sports Medicine; Randy Johnson – CEO of Montgomery County Hospital District; Andrea Raiford – community fundraiser; and Brittany Sloan – Assistant Attorney at Dossey and Jone, PLLC.
Since 1973, MOWMC has had a successful track record of delivering meals to local homebound seniors, currently delivering over 130,000 meals annually. Volunteers deliver meals along 75 routes throughout the 1,000 square miles of Montgomery County.  As Baby Boomers become seniors, demand continues to increase. Seniors in need of meals are added to the waiting list each week. Additionally MOWMC's curb-to-curb transportation service provides more than 17,000 rides to the disabled and seniors annually. With a mission to foster independence and maintain the dignity of each homebound senior by providing nutritious meals, transportation, and caring connections, MOWMC can always use additional volunteers and donations.
Volunteers can sign up to deliver Breakfast Bags to the most food insecure seniors or AniMeals, a supplement of pet food delivered to seniors with pets on the 4th Saturday of the month.
"We are thrilled to have so many qualified directors working to make a difference to seniors in our community," said Summer Day, MOWMC Executive Director. "Seniors are the fastest growing population in our county and I am fortunate to have a strong group of leaders dedicated to the aging community to improve senior health and independence."
Registration is now open for the 2019 Miles for Meals 5K Walk and Run on Saturday, February 9 at 10am at B-52 Brewing Company in Conroe. More information about Meals on Wheels Montgomery County can be found at www.mowmc.org or on the Facebook page: www.Facebook.com/MealsonWheelsMC.