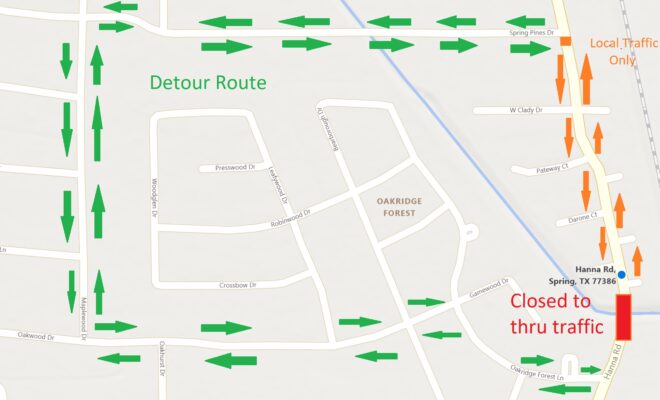 News
Hanna Road Closure Scheduled for Bridge Repairs
By |
MONTGOMERY COUNTY, TX – Hanna Road will be closed to through traffic between Spring Pines Drive and Oakridge Forest Lane in both directions starting Monday, June 5, 2023. The closure is expected to last approximately three weeks as bridge repairs and pavement replacement are completed.
Traffic on southbound Hanna Road will be detoured at Spring Pines Drive. Northbound traffic will be detoured at Oakridge Forest Lane. Drivers headed north and south between Rayford Road and Robinson Road are encouraged to take alternate routes.
Local traffic, such as residential, residential services (garbage), mail and other deliveries, can access cul de sacs West Clady Drive, East Clady Court, Pateway Court, Marksey Court, Darone Court, Dunwell Court, Loone Court and Brickstone Court along southbound Hanna Road.
The bridge repairs are occurring in June in order to have minimal impact on traffic since the majority of schools are closed for summer break.
For more information, contact Andrew DuBois, Precinct 3 Director of Operations, at andrew.dubois@mctx.org or 936-522-9305.