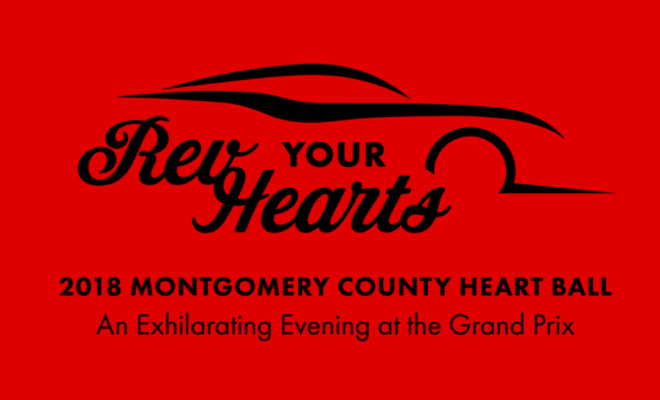 News
AHA Heart Ball announces co-chairs, theme for 2018 Gala
By |
THE WOODLANDS, TX – The American Heart Association (AHA) has announced that Marina Silver Frenchak, Founder and Real Estate Associate, Vintage Creek Centre, and Bryan Frenchak, President, Vintage Creek Centre, have accepted the role of co-chairs for the upcoming Montgomery County Heart Ball.
"We are happy to get involved because we know the importance of healthy living and sharing the responsibility of helping American Heart Association continue their mission of building healthier lives, free of cardiovascular disease and stroke. The Heart Ball is something our community looks forward to all year," said Bryan Frenchak, "and to know we are supporting health education and promoting healthy lifestyles, makes it as important of a night, as it is enjoyable."
"If you don't have a heart, you don't have a life," shared Marina. "We were honored to use our philanthropic hearts to raise money and promote healthy habits that fund lifesaving research dedicated to fighting heart disease and stroke, our Nation's No. 1 and No. 5 causes of death."
This year's Heart Ball, themed "A Night at the Grand Prix: Rev Your Hearts," will celebrate the journey of Halle Kate Spivey who celebrated her first birthday this month. She had her first open heart surgery when she was only 3 days old and was given a pacemaker before she was 6 months old. Her parents, Autumn and Britt, with unwavering determination and dedication to their little girl, will share her amazing story of strength and survivorship.
Inspired by the Grand Prix and the exhilarating speed at which the cars travel, the Heart Ball will feature education on stroke awareness and response guidelines using the acronym F.A.S.T. which helps people identify the signs when someone is having a stroke. Face drooping. Arm weakness. Speech difficulty. Time to call 911.
This year's honorees are Sherry and Richard Lane. The Lanes are being honored for their tireless commitment to the American Heart Association and our community. The 20th anniversary gala was chaired by the Lane's and is still unmatched in revenue received for the mission. The Lanes continue to serve on various committees and in leadership roles for our organization.
The AHA's Heart Ball is an elegant occasion that gathers over 800 business and community leaders to help raise funds to support the mission, encourage heart-healthy habits and celebrate the commitment to fight heart disease and stroke. This year's ball hopes to raise $1.2 million to fund the AHA's lifesaving mission of building healthier lives free of cardiovascular diseases and stroke. For over 23 years, the Montgomery County Heart Ball has raised over $10 million towards this critical mission.
The Heart Ball is currently sponsored by: Sherry and Richard Lane, Suzanne and Bob Potter, Marina and Bryan Frenchak, Mark Pharo Extraordinary Jewels, Northside Imports Houston, U.S. Anesthesia Partners, Memorial Hermann The Woodlands Medical Center, Shirley and Ralph Alexander, Carol and Mike Watford, Tracy and Richard Wilken, Janet Wong and Ron Mullins, BMW of Houston North, Christen and Brad Kaufman, Houston Extracorporeal Therapies, Houston Methodist- The Woodlands Hospital, Weaver, CHI ST. Luke's Health, Chicago Title Houston, Debbie and Fran Bobb, Kiewit Energy Company, Barbara and Stephen Crain, Larry and Mari Harvey on Behalf of HFG Wealth Management, Market Street- The Woodlands, Texas Children's Hospital The Woodlands, The Marcel Group, Marissa and Mark Mettauer, MD, Julie and Joseph Tilton, The Woodlands Waterway Marriott, Pioneer Bank, RE/MAX Carlton Woods, Veritas Title Partners, and Sondra, MJ and Chris Ruhman.
Executive Leadership Committee members include: Fran Bobb, Yuliana and Michael Gonzalez, Sherry and Richard Lane, Carmina and Mario Mendez, Marissa and Mark Mettauer, MD, Suzanne and Bob Potter, Sondra, MJ and Chris Ruhman, Tammy and Danny Schroder, Amber Tawse, and Danny Golden.
ABC 13 Investigative Reporter and Woodlands local, Ted Oberg, will be joining the Heart Ball for the fourth year as our guest emcee.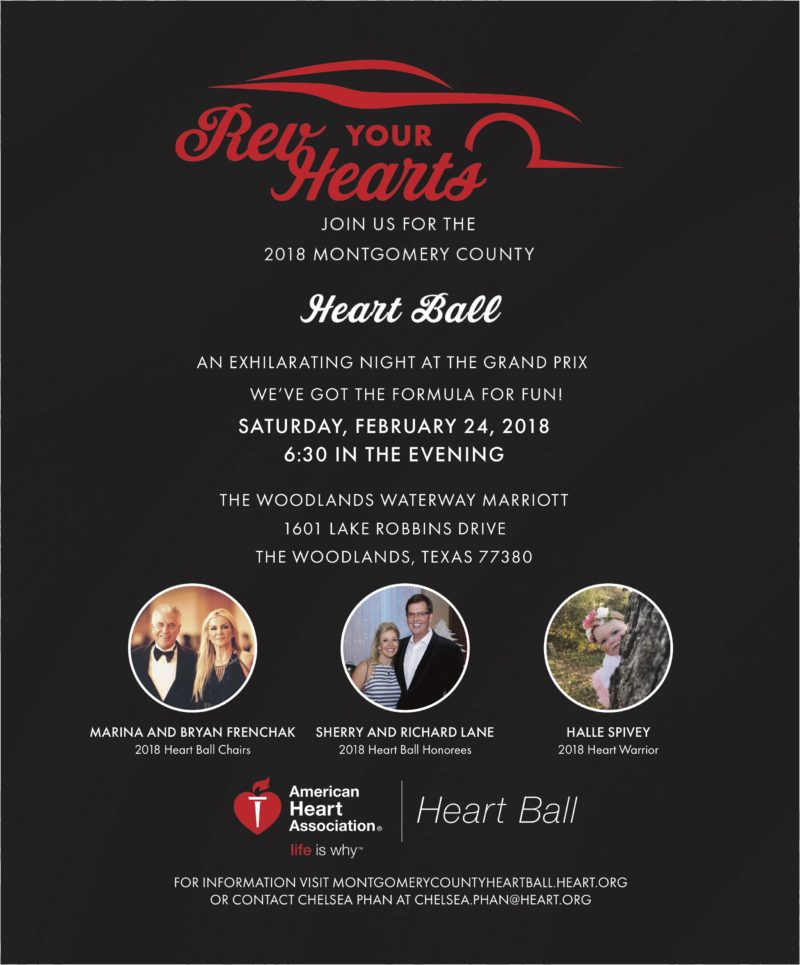 The Montgomery County Heart Ball will be held at the Woodlands Waterway Hotel and Convention Center on Saturday, February 24, 2018. Doors to the expo will open at 6 p.m. where guests will get a chance to bid on several luxurious silent auction items. Doors to the ballroom will open at 7:30 p.m. with the main event plus an exhilarating live auction starting at 8 p.m. To get tickets, visit https://montgomerycountyheartball.heart.org . To learn more, contact Kelsey.Casey@heart.org.