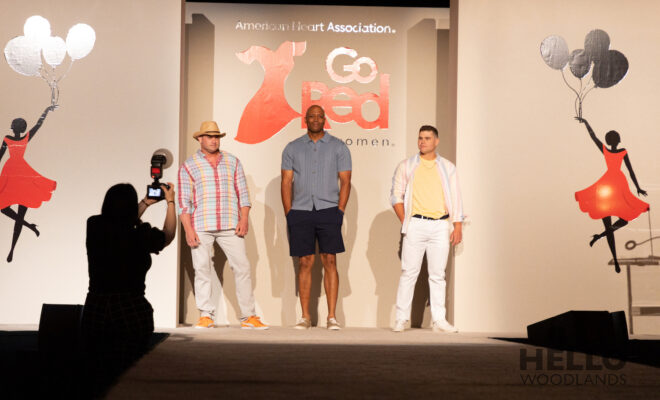 PHOTO BY ROD PRADO, HELLO WOODLANDS
entertainment
Heart of Montgomery County Go Red Luncheon Turns up the Beat
By |
THE WOODLANDS, TX – On Friday, May 19th, the American Heart Association hosted their annual Go Red for Women Luncheon at The Woodlands Waterway Marriott Hotel & Convention Center.
See photos from the event on Hello Woodlands' Facebook page here:
The American Heart Association's Montgomery County Go Red turned up the beat for 430 generous guests Friday, May 19th at The Woodlands Waterway Marriott Hotel & Convention Center. The annual philanthropic luncheon, presented by the Post Oak Collection–The Woodlands and chaired by Elvira Graham and Lonny Soza, showcased the organization's signature women's initiative, Go Red for Women, a comprehensive platform designed to increase women's heart health awareness and serve as a catalyst for change to improve the lives of women globally.
Upon arrival, guests were welcomed with a Mission Expo, which included blood pressure checks and other mission-based experiences meant to educate attendees before making their way into the ballroom for the program. The ballroom was adorned in a vibrant pastel pink table setting and red accent decorations, meticulously crafted to align with the luncheon's theme, "Go Red First Responder Fashion Show."
Montgomery County resident David Deveau of Woodforest Wealth Strategies served as the luncheon emcee, inspiring the audience with his charisma and enthusiasm, and sharing the importance of the mission that the American Heart Association has on its community. David introduced the Go Red for Women Luncheon Chairs, Elvira Graham, and Lonny Soza, who shared their heartfelt personal connections to the mission and work of the American Heart Association, followed by a tribute to the community's first responders with a fashion show. The show was presented by Tom James Company and J. Crew Market Street, which showcased the beauty of fashion and the spirit of resilience.
Special recognition was given to honoree and expert Community Volunteer Award recipient, Ron Mullins for his unwavering dedication and hard work, in training over 3,500 individuals in hands-only CPR.
The American Heart Association is pleased to announce they have raised over $677,000 through the Go Red for Women Campaign initiatives in the Gulf Coast.
Since 2004, the Go Red for Women movement has educated millions of women as to their No. 1 health threat: cardiovascular disease. But now we face a new challenge, younger women and women of color are not aware that this threat is real. The American Heart Association continues to innovate ways to ensure all women are aware of their greatest health threat, their risks and what they can do to reduce them. Good health is a journey, not a destination, and we want to walk hand in hand with women throughout their lifetimes as their trusted wellness partner.
The Go Red for Women experience continues to be the cornerstone of the Go Red for Women movement in local communities. This empowering gathering focuses on preventing heart disease and stroke, sharing stories of people impacted by cardiovascular disease and raises critically needed funds to save more lives.
Go Red for Women has evolved into a global movement and is a driving force in the world of health equity. The American Heart Association accelerates science, advances public health policy, and addresses the multitude of gender and racial gaps for women in research, healthcare and more. For more information, please visit goredforwomen.org/en/.
The American Heart Association is a relentless force for a world of longer, healthier lives. We are dedicated to ensuring equitable health in all communities. Through collaboration with numerous organizations, and powered by millions of volunteers, we fund innovative research, advocate for the public's health and share lifesaving resources. The Dallas-based organization has been a leading source of health information for nearly a century. Connect with us on heart.org, Facebook, Twitter or by calling 1-800-AHA-USA1.