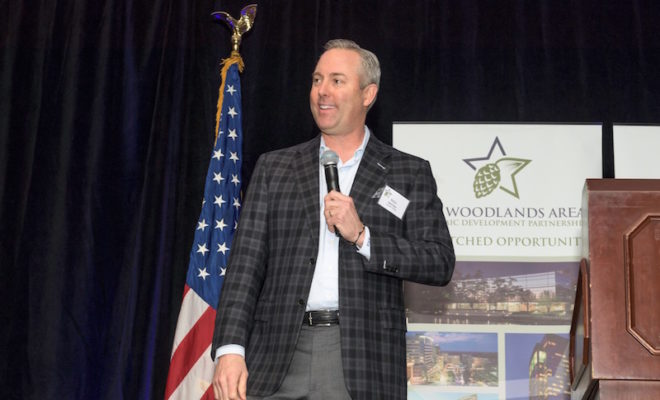 Photo by Derrick Bryant Photography
Business
Houston Astros Reid Ryan speaks at EDP Partnership Luncheon
By |
The Woodlands, TX – The Woodlands Area Economic Development Partnership (EDP) held their Quarterly Partner Luncheon at The Woodlands Resort & Conference Center on Wednesday, February 7, 2018. 250 partners and guests, attendees were excited to hear from Reid Ryan, President of Business Operations of the Houston Astros and have the opportunity to take a photo with the World Series Trophy.
Reid Ryan enters his sixth season with the 2017 World Champion Astros after being named the club's President of Business Operations on May 17, 2013. His history with Texas baseball goes back decades. During the 1980s, Reid Ryan was a bat boy for the Astros while his father and Hall of Famer Nolan Ryan was an All-Star pitcher in the Astrodome. He later pitched at the University of Texas and TCU, playing a part in two Southwest Conference Titles (Texas '91, TCU '94). Mr. Ryan went on to pitch in the minor leagues for two seasons (1994-95) in the Rangers system after being selected in the 17th round of the June 1994 Draft.
From day one, Reid Ryan has emphasized the importance of the fan experience and has made it a personal mission to openly engage with the Astros fan base. He proudly supports the efforts of the Astros Foundation and the Community Leaders program, which won the 2017 Allan H. Selig Award for Philanthropic Excellence, Major League Baseball's highest community-focused honor. Whether he's in the ballpark on game days, at one of the Astros Community Leaders' ballparks, or finding new ways to make Minute Maid Park one of the top destinations in baseball, Ryan takes pride in being an active member of the Houston community.
Gil Staley, CEO of The Woodlands Area Economic Development Partnership, said, "We were honored to have Reid address our members and guests and share the Houston Astros' World Series Trophy. It was obvious that our attendees left the event with a passionate appreciation for the success of the Astros and an eagerness for Opening Day 2018."
The Woodlands Area Economic Development Partnership (EDP) is a non-profit organization dedicated to promoting the economic development of The Woodlands Area through the support of existing businesses and the recruitment of new businesses that can bring job opportunities and capital investment to the area. For more information, visit www.edpartnership.net.
Source: Ashley Byers, The Woodlands Area Economic Development Partnership