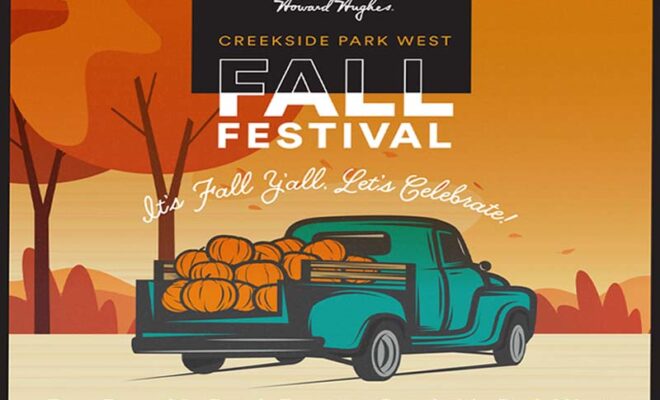 entertainment
Howard Hughes Corp. to host Inaugural Fall Festival at Creekside Park West Oct. 2
By |
THE WOODLANDS, TX – The Howard Hughes Corporation® (NYSE: HHC) is hosting a Fall Festival at Creekside Park® West, the newest 70,000-square-foot retail component in Creekside Park Village Center in The Woodlands®.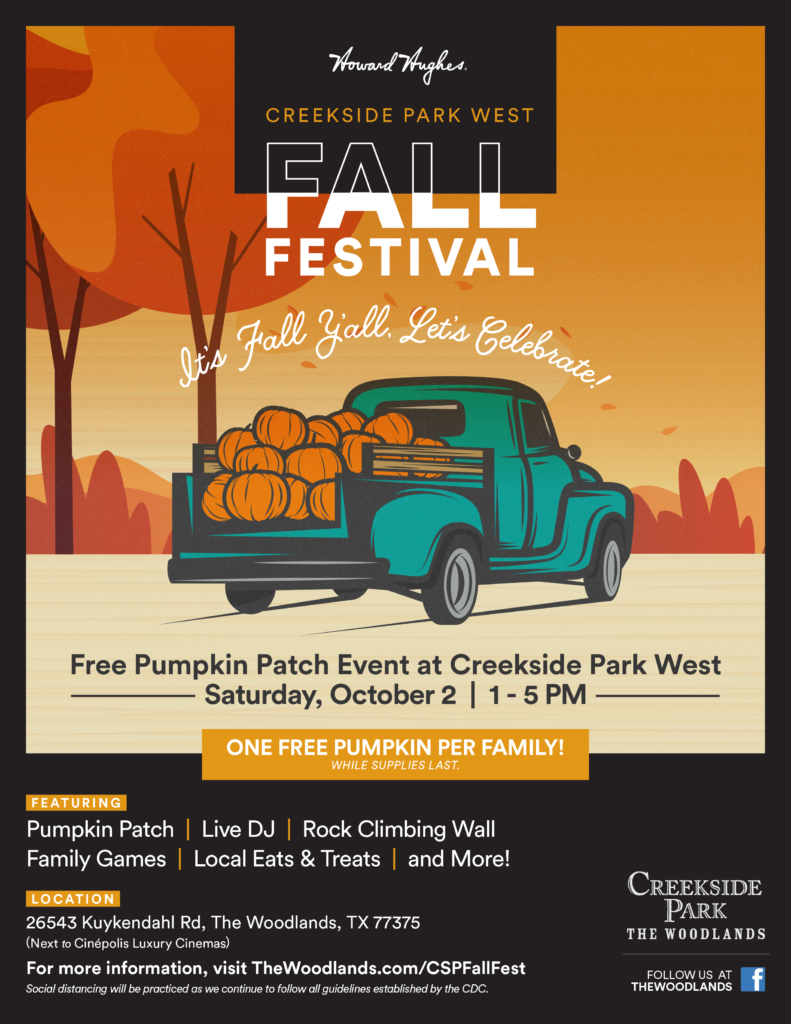 This inaugural festival is a free, family-friendly event that will feature live DJ music, a pumpkin patch, a rock climbing wall, family games, local eats and treats, and more! One free pumpkin per family will be given away while supplies last. Social distancing will be practiced following all guidelines established by the CDC.
The Festival will be held from 1-5 PM at Creekside Park West, located at 26543 Kuykendahl Road, just south of Creekside Forest Drive, next to Cinépolis Luxury Cinemas.
"We are excited to host our inaugural Fall Festival at Creekside Park West for local residents and visitors to enjoy with their family and friends," said Kim Phillips, Vice President of Marketing for Howard Hughes. "Given the welcome turn of the season, Creekside Park West presents the perfect backdrop for an outdoor festival among its open green space and walkable setting. We encourage the community to come by and join the festivities."
Anchored by Cinépolis Luxury Cinemas, Creekside Park West retailers include Baja Sur Fresh-Mex and Tequila Bar, Glimpse Eye Care, Press Waffle Co., Pure Barre, Scooter's Coffee and YogaSix. For more information about the Fall Festival, visit www.TheWoodlands.com/CSPFallFest.

The Woodlands, a 28,500-acre award-winning master planned community located 27 miles north of downtown Houston, was recently recognized as the #1 Best Community to Live in America by Niche.com. The Woodlands offers an unprecedented 28% of green space, leading the way among master planned communities that practice environmental preservation. It is home to 119,000 people, and over 66,000 people work in the community. Considered one of the most successful master planned communities in the nation, The Woodlands has received numerous past accolades including the Vision Award, Development of Distinction from the Urban Land Institute; three-time honoree of "Master Planned Community of the Year", four-time recipient of "Humanitarian of the Year" and "Trailblazer of the Year" in 2018 by the Greater Houston Builders Association; American Trails Developer Award; Environmental Planning Award from the American Society of Landscape Architects, Texas Chapter Houston Section; and previous international recognition with a Nations in Bloom Gold Award. For more information, visit www.thewoodlands.com. For additional details, find us on Facebook, Twitter, Instagram and LinkedIn.

The Howard Hughes Corporation owns, manages and develops commercial, residential and mixed-use real estate throughout the U.S. Its award-winning assets include the country's preeminent portfolio of master planned communities, as well as operating properties and development opportunities including: the Seaport in New York; Downtown Columbia®, Maryland; The Woodlands®, The Woodlands Hills®, and Bridgeland® in the Greater Houston, Texas area; Summerlin®, Las Vegas; and Ward Village® in Honolulu, Hawaiʻi. The Howard Hughes Corporation's portfolio is strategically positioned to meet and accelerate development based on market demand, resulting in one of the strongest real estate platforms in the country. Dedicated to innovative placemaking, the company is recognized for its ongoing commitment to design excellence and to the cultural life of its communities. The Howard Hughes Corporation is traded on the New York Stock Exchange as HHC. For additional information visit www.howardhughes.com.