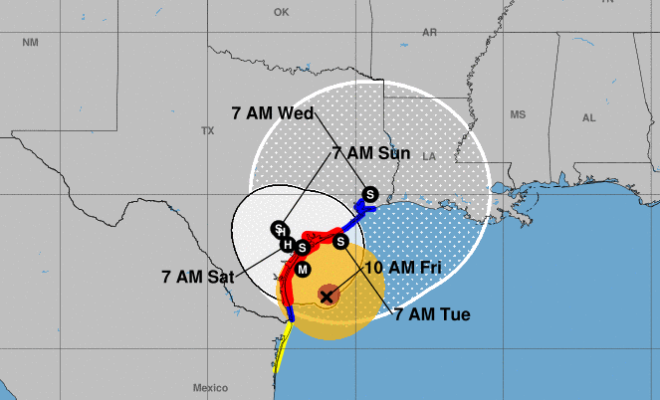 Photo by National Hurricane Center
Hurricane Harvey
Hurricane Harvey Strengthens Overnight
By |
August 25, 2017 – Overnight Hurricane Harvey strengthened to a category 2 hurricane. It continues to move northwest at 10MPH and is forecast to become a strong category 3 hurricane by landfall. Harvey is expected to make landfall late tonight or early Saturday morning. It is believed that after landfall it will hover near or just inland along the Texas coast.
Montgomery County will start seeing rainfall beginning today and winds could increase as the day progresses. Rainfall predictions between Friday and Wednesday are between 15 and 25 inches for our area and to the south.
The Office of Homeland Security and Emergency Management, elected officials and first responders continue to prepare for potential flooding in Montgomery County. Extremely high rainfall amounts could lead to a catastrophic flood event.
If you live in a flood prone area make plans to stay with friends and/or family or make other preparations as necessary. When you stay in an area that is prone to flooding, you not only put yourself and your family in danger, you put emergency responders in danger as well.
Some of the School Districts have decided to close or alter their schedules for Friday. They are listed below, please follow up with them or monitor their websites for further information.
Montgomery Independent School District will be releasing early Friday, August 25, 2017
Secondary (6th-12th grades): 11:30am Elementary (PreK-5th grades): 1:00pm
Schools closed tomorrow Friday, August 25, 2017:
Conroe Independent School District
Willis Independent School District
Splendora Independent School District
View full list of schools closed here.
For help and information on preparing for disasters, download our new preparedness app ReadyMCTX to your mobile device. Now is the time to make sure preparations are in order and check your emergency kits.
Hurricane Warning in effect from Port Mansfield to Sargent.
Tropical Storm Warning in effect from Matagorda to High Island.
The Office of Homeland Security and Emergency Management, elected officials and our partners will continue to monitor the conditions of Harvey and update when necessary.
To receive emergency alerts to your phone or email from Montgomery County Office of Emergency Management, register at https://www.smart911.com/. When you are creating your profile, you must check the box next to Share my Smart911 Profile with TX-Montgomery-County-911 to support emergency preparedness.
Stay informed and monitor conditions for Montgomery County and the surrounding area on the Office of Homeland Security and Emergency Management website www.mctxoem.org
Source: Montgomery County Office of Homeland Security and Emergency Management