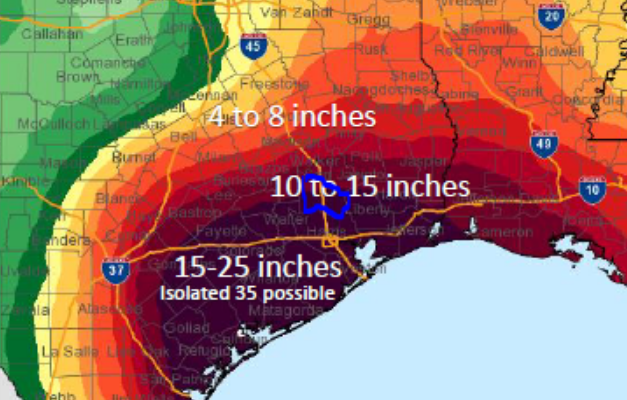 Hurricane Harvey
Staying Safe During Hurricane Harvey
By |
August 25, 2017 – Hurricane Harvey remains a category 2 hurricane, the National Weather Service still forecasts it to become a category 3 by landfall. Tonight's landfall is expected to be near the Corpus Christi/Rockport area. Once on land it is projected to stall and drift slowly northeast along the Texas coast over the weekend through Tuesday.
Montgomery County will start seeing rainfall beginning today and winds could increase as the day progresses. Rainfall predictions between Friday and Wednesday are between 15 and 25 inches for our area and to the south. Over the weekend through Tuesday we can expect localized flooding and road closures.
During the onset of a hurricane Montgomery County will not call for mandatory evacuations, instead residents will be asked to shelter in place. Although we will still be in considerable danger due to wind and rain, our distance from the coast takes us out of the immediate danger of any storm surge. Having Montgomery County residents shelter in place allows evacuees from those coastal areas to pass through and avoids road congestion. Additionally, evacuees are asked to not stop in Montgomery County due to the fact that we will still be greatly affected by the storm and we do not have the infrastructure and resources in place to support evacuees. Instead they are asked to proceed to shelter cites, such as Huntsville, Dallas, and San Antonio.
For help and information on preparing for disasters, download our new preparedness app ReadyMCTX to your mobile device. Now is the time to make sure preparations are in order and check your emergency kits.
Emergency Supplies Kit
To assemble your kit, store items in airtight plastic bags and put your entire disaster supplies kit in one or two easy-to-carry containers such as plastic bins or a duffel bag.
A basic emergency supply kit could include the following recommended items:
Water – one gallon of water per person per day for at least three days, for drinking and sanitation
Food – at least a three-day supply of non-perishable food
Battery-powered or hand crank radio and a NOAA Weather Radio with tone alert
Flashlight
First aid kit
Extra batteries
Whistle to signal for help
Dust mask to help filter contaminated air and plastic sheeting and duct tape to shelter-in-place
Moist towelettes, garbage bags and plastic ties for personal sanitation
Wrench or pliers to turn off utilities
Manual can opener for food
Local maps
Cell phone with chargers and a backup battery
Consider adding the following items to your emergency supply kit based on your individual needs:
Prescription medications
Non-prescription medications such as pain relievers, anti-diarrhea medication, antacids or laxatives
Glasses and contact lense solution
Infant formula, bottles, diapers, wipes, diaper rash cream
Pet food and extra water for your pet
Cash or traveler's checks
Important family documents such as copies of insurance policies, identification and bank account records saved electronically or in a waterproof, portable container
Sleeping bag or warm blanket for each person
Complete change of clothing appropriate for your climate and sturdy shoes
Household chlorine bleach and medicine dropper to disinfect water
Fire extinguisher
Matches in a waterproof container
Feminine supplies and personal hygiene items
Mess kits, paper cups, plates, paper towels and plastic utensils
Paper and pencil
Books, games, puzzles or other activities for children
To receive emergency alerts to your phone or email from Montgomery County Office of Emergency Management, register at https://www.smart911.com/. When you are creating your profile, you must check the box next to Share my Smart911 Profile with TX-Montgomery-County-911 to support emergency preparedness.
Stay informed and monitor conditions for Montgomery County and the surrounding area on the Office of Homeland Security and Emergency Management website www.mctxoem.org
Sources:
Montgomery County Office of Homeland Security and Emergency Management 
Emergency Kit Information by https://www.ready.gov/build-a-kit