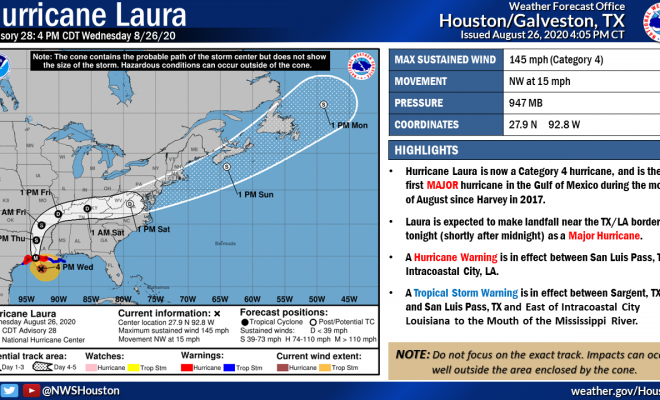 Weather
Hurricane Laura now Category 4
By |
GOES-16 1-minute infrared imagery at 4 PM CDT shows Hurricane Laura's large and well-defined eye approaching the Gulf Coast as a powerful Category 4 Hurricane. Maximum wind speeds within the storm are currently 145 mph.
4 PM CDT – Hurricane Laura's maximum winds have increased to 145 mph, with a landfall near the TX/LA border late this evening remaining in the forecast. Maximum winds are currently forecast to increase to 150 mph prior to landfall.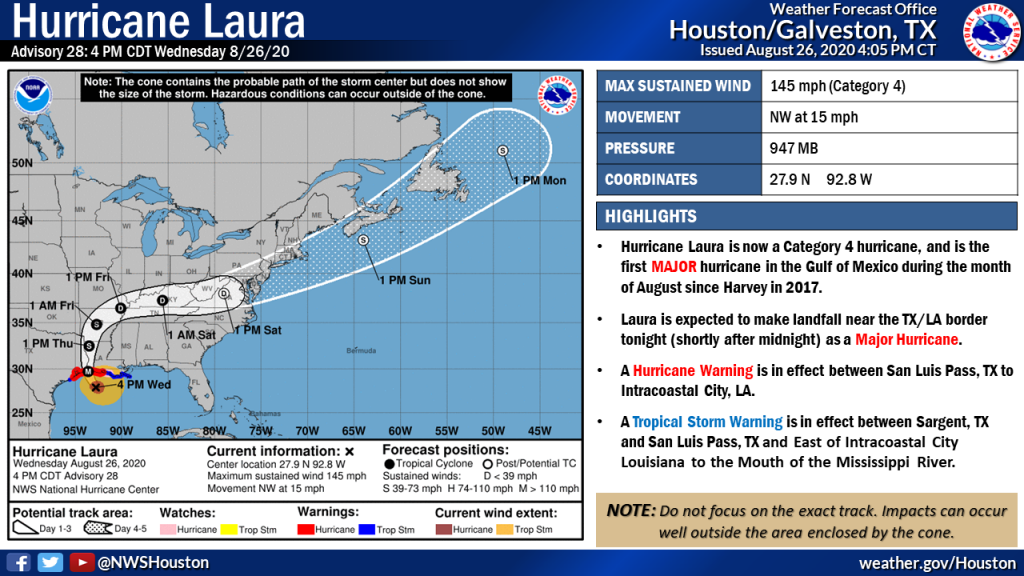 3:45 PM Radar Update: Storms embedded within Hurricane Laura's outer rain bands continue to push inland. These storms may produce gusty winds and locally heavy downpours. A gust of 38 mph was observed at 3:36 PM at the airport in Conroe.
8 AM Update: Hurricane Laura is expected to continue to intensify today before making landfall early tomorrow morning.
Expected local impacts:
Wind West of I-45: 30-40mph
East of I-45: 45-55mph
Rainfall
West of I-45: 1-2 inches
East of I-45: 2-6 inches
Look for outer bands to begin moving inland later today, with increasing coverage later tonight as Laura reaches the coastline and makes landfall.
Source: US National Weather Service Houston-Galveston Texas, Montgomery County Office of Homeland Security and Emergency Management