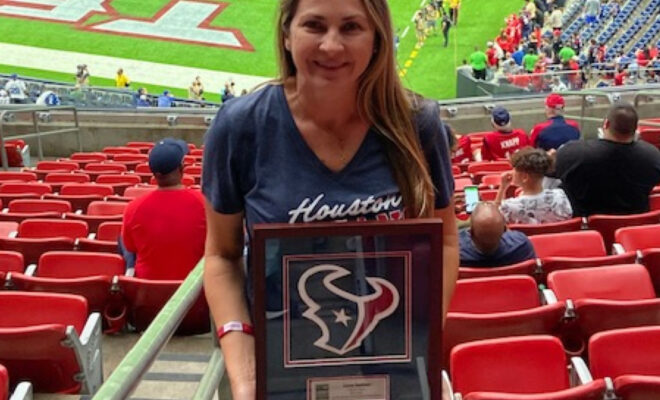 Lifestyle
Inspiration Ranch Volunteer Recognized by Houston Texans
By |
MAGNOLIA, TX – Each year, the Houston Texans choose ten Houston-area volunteers from United Way agencies that exemplify leadership, service, and commitment to improving the community and honor them as Community Quarterbacks. Last week, Teresa Davidson was honored as a 2021 Community Quarterback for showing a spirit of volunteering and giving back at Inspiration Ranch.
"Teresa's willingness to step up as a volunteer therapist was an incredible gift to us," says Inspiration Ranch Operations Director Kim Vest. "We had clients who needed seamless care, and Teresa made that possible with her willingness to give of her time."
Davidson's story at Inspiration Ranch began with the desire to unite her counseling profession and interest in animal therapy. She began volunteering weekly with the therapeutic riding program. She saw how it affected the clients' demeanor and mood in addition to providing physical benefits, and it fueled her interest in using her role as a therapist to treat alongside animals. The opportunity to do that came sooner than expected.
In late August, the therapist running Inspiration Ranch's equine-assisted psychotherapy program retired. Private clients were transitioned to new therapists, but a group of trafficked women treated through a partner program required a therapist to see them at the Ranch. Davidson immediately stepped in to help, volunteering her time as a professional therapist so that the women saw no disruption in care.
"Teresa willingly offered her education and professional training so that women who had suffered unimaginable things were cared for," says Vest, "that is a true spirit of giving and volunteerism."
Davidson now contracts with Inspiration Ranch to treat private and group clients through its Equine-Assisted Mental Health Program. She is working to help the Ranch grow the program in a community with a low ratio of mental health providers to population and a higher than average suicide rate.
Like all mental health providers, Inspiration Ranch has seen a sharp increase in need over the past year and a half. Along with the increase in demand for services has been a request for scholarship assistance. While clients who come to the Ranch may have health insurance coverage, many do not have coverage for mental health care or need to reach a high deductible before sessions are covered. Others do not want to file for coverage with their carriers for personal reasons. All of this leads to a hesitancy to seek help.
Inspiration Ranch fundraises to cover the costs of its session for those who cannot afford them and is always in need of new partners willing to help ensure care is available to everyone. If you would like to learn more about supporting Inspiration Ranch's scholarships, please email sheila@inspirationranch.org.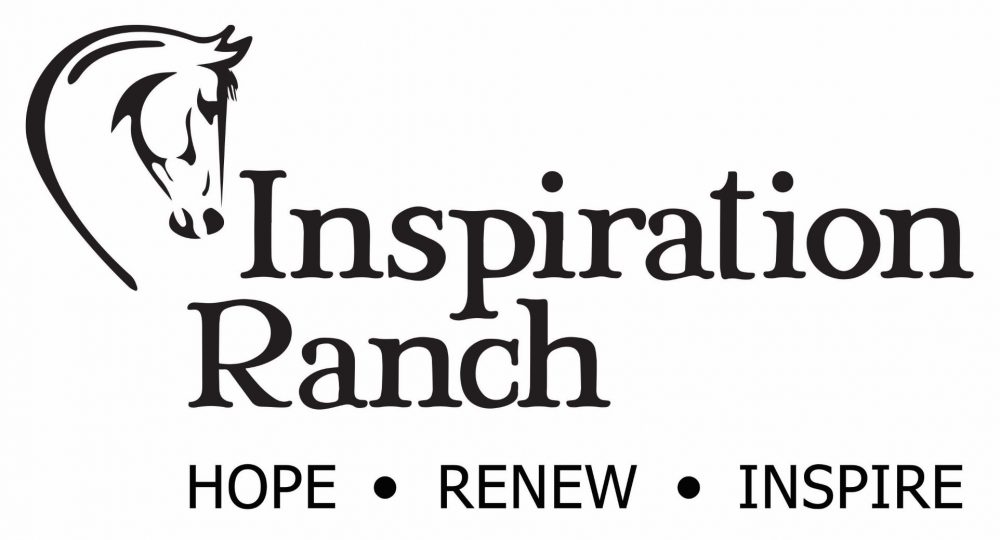 Inspiration Ranch provides hope and improves the lives of those with physical, mental, and emotional challenges through equine-assisted services. The 501(c)3 nonprofit offers Equine-Assisted Therapeutic Riding for special needs children and Equine-Assisted Mental Health Services to the community at large and victims of sex trafficking, domestic abuse, and those with severe emotional trauma. For information, visit inspirationranch.org.