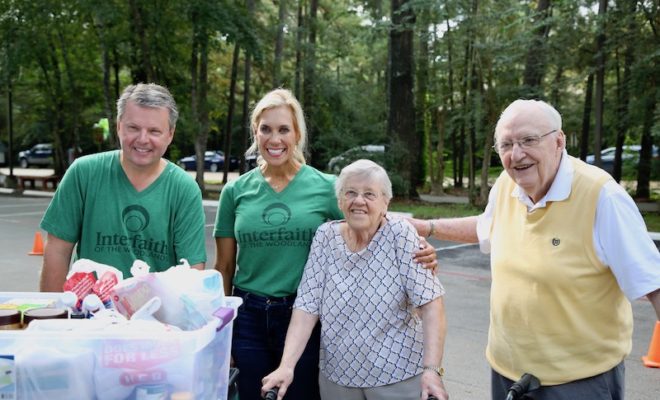 Events
Interfaith's Day of Caring to raise 45K lbs of food
By |
Interfaith of The Woodlands is celebrating its 45th anniversary with a Day of Caring: A Community-Wide Food Drive in the parking lot of Interfaith of The Woodlands this Friday, October 5. Interfaith has a goal of raising 45,000 pounds of food by 5 p.m.
The Day of Caring food drive strives to bring together neighbors representing the spiritual, corporate, school, civic, families and individuals of our community in the name of service, to help our neighbors in need and celebrate the past, present and future of Interfaith.
The celebration features local businesses, community leaders, volunteers and staff, all working together to collect food for Interfaith's food pantry. Interfaith is inviting anyone to participate, as the food panty serves over 18,000 individuals on average annually.
Items can be delivered at Interfaith Central, at 4242 Interfaith Way until 5 p.m. Any interested parties may go to woodlandsinterfaith.org/dayofcaring for information on how to participate or just show up on Friday, October 5.
View photos from the event on the Hello Woodlands Facebook page!
Interfaith of The Woodlands is a nonprofit social service agency providing programs and services to meet the needs of The Woodlands and the surrounding area. Interfaith provides basic needs assistance and special programs to families experiencing a financial crisis, and supportive service through care and wellness programs to senior adults 62 and over, in addition to many community programs dedicated to improving the lives of individuals in need. For more information on Interfaith's programs and services or to become a volunteer, visit woodlandsinterfaith.org or call 281-367-1230.