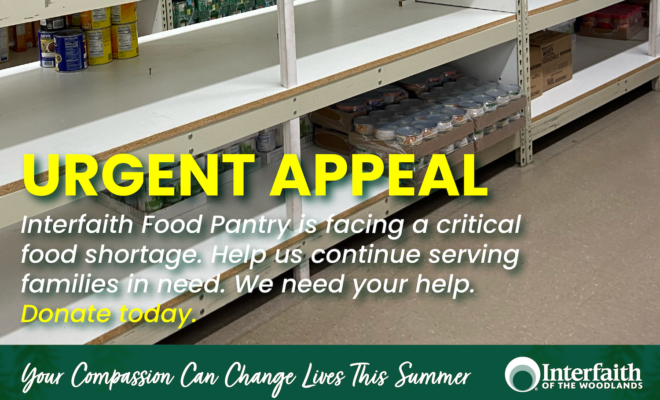 News
Interfaith of The Woodlands urgently appeals for Volunteers and Donations to support Food Pantry
By |
Interfaith of The Woodlands, a nonprofit social service agency providing numerous programs and services to meet the needs of our neighbors in South Montgomery County, is making a heartfelt appeal for help with providing essential services to those in need. The organization is calling on residents, congregations, and businesses to rally together and make a difference by donating to the Food Pantry and volunteering their time and skills at The Interfaith Hand Me Up Shop and as volunteer drivers for the Senior Transportation program.
The summer break poses unique challenges for families, as children who rely on school meals may go without proper nutrition. For vulnerable households already facing financial hardships, providing three meals a day can be an overwhelming burden. Interfaith of The Woodlands' Food Pantry plays a crucial role in preventing food insecurity. Food Pantry needs have increased by 25% since this time last year and the need is expected to continue to grow. Additionally, supply chain issues are a major challenge, making it increasingly more difficult to stock the Food Pantry through grocers and local food resources. Also, volunteer needs continue to grow, and two specific programs are in the greatest need of support: The Hand Me Up Shop and drivers to assist transportation-dependent Senior neighbors to essential appointments.
"Your support of Interfaith of The Woodlands directly impacts the lives of families, children and Senior neighbors facing these pressing challenges," said Missy Herndon, President and CEO. "Your generosity ensures that Interfaith of The Woodlands continues to meet the growing needs of our community while providing life-changing programs and vital resources to help keep our neighbors self-sufficient," said Herndon.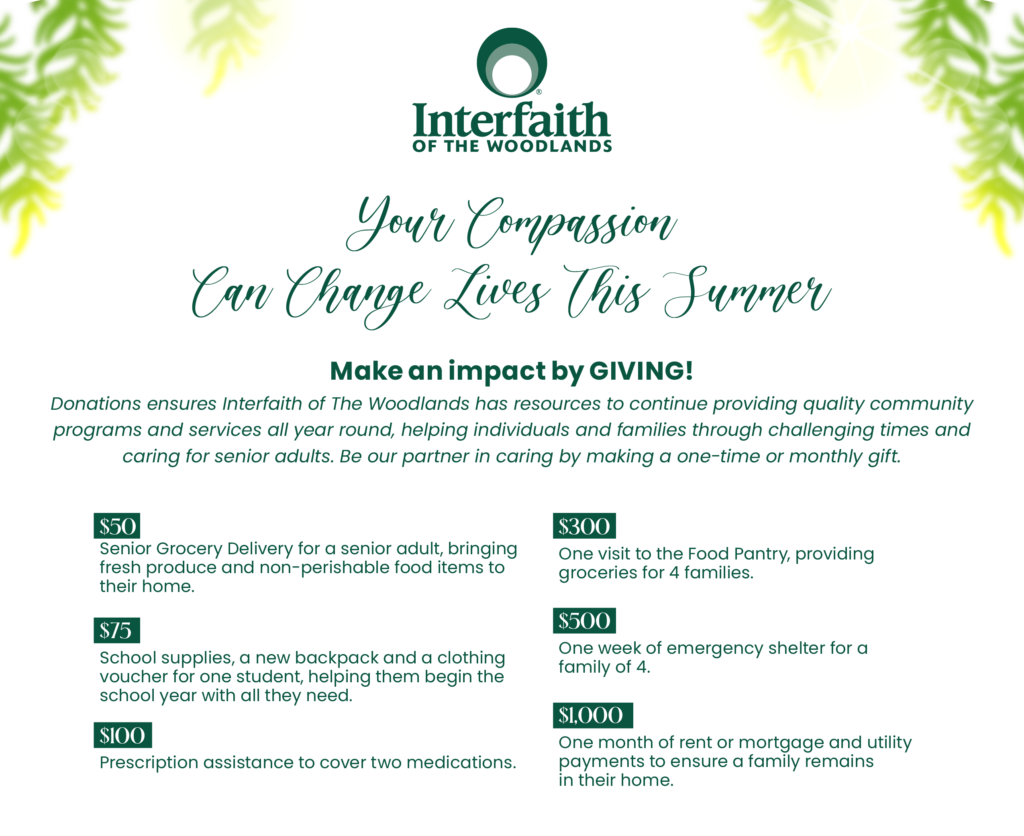 To support your hometown non-profit, we encourage you to consider the following donation options:
Monetary donations: Visit our website www.woodlandsinterfaith.org to make a secure online contribution. Your financial support helps us stock the Food Pantry with nonperishable and perishable groceries, produce, cleaning supplies, toiletries, and baby items.  
Food donations: Drop off nonperishable food items at 4242 Interfaith Way, The Woodlands, TX 77381, Monday-Thursday, during the hours of 8:30AM – 4:00PM and Fridays, 8:30AM-Noon. Your generosity helps us meet the growing demand and sustain our efforts to combat hunger in South Montgomery County.
Volunteer: Volunteers are the backbone of Interfaith's programs and services.  Interfaith is currently recruiting volunteers at The Interfaith Hand Me Up Shop and drivers for the Senior Transportation program. Volunteer drivers support senior neighbors living independently by driving them to essential appointments and the grocery store. Volunteer drivers are required to complete an orientation and a background check.  To learn more about becoming a volunteer driver click here. Volunteers at Interfaith Hand Me Up Shop are needed immediately to assist with sorting donations, pricing items, and greeting customers. Click here for available shifts.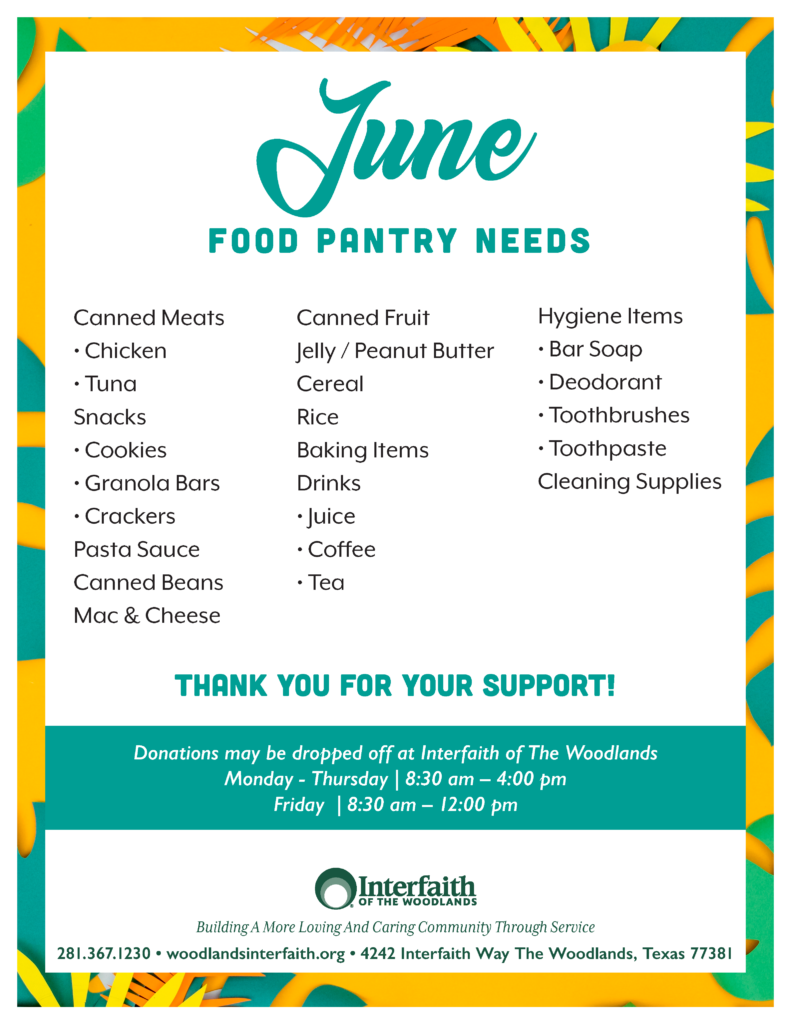 About Interfaith of The Woodlands
Created in 1973, by founder of The Woodlands, Mr. George P. Mitchell, Interfaith of The Woodlands is a nonprofit social service agency that provides families and individuals facing unexpected challenges with basic needs, support to prevent food insecurity and homelessness and job placement assistance in addition to wrap around services. Senior adults are able to participate in a variety of services and activities, while any area resident can gain access to a variety of information and referral tools and resources created to help neighbors rise above their circumstances and regain self-sufficiency. For more information on Interfaith's programs and services or to become a volunteer, please visit woodlandsinterfaith.org or call 281-367-1230.