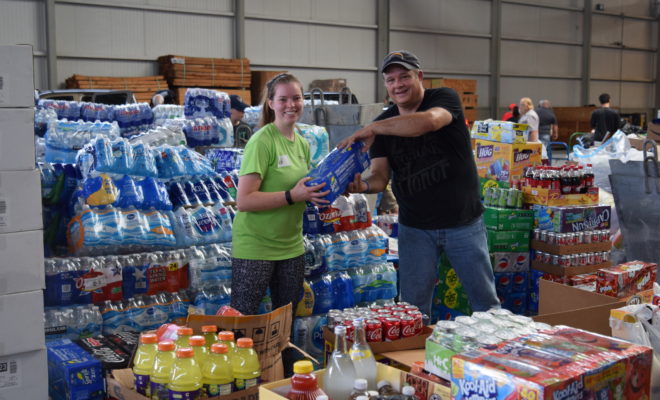 Hurricane Harvey
Interfaith serves neighbors affected by Harvey
By |
THE WOODLANDS, TX (Friday, September 1, 2017) – The overwhelming devastation from the flooding of Hurricane Harvey has impacted thousands of individuals and families in the community. Interfaith has been working around the clock with the Montgomery County Office of Emergency Management, local government, congregations and relief organizations to identify the most urgent needs for the area and to allocate financial assistance to families in crisis.
Montgomery County distribution sites, facilitated by Interfaith of The Woodlands, will be located throughout the county with the largest site located at Falcon Steel America, 3575 Pollok Street, Conroe, TX 77303. Distribution at the Pollok Street address to families impacted by the floods will start Saturday, September 2nd from 9:00 am – 6:00 pm. Distribution will resume Monday, September 4th from 9:00 am – 2:00 pm and Tuesday, September 5th – Friday, September 8th from 9:00 am – 4:00 pm. Individuals needing assistance are required to bring a photo ID or passport at the time of distribution.
Interfaith's largest need at this time is monetary donations to support the individuals and families coming out of shelters and transitioning into long-term housing. Interfaith will provide temporary shelter, rent and mortgage assistance, utility assistance, gas cards and gift cards to families who have been affected by the floods. Donations can be made online at www.woodlandsinterfaith.org.
Thousands of volunteers have worked tirelessly all week collecting and organizing donated clothing, toiletries, cleaning supplies, household items, and food. Individuals wanting to get involved are encouraged to check Interfaith's website and Facebook page for volunteer opportunities. Donations needed at this time are first aid supplies, cleaning supplies, masks, work gloves, garbage bags, toilet paper, paper towels, mops, brooms, water and non-perishable food. Interfaith is unable to accept clothing at this time. Donations can be dropped off at 4242 Interfaith Way, The Woodlands, TX. Please visit Interfaith's website for updates on items needed.
"The outpouring of support from our community and all over the country is a symbol of the resilience of the human spirit. As always, the good people of our county have unified to ensure the needs of our affected neighbors are met. Through supplies, food and water donations, to volunteering and leading clean-up efforts, our residents have taken care of one another," shared Missy Herndon, President and CEO of Interfaith of The Woodlands.
Interfaith is a non-profit social service agency providing numerous programs and services to meet the needs of The Woodlands and the surrounding area. For more information on Interfaith's programs and services, or to become a volunteer, please visit: www.woodlandsinterfaith.org or call 281-367-1230. Hours are Monday – Friday, 8:00 am – 5:00 pm.