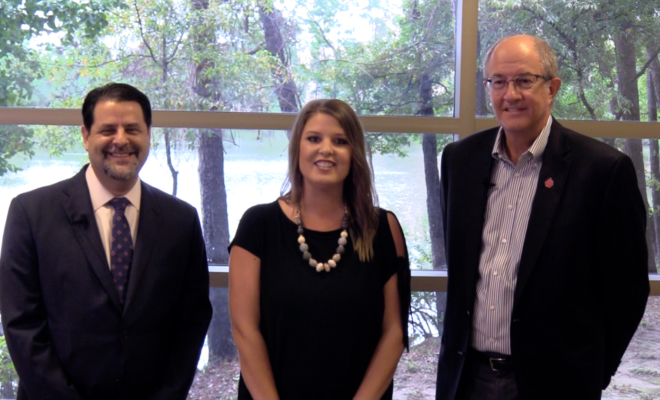 Events
INTERVIEW: 2018 Montgomery County Heart Walk
By |
The American Heart Association, the world's leading voluntary health organization dedicated to building healthier lives, free of cardiovascular diseases and stroke, celebrates the 25th anniversary of the Heart Walk, an event that has been instrumental in innovative breakthroughs over the last 25 years.
The Montgomery County Heart Walk is among 300 Heart Walks held in communities across the nation and this year organizers hope to raise $550,000. Nearly 1 million people each year walk for this singular mission, to cure heart disease and stroke. This year walkers will meet at 8 a.m. on Saturday, November 10, at Northshore Park, 2505 Lake Woodlands Drive. Individuals and teams can register online at MontgomeryCountyHeartWalk.org.
Hello Woodlands interviewed Kelsey Casey, Senior Director of Development of the American Heart Association of Montgomery County, and 2018 Chairs of the Montgomery County Heart Walk, Jim Parisi, President CHI St. Luke's Health, The Woodlands, Lakeside and Springwoods Village Hospital, and Thomas Smouse, Human Resource Executive with Encino Energy, about the 2018 Montgomery County Heart Walk.
The free, family and pet-friendly event is open to the public. Walkers are encouraged to register and to raise funds that will help support the fight in their local community at MontgomeryCountyHeartWalk.org. 
Since the inception of the Heart Walk in 1993, mortality rates from cardiovascular disease and stroke have plummeted by 45 percent. Each walker and each donation has helped to transform health statistics into lives saved, but there is more work to be done. 
Each day, about 2,150 Americans die from cardiovascular disease – the No. 1 killer in the United States. Stroke, the No. 5 killer and a leading cause of severe disability, claims the lives of nearly 219,000 each year.
The Heart Walk is open to the community as all are welcome to participate and change the story of heart disease and stroke in Montgomery County. Those who walk are committed to funding research that keeps hearts beating.
For more information or to register for the Montgomery County Heart Walk visit MontgomeryCountyHeartWalk.org.