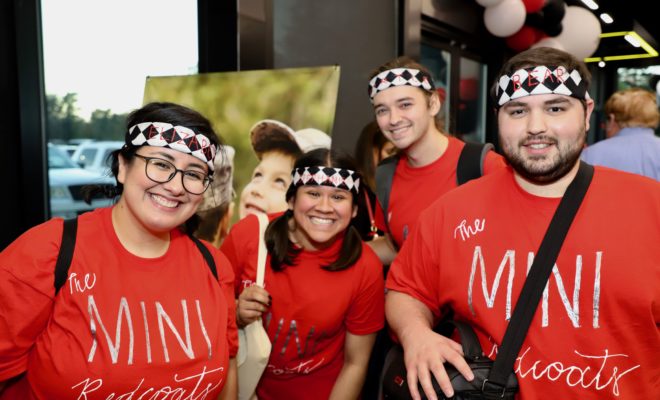 Events
MINI Scavenger Hunt raises funds and awareness for Canopy
By |
Volunteers, supporters, and the community came together on Sunday, November 4, 2018 for Canopy Quest, a community wide scavenger hunt around The Woodlands, that raised funds and awareness for Canopy, a cancer survivorship center at Memorial Hermann The Woodlands Medical Center.
The scavenger hunt began and ended at MINI Cooper of The Woodlands where a family friendly fall festival was held with food and drinks, raffle prizes, and family friendly activities from 2 to 7 pm.
Watch our live broadcast at the event kickoff:

Canopy Quest, powered by ExxonMobil employee volunteers, was a sold out event and community-wide scavenger hunt where teams of four drove MINI Coopers through the streets of The Woodlands to 15 various locations. The teams had to successfully complete small challenges at each stop before moving onto the next. They then returned to MINI of The Woodlands for a finale festival where the whole family was invited to partake in the fun.
Supported almost entirely by philanthropy and volunteers, Canopy is a caring community of hope, healing and empowerment with a mission to enhance the quality of life for individuals affected by cancer as well as those who support cancer survivors. Canopy offers a range of free services such as one-on-one counseling, cooking demonstrations/ teachings, yoga classes, massage therapy, a private dressing room area for breast prosthesis and bra fittings, a wig salon for individuals coping with hair loss and so much more.
Canopy Quest was co-chaired by Chardelle Adelson, a long-time volunteer at Canopy, and Annabelle Carrillo, Community Liaison for BMW of The Woodlands-Autonation. This was the first annual Canopy Quest fundraiser with all proceeds from Canopy Quest going back to the programing at Canopy.
View photos from the event on the Hello Woodlands Facebook page!

For more updates and information about Canopy Quest, visit and like the Facebook page at https://www.facebook.com/canopyquest/
For more information, about Canopy, a cancer survivorship center at Memorial Hermann The Woodlands Medical Center, visit https://www.memorialhermann.org/give-volunteer/foundation/canopy-quest/.