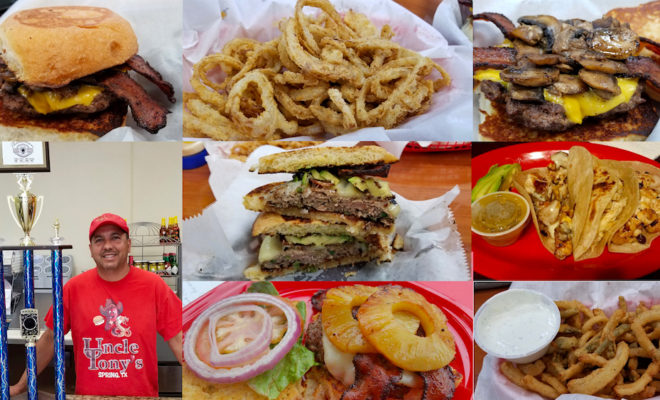 Food & Drink
An Interview with Uncle Tony's Tony Marron
By |
Serving gourmet Angus burgers, signature tacos, hot sandwiches, salads and an array of appetizers; one thing is clear when you go to Uncle Tony's – a lack of bold flavors will not be an issue.
Owner Tony Marron has had long road finding the perfect location for his restaurant, Uncle Tony's. Originally located on FM 1314 near 242, the location wasn't convenient for most people; however, their new home at 314 Sawdust Rd in the Spring/Woodlands area is easier to find and convenient to drive to. Despite some initial challenges, Tony is expanding his business with the addition of Uncle Tony's Food truck coming soon for festivals and special events – as well as catering.
Everything Tony and his crew serves is fresh, great quality and made to order – no pre-made or frozen burger patties. Tony's most famous and possibly his most unique menu item is the Rattlesnake Burger (not made from actual rattlesnake), the burger that helped Tony place 3rd at the Throwdown Texas Burger and Music Festival. The "rattlesnake" moniker comes from the spice that sneaks up on your tastes buds. If it is not spicy enough, you can add fresh chopped jalapeños or grilled fresh habanero peppers to any of their burgers, tacos or menu items. Still not enough? Add a few slices of peppered bacon or even a fried egg and you have a meal fit for a King.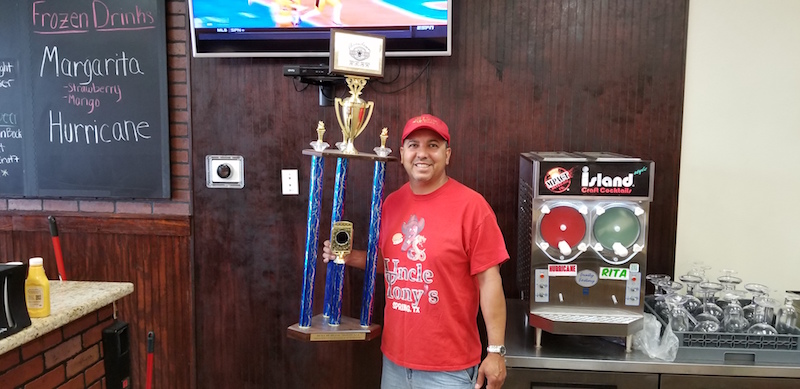 Surprisingly, the tacos are just as good as the burgers at Uncle Tony's and the "World Famous" Chicken Tacos – 3 Flour Tortillas with grilled chicken, grilled onions, melted muenster cheese with your choice of style fresh grilled jalapeños, grilled fresh mushrooms, grilled pineapple or grilled fresh habaneros – are absolutely stellar. Sour cream or avocado are available for add ons to further customize your tacos.
Fresh cut fries, seasoned fries, sweet potato fries or hand battered thin onion rings are available to complete any meal.
Now offering craft beers and wine, Uncle Tony's happy hour is available daily from 3pm to 7pm with $1 off all drinks. This is perfect with some of their appetizers like the Texas Toothpicks (fried battered jalapeño strips and onions), house battered fried mushrooms, guacamole with fresh fried chips, wings or deluxe chicken nachos. A full Happy Hour food and drinks menu is coming soon.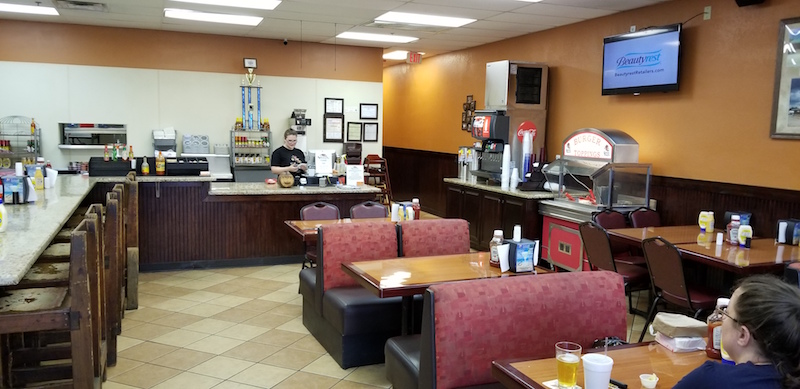 Hello Woodlands got to sit down for an interview with Tony Marron.
Tell us the evolution of Uncle Tony's from the first location to the newest one?
In 2010 Uncle Tony's started off in a 700 sq ft to go building located at 20360 FM 1314. It was a 1 man operation until we relocated in 2012 into a 3800 sq ft building on hwy 59/FM 1314. We were only there for a year because landlord sold the property to Starbucks. So we moved a 3rd time into RC'S Pizzas old location on FM 1314 close to 242. Busy was great the first 6 months until the oil crisis hit and then it was a struggle for 3 years. In 2016 we bought out our lease and moved into our current location on 314 sawdust road Spring, Tx. It is a 1900 sq ft moderate building and we serve beer.
What drives Tony Marron?
Since I am a foodie great food drives me. I love to cook great tasting food and love sharing my food with those that appreciate unique, quality tasty food.
What is the rattlesnake burger?
Our signature burger is the rattlesnake burger which is a combination of angus beef, specially made pork pan sausage, diced onions, diced fresh jalapeños, mixed with our special seasonings. Served on a jalapeño cheddar sourdough bun with melted muenster cheese. Our ultimate comes with smoke peppered bacon and avocado.
Some of your menu items have odd names, explain what is a Chela and Nunie?
Since we are a family restaurant I have 4 burgers with weird nicknames. Nunie is my brother's nickname – it is a seasoned angus burger on split top regular bun. Chela is short for marcela which is my wife – it is a angus burger on lightly sweet sourdough bun. Urla is short for Ursula and that is my younger sister its a chela burger with pineapple. The last burger my brother Richard felt left out so we got a chela and put a fried egg on it.
What are your customer favorite burgers?
Our most popular burgers are Nunie and Chela for price but uniqueness and quality are the Ultimate Rattlesnake and bacon mushroom swiss.
Uncle Tony's is more than burgers, what else do you serve?
We offer a variety of other items.

Appetizers, house battered pickles, house battered mushrooms, wings(lemon pepper, spicy or bbq), deluxe chicken nachos, cheese sticks, texas toothpicks, Chicken tacos.

My personal favorite is our house battered buffalo chicken sandwich.
What makes Uncle Tony's chicken tacos extraordinary?
Our soon-to-be-famous chicken tacos are exceptionally delicious. First we use a quality chicken hence the price of our tacos. The way we cook our chicken tacos is taboo with most chefs. We use extra virgin olive oil and saute chicken with diced onions, with choice of jalapeño, mushrooms, pineapple, habanero or trash can style. 3 tacos served on flour tortillas with melted muenster cheese and homemade salsa on the side.
Since Uncle Tony's serves beer now, what beer do you recommend to pair with a Rattlesnake burger or spicy tacos?
 I am a big michelada fan and last year I went on a cruise in Mexico and convinced the bartender to give me his recipe. So Modelo michelada goes great with our spicy food.
Any other great beer and menu item pairings?
My favorite is habanero, pineapple chicken tacos with St Arnold Art Car.
How are the frozen Margaritas and Hurricanes?
Since we only have a beer and wine permit, we use Mpact beverage frozen margaritas and frozen hurricanes. They use alcohol with 12% proof so its classified under wine. We offer regular frozen margaritas, frozen mango, frozen strawberry, made with 100% real fruit.
What's next for Uncle Tony's?
We have recently purchased a food truck to help promote our current Location. Hopefully we can grow to more locations in the future.
5 Words to describe Uncle Tony's?
One of my regular customers told my "It is to die for."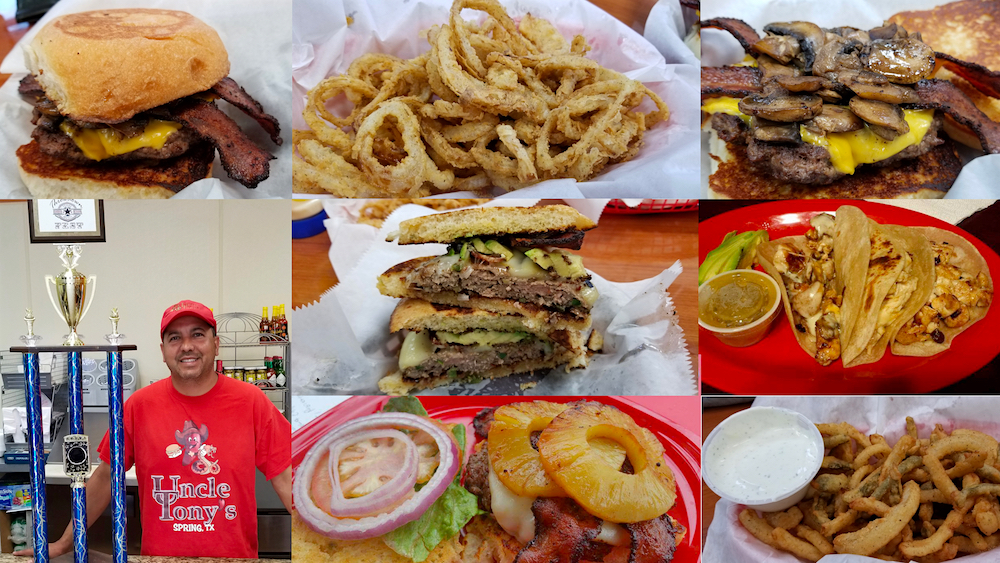 Learn more about Uncle Tony's by visiting their website at uncletonys.biz or Facebook page at Facebook.com/uncletonys1/.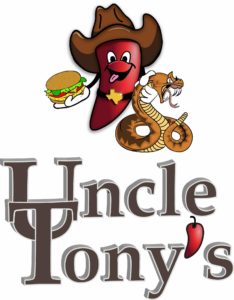 Nick Rama is a food writer, contributor of Hello Woodlands, and shares his restaurant experiences on Nick's Local Eats at NicksLocalEats.com and the Q Up The Burgers Facebook page. Nick enjoys helping the small business owner, supporting his community with fundraising for food banks, and plans tasting events with locally owned mom and pop restaurants.