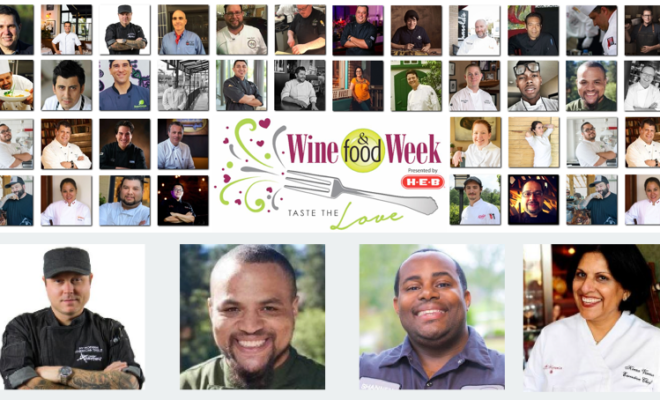 Food & Drink
National TV Chef Winners Converge on Wine & Food Week
By |
Chef Celebrities and Champions of MasterChef, Cutthroat Kitchen, Chopped, and Beat Bobby Flay will be making their way to The Woodlands for Wine and Food Week.
On Saturday, June 9, Wine and Food Week's Wine Rendezvous Grand Tasting & Chef Showcase presents guests with the opportunity to slip into their finest attire and be in the company of serious wine enthusiasts and outstanding culinary talent.
Arrive at 6:45 at the grand entry to meet Wine Wizard Master of Ceremonies, Guy Stout and Wizard Gourmet DJ Shaun O'Neale, for a toast to the official start that signals the festivities have begun.
Wine Wizard Guy Noel Stout is one of only 215 Master Sommelier (MS) in the world. He is also a Certified Wine Educator (CWE), Certified Spirits Specialist (CSS) and previous President of the Society of Wine Educators. Guy has also served on the Board of Directors of the Court of Master Sommelier, and has been recognized as a Houston Icon for his contribution to the Wine and Food Industry of Texas. He is the Corporate Account Specialist and Director of Beverage Education for The Glazer's Family of Companies, covering 14 states. Learn more about Guy
Wizard Gourmet DJ Shaun O'Neale exploded onto the culinary scene in September 2016 when he claimed the title of America's best home cook and was named Season 7 Champion of MasterChef on FOX. He graduated from reality star to culinary star in May 2017 with the release of his debut cookbook "My Modern American Table".
During his season of MasterChef, Shaun won over the palates of Gordon Ramsay, Christina Tosi, Daniel Boulud and Wolfgang Puck with his bold flavors and flawless presentation. He carried the same techniques that earned him a record-setting eight wins in the MasterChef kitchen through to the completion of his cookbook. Learn more about Shaun
The Gloria Ferrer Bubble Cove greets patrons upon arrival and offers an array of sparkling selections to start an effervescent experience. Guests enjoy chef demonstrations, sample from more than 500 wines and taste gourmet food from 60 restaurants. Accomplished Chefs from near and far are personally invited to showcase their talents for the attending guests. At evening's end, The Waterford Crystal Chef of Chefs Trophy and $5,000 cash is awarded to the best chef, as voted by a panel of esteemed judges. Meet the Chefs and Restaurants
Still have some room for dessert? Finish a fabulous evening on a sweet note with selections of confectionery perfection and desserts by renowned pastry chefs vying for the "Just Desserts" Award.
Features include Destination Spotlight on Aruba, Mexico, The New Wines of Ancient Thrace and returning Chef of Chefs award winners are bringing back their best to defend their title. The evening benefits New Danville, a self-sustaining, master-integrated community for adults with intellectual disabilities to Live, Learn, Work and Grow.
It all takes place within the lustrous atmosphere of The Woodlands Waterway Marriott Hotel and Convention Center providing the ultimate experience of elegance and charm.
Are you a serious wine enthusiast? Then you'll want to get your space in the Tom Peacock Cadillac VIP Luxury Lounge. Crème de la crème selections for discerning palettes are offered in swank surroundings with lounging areas.A limited number of upgrades are available Guests of the VIP Luxury Lounge will rub elbows with the Wine & Food Week's special guests, winemakers, culinary judges and authors while enjoying crème de la crème wine selections in their upgraded keepsake glass.
Learn more about Wine and Food Week, the featured chefs and celebrities, and purchase tickets at wineandfoodweek.com.