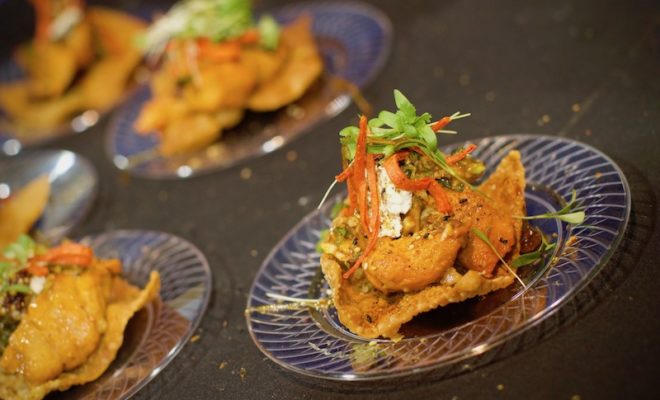 Photo by Jennifer Bruse, HelloWoodlands.com
Food & Drink
Chef Michael Gabriel wins Taco Takedown at Sips, Suds & Tacos
By |
On Friday, June 8, 2018, the doors opened at The Woodlands Waterway Marriott Hotel & Convention Center for the "Sips, Suds & Tacos," an event part of the 2018 Wine and Food Week in The Woodlands.
Attendees enjoyed wine and craft beer sampling, tacos, delicious bites, and live music from 6 to 9 p.m. At 6:30 pm, it was "game on" for the Taco Take-Down where guests and a panel judges chose their favorite taco from the competing restaurants and chefs.
View moments from the Sips, Suds & Tacos event:
Chef Michael Gabriel was chosen as this year's taco champion for his  Beef Tongue and Cheek Tacos with Watermelon Rind and received the coveted Taco Takedown Trophy.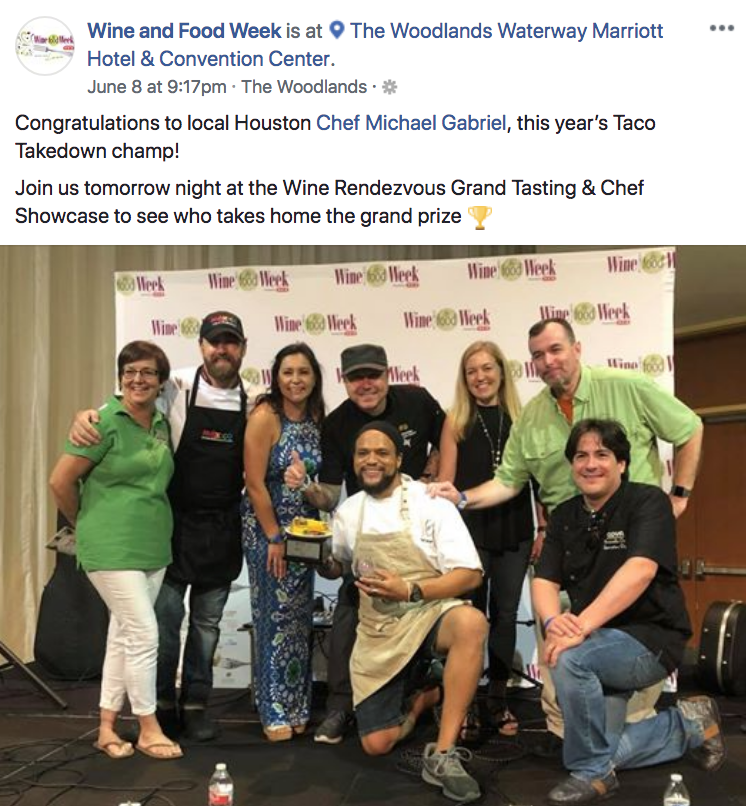 Chef Michael Gabriel is a nationally-renowned culinary artist with media spotlights including competing on Season 12 of Fox's hit TV show, Gordon Ramsay Hell's Kitchen, competing on the Season 12 of the Food Network's Cutthroat Kitchen, and winning the Food Network's Cutthroat Kitchen 2 as Champion of the Camp. A native Houstonian, Chef Gabriel's decorated culinary career builds on a strong foundation, including mentorship from the world's finest chefs, training and competing amongst the nation's finest culinary talent, and a formal culinary education. Learn more about Chef Michael Gabriel at chefmichaelgabriel.com
View photos from the Sips, Suds & Tacos event on the Hello Woodlands Facebook page!
Learn more about Wine and Food Week, produced by Food & Vine Time Productions, at www.wineandfoodweek.com.