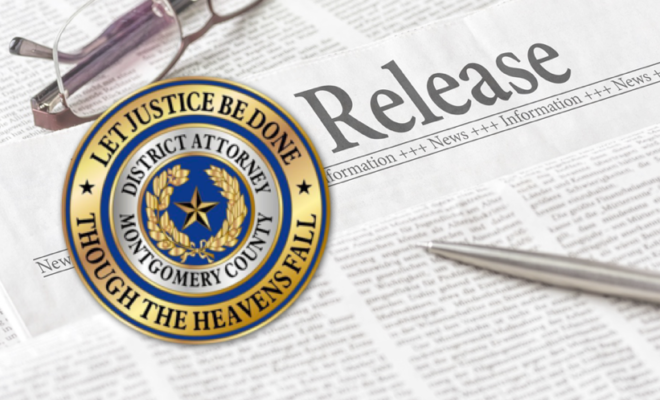 News
Intoxicated Wrong-Way Driver Sentenced to Fifteen Years
By |
On Thursday, June 23, 2022, in the 9th District Court, Judge Phil Grant presiding, Robert Earl Smith Jr., 32, pled guilty to Intoxication Manslaughter and Intoxication Assault and received fifteen years and ten years in prison, respectively. These sentences with be served concurrently. The range of punishment for Intoxication Manslaughter is two to twenty years, and the range for Intoxication Assault is two to ten years. In addition, Smith was probation eligible. Montgomery County District Attorney's Office Vehicular Crimes Section prosecutors Michael Ghutzman and Brittany Hansford prosecuted these cases. Smith will not be eligible for parole until 2030.
Shortly after midnight on December 27, 2020, multiple law enforcement agencies and emergency services personnel responded to a wrong-way driver crash on Interstate 45 near Woodlands Parkway. The Department of Public Safety investigated the two-vehicle crash and located Smith, who was traveling the wrong way on the highway, pinned behind the wheel of his red Ford Taurus passenger car after hitting another vehicle head-on. Troopers found Gabriel Lopez unresponsive in the driver's seat of his blue Chrysler Town and Country minivan. Lopez was later pronounced dead at Memorial Hermann Hospital – The Woodlands. Also located in the vehicle were Lopez's wife and his twelve-year-old daughter. Medical personnel flew Lopez's daughter via helicopter to Children's Memorial Hermann Hospital in Houston. She sustained severe injuries, including multiple brain bleeds, fractures, and a lacerated spleen. Lopez's wife sustained minor injuries. Lopez's son followed his dad in another vehicle and witnessed the crash.
Troopers noted that Smith smelled like alcohol and exhibited bloodshot eyes and slurred speech. Smith admitted to drinking beer before the crash but stated that he could not remember how many he consumed. Smith later told troopers that he had not been drinking and that he had not been involved in the crash. Troopers executed search warrants to obtain Smith's blood for forensic testing. Smith's blood, taken an hour after the crash, revealed an alcohol concentration of .116 and contained marijuana.
The Department of Public Safety, the Montgomery County Sheriff's Office, the Montgomery County Hospital District, and several civilians assisted in this investigation. Mr. Lopez is survived by his wife and children.
Prosecutor Michael Ghutzman shared, "Robert Smith's selfish actions ripped a father out of this world and away from his family forever. His decision to drink and drive left a young child fighting for her life that night. The inconvenience of prison time pales compared to the pain and grief he caused this family. I hope the Lopez family continues to heal as they continue with their lives in the wake of this tragic incident."
Vehicular Crimes Chief Brittany Hansford stated, "There is no amount of prison time that will ever fill the void of losing a husband and father, but we can at least offer some measure of accountability for the defendant's completely avoidable actions. Our hope is that the family will find a measure of comfort in this outcome."
Source: Michael R. Holley, First Assistant District Attorney, Montgomery County District Attorney's Office