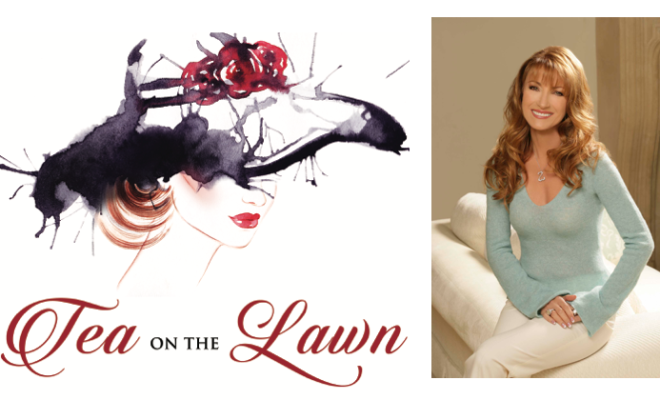 Calendar
Jane Seymour to speak at 9th Annual "Tea on the Lawn"
By |
Award-winning actress Jane Seymour will be the featured guest speaker at the 9th annual "Tea on the Lawn" set for April 28, 2017 to benefit New Danville.
"Tea on the Lawn" is an annual luncheon benefiting New Danville, a self-sustaining, master-planned integrated community serving adults with intellectual and developmental disabilities, such as the Autism Spectrum,  brain injuries, and many of the over 100 disabilities.
Jane Seymour has showcased her talents on the Broadway stage, in motion pictures, and on television, blazing the trail for family-friendly programming with her Golden Globe-winning role as "Dr. Michaela Quinn" on Dr. Quinn, Medicine Woman. Seymour's film credits include the iconic James Bond film Live and Let Die and the cult classic Somewhere in Time. She co-starred in hit comedy film Wedding Crashers alongside Owen Wilson and Vince Vaughn as well as in the comedic feature Blind Dating with Chris Pine and Eddie Kay Thomas and directed by her husband James Keach.
Seymour is also an established author, designer and humanitarian. In addition to her busy life of acting, writing, designing, painting, and mothering six children, Seymour is a dedicated activist for a number of charities for over 25 years.
"Tea on the Lawn" will be held from 10 a.m. until 2 p.m. at the Lone Star Convention Center at 9055 Airport Road in Conroe, Texas. The Marketplace opens at 10 a.m. and the tea luncheon begins as 12 p.m.
As tradition has it, guests will don their finest hats and lovely frocks. Prior to the sit-down luncheon at noon, genteel ladies will enjoy sipping light libations while browsing through the Marketplace of New Danville clients' unique hand-crafted products which include original works of art, luscious bath & body products, potted flowers, distinctive writing pens, stately birdhouses, whimsical wind chimes, inspirational mosaic crosses, and fine food products.
"We are thrilled to announce Jane Seymour as our guest speaker," said Kathy Sanders, president and founder of New Danville. "Each year we enjoy an ever elevated level of support and success. We encourage individuals, organizations and companies to act early to secure a sponsorship or underwriting opportunity as they always go quickly. This support helps us to enrich the lives of adults with disabilities. Proceeds raised by Tea On The Lawn help us to raise awareness about New Danville and as well as vital funds for its Life Enrichment and JOBS programs."
This year's event is expected to attract up to 700 guests. Richie's Specialty Pharmacy has generously returned as the Presenting Sponsor of "Tea on the Lawn" and radio celebrity Dana Tyson of Sunny 99.1 will serve again as Emcee. Sponsorships and underwriting opportunities are now available. Table underwriting levels range from $3,000 to $15,000. Sponsorships range from $750 to $50,000.
New Danville, located on 42 pastoral acres in Willis, Texas, at 10951 Shepard Hill Road, is the only community concept of its kind that offers an affordable, holistic approach to services by offering adult educational, skills training and vocational services, low-cost rental housing, and job opportunities. It is a special place where they can live, learn, work and grow emotionally, socially and spiritually in a safe, caring environment.
For more information about "Tea on the Lawn," visit the event web site at www.TeaOnTheLawn.org.
For more information about New Danville, visit www.NewDanville.org