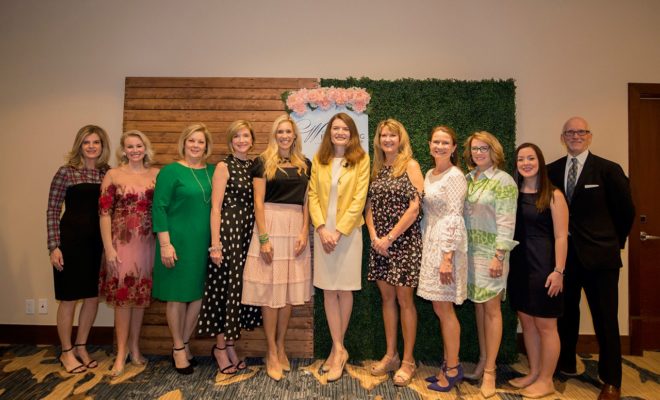 Food & Drink
Jeannett Walls inspires guests at Luncheon benefiting Interfaith Community Clinic
By |
THE WOODLANDS, TX – Jeannette Walls encouraged guests to have a positive attitude regardless of their situation, at the 5th annual Women Empowering Women luncheon recently held at The Woodlands Resort and Conference Center.  The event was presented by CHI St. Lukes Health and raised a record breaking $165,000 for Interfaith Community Clinic.
Since its inception in 2013, the Women Empowering Women Luncheon's goal has been to raise critical funding for Interfaith Community Clinic. The Clinic is the only charity clinic serving all of Montgomery County. Providing more than 9,000 medical, dental and mental health services in 2017, the clinic exists to be a medical home for the uninsured.
A highlight of the luncheon was a patient who shared her story of how the Clinic has transformed her life, helping her manage chronic conditions of high blood pressure and diabetes. She spoke on how Interfaith Community Clinic was able to give her and her son, who is disabled, a life again. "The Clinic has been a tremendous amount of help to me. I honestly don't know what would have happened to me if I hadn't found the Clinic when I did," she shared.
"The Clinic provides care to those who otherwise would not have access to healthcare options. Everybody deserves to have a medical home, and the Clinic meets that need," said Missy Herndon, President and CEO of Interfaith Community Clinic. "Meeting the community's healthcare needs requires funding, and we are grateful for the amazing community support of our very worthy mission!" Herndon added.
Doubling attendance this year and raising record breaking funds, nearly 450 guests gathered to hear guest speaker Jeannette Walls, New York Times best-selling author of The Glass Castle. Jeannette's nomadic, and at times homeless, upbringing inspired her to break free from the life her parents had created for her, and move to New York City to become a high-profile celebrity journalist. Ashamed of her past, she was afraid people would judge her because her father was an alcoholic and her parents were homeless living on the streets of New York City. When she was a child her parents moved the family around many times but her father always promised he would build them a "glass castle" when he struck gold. Her father never did build her that glass castle, but he left her with something more important, hope. Her tumultuous childhood taught her to be resilient and strong. She shared this message of hope and perseverance at the Women Empowering Women Luncheon and inspired guests to be true to who they are.
The luncheon committee put together a fantastic event which left guests feeling motivated and inspired. All proceeds from the Women Empowering Women luncheon benefitted Interfaith Community Clinic.
The Interfaith Community Clinic opened its doors in 1996 to meet the needs of the uninsured population of Montgomery County. Each week over 35 licensed medical and dental professionals and more than 70 volunteers provide over 50 hours to the medical clinic and over 30 hours to the dental clinic. A volunteer staff of over 75 licensed professionals and an additional 50 plus lay volunteers work in cooperation with the staff to facilitate the patient care needs to provide more than 9,000 patient services each year to the uninsured of Montgomery County.