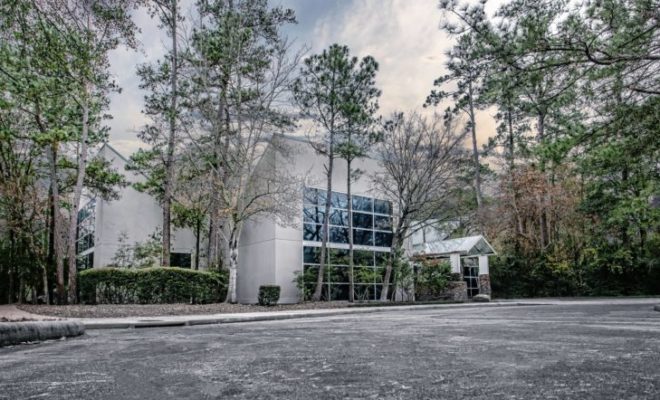 Art & Culture
Glade Arts Foundation to open April 20
By |
The Glade Arts Foundation, a 501(c)(3) nonprofit organization, has announced the grand opening of the first fine arts center in The Woodlands, Texas is scheduled for April 20, 2018.
Located at 2000 Woodlands Parkway, Glade Arts Foundation will unveil the museum exhibition spaces and educational and cultural community programs in the landmark building that housed the former Woodlands Information Center. The center's backyard park by the pond will serve as a platform for public art installations and various large-scale, site-specific commissions.
Go behind the scenes with Hello Woodlands on our tour of the new facility on February 13, 2018.

The museum space will host thematic exhibitions of established and emerging artists, including a permanent curated collection of world-renowned artist David Adickes. Exhibitions will include fine art paintings, sculpture, photography, installations, performance and multimedia, and a special section highlighting visionary design and fashion.
As part of its contribution to Montgomery County's cultural and historical legacy, Glade Arts Foundation will distinguish itself through educational programs for students of all ages and abilities, fine art scholarships and grants, dedicated exhibit halls for local and international artists, as well as through public engagement and support of art events and publications.
Classes are scheduled to begin on April 10 at the Glade Arts Foundation. From beginners to continuing education, students of all ages will be able to explore many facets of art education, such as composition and drawing, watercolor, clay modeling, collage and lecture series presented by experts in art history, conservation and preservation of artwork and many more. View the class schedule and register at gladeartsfoundation.org/education.
Glade Arts Foundation will serve as a collector of international art, cultural education and all-around innovation, continuing the rich activity of one of its most visible founders, gallerist and collector Dragos Tapu, who successfully established Glade Gallery, the first contemporary fine art gallery in The Woodlands in 2015.
Watch the interview with Dragos Tapu of Glade Arts Foundation and Glade Gallery.
Dragos Tapu and Andy Bauman presented an update on the Glade Arts Foundation during The Woodlands Township's Board of Directors meeting on February 22, 2018 which can be viewed here.
Prior to the grand opening, Glade Arts Foundation will open its doors and host their first event, Art N Fashion, with Designer Divas on Thursday, March 29, 2018. The event will include a New York themed fashion show, raffle, giveaways, and an afternoon with hors d'oeurves, martinis, and champagne. Art N Fashion will benefit five local charities in the community which includes Interfaith of The Woodlands, CASA, Montgomery County Women's Shelter, Canopy Cancer Survivorship Center, and the Glade Arts Foundation. Purchase tickets and learn more at https://gladeartsfoundation.org/glade-arts-foundation-art-n-fashion-event
The Grand Opening event for the Glade Arts Foundation is scheduled on April 20, 2018. The celebration and open house is open to the public and will continue throughout the weekend. Learn more about the Glade Arts Foundation and updates at GladeArtsFoundation.org.