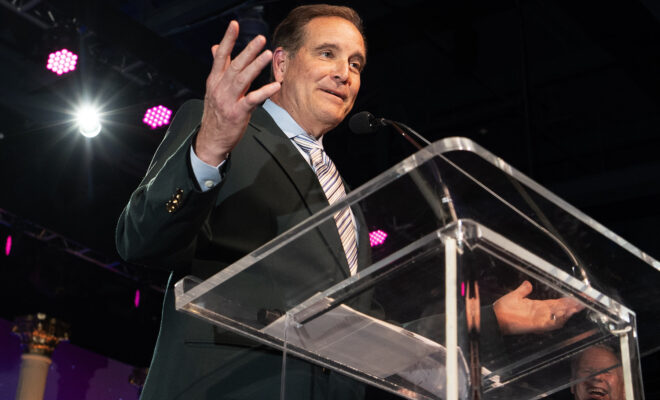 Photo Courtesy of Insperity Invitational
People
Jim Nantz receives 2023 Dave Marr Award at Insperity Invitational's Player's Dinner
By |
"Hello Friends." Jim Nantz's voice has been synonymous with The Masters and the game of golf. Each spring he welcomes us all to the unofficial kick off to golf season with this sweet rendition followed by the symphony of sounds at Augusta National.
Fittingly, the 2023 Dave Marr Award recipient was awarded Thursday evening to the legendary broadcaster whose soothing voice has also been family to the Insperity Invitational presented by UnitedHealthcare since 2010 when he was introduced as the newest member of Team Insperity.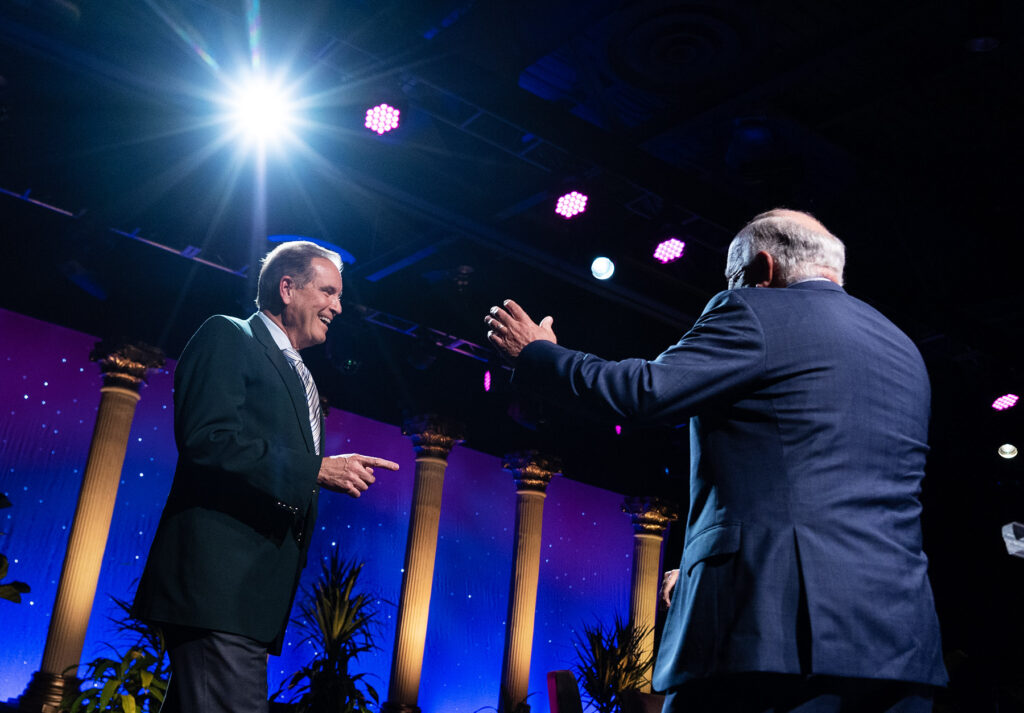 "Recognizing the incredible people and community leaders who make our game great in Dave Marr's honor is a highlight for me each year during tournament week," said Bryan Naugle, who was a Dave Marr Award recipient in 2013. "Jim Nantz is simply one of the game's greats whose name belongs on this impressive list. His voice has been welcomed into all of our homes while watching the game we love over the last four decades. It is a voice that is synonymous with the game of golf."
After graduating from the University of Houston and serving brief stints at CBS affiliates in San Antonio and Salt Lake City, Jim Nantz got his big break with CBC Sports. It is a rare and special feat to remain with one network this entire career, but that is what Jim Nantz has done.
His class and style are forever engrained in the minds of fans of the Masters, the NCAA Final Four and Houston area sports. It was fellow Sports Broadcasting Hall of Fame inductee Neal Pilson, then president of CBS Sports, who gave Nantz his shot at the tournament he loved, putting him up in the 16th Tower in Augusta to call the action in 1985. He has been an integral part of the iconic event's coverage ever since.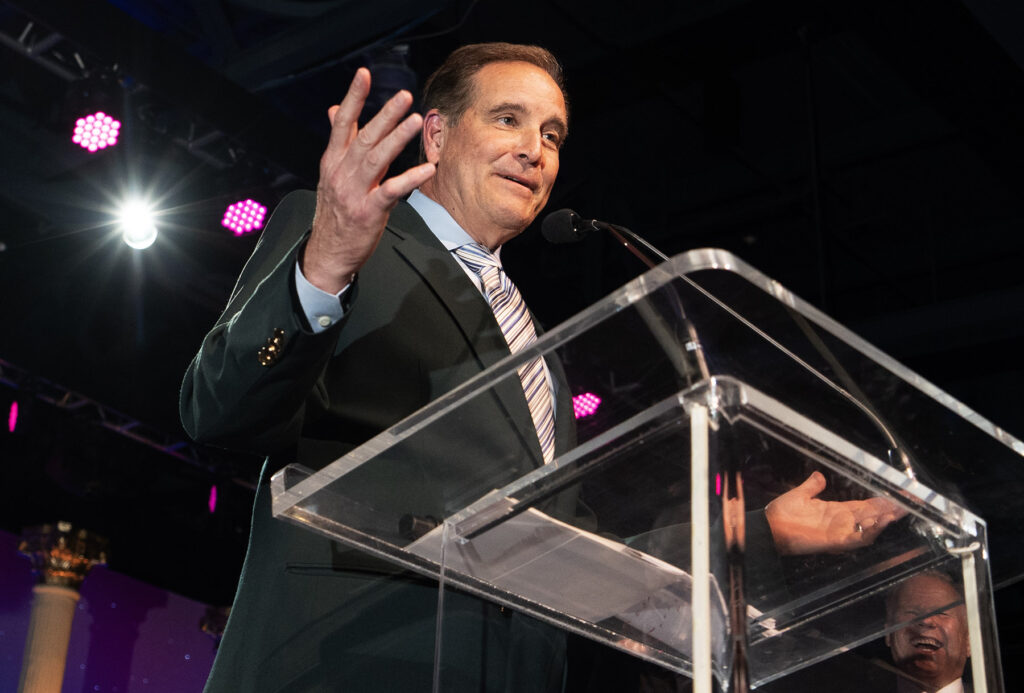 Each of the last 13 years, he has also lent his voice to the Insperity Invitational's Player's Dinner – an annual tradition that began in 2005 to celebrate the legends of the game of golf on the PGA TOUR Champions.
On Thursday evening, tournament officials surprised Nantz with the prestigious award he has helped announce each year.
"I'm absolutely shocked. I had no idea and I am so honored," said Nantz, whose first appearance at The Masters was in 1986. "Dave Marr was my first ever guest on a local radio station here in Houston. Since that day, I have lived and died telling the stories of all these great golfers. I idolize all of them. I love this award and I love the Marr family."
All of Nantz's idols, including the Golden Bear played a hand in the surprise announcement. Jack Nicklaus, Gary Player and Lee Trevino all spoke to what Nantz has meant to the game of golf.
"I first met Jim in 1985 and then obviously at Augusta in 1986. Jim has been a friend for a long time. He has received may honors but it is long overdue for him to be honored here tonight and I know this is a special one for him," said Nicklaus.
In 2007, Nantz became the first broadcaster in history to complete what has been dubbed "The Triple": calling the Super Bowl, the NCAA Men's Basketball Championship, and the Masters before wrapping up two months of extraordinary coverage with a trip to The Woodlands to continue the Tradition of Excellence.
His career has also given him the chance to call the shots at the US Open Tennis Championships for nearly a decade, broadcast from the booth of two college-football national-championship games, and even host his network's coverage of the 1998 Winter Olympic Games in Nagano, Japan.
The Dave Marr award, created in 1999 to honor individuals who exemplify the traits Mr. Marr lived by – sportsmanship, honesty, integrity and a passion for the game of golf – Nantz joins a prestigious list of winners who have done remarkable things both on the golf course, and in their communities. The rich history of recipients of the Dave Marr Award includes Arnold Palmer, Miller Barber, Don January, Ben Crenshaw, Larry Nelson, Tom Watson, Fuzzy Zoeller, Lee Trevino, Curtis Strange, Barbara Nicklaus, Bernhard Langer, Tom Lehman and Johnny Miller.
"Many years ago, I had the honor and privilege to work for the great Dave Marr. He was truly an outstanding mentor and one of my dearest friends," added Bryan Naugle. "As we know, Dave was an outstanding player on the PGA TOUR, highlighted by winning the PGA Championship in 1965 at Laurel Valley. At the end of his playing career, he became a golf analyst on television and, in my opinion, the premier voice of golf for many years."
The Insperity Invitational presented by UnitedHealthcare offers free grounds only admission tickets courtesy of Insperity, Woodforest National Bank, and Hewlett Packard Enterprise.
The grounds ticket also includes free parking and shuttle service. General public parking will be as follows:  WEDNESDAY – FRIDAY – The Church Project 602 Pruitt Road in The Woodlands, and SATURDAY & SUNDAY – the Green, Yellow and Orange lots on Timberloch between Six Pines Drive and Grogan's Mill in The Woodlands.  For updated information on all aspects of the Insperity Invitational, fans are encouraged to visit www.insperityinvitational.com.