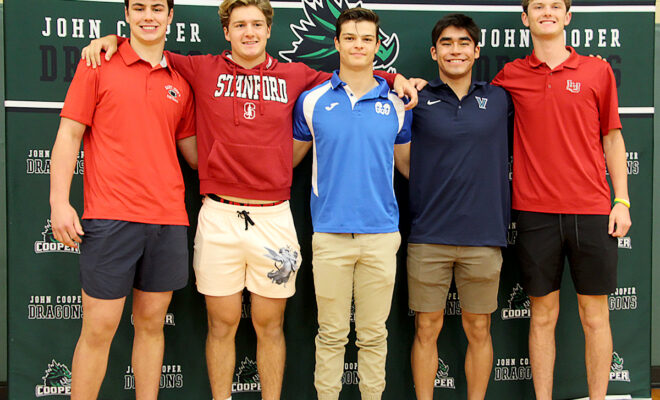 Fitness & Sports
Five Cooper Athletes Commit to Compete at College Level at College Commitment Ceremony
By |
THE WOODLANDS, TX – The John Cooper School Athletic Department held a signing ceremony on Wednesday, April 26 in the Dunlap Gymnasium to recognize five senior athletes who will be competing at the college level in the fall of 2023. Parents, faculty, coaches and teammates joined Athletic Director John Hoye to honor the student athletes who will be competing in football, swimming, and baseball.
"Congratulations to these athletes who have all worked hard while at Cooper. We join them in celebrating their successes," Hoye said. "We wish them all the very best and look forward to following their college athletic careers."
Dragons playing football at the college level are Carson Berger, Joe Bisso and Alonso Barrenechea. Berger will play football for Stanford University, Palo Alto, Calif.; Bisso will play at St. John's University in Collegeville, Minn.; and Barrenechea will represent Instituto Tecnologico y de Estudios Superiores de Monterrey (ITESM) in Puebla, México on the football field. Victor Guerrero Hernandez will swim for Villanova University, Villanova, Pa., and Vaughn McKeever will play baseball at Lamar University, Beaumont, Texas.
These five student athletes join two Dragons from the Class of 2023, who participated in signing ceremonies earlier in the school year. They are Grace Minarovic, who will play softball for  Northwestern University, Evanston, Ill. and Kade Meyer, who will play baseball for Rhodes College, Memphis, Tenn.
The John Cooper School is a PK-12 independent, college preparatory day school that has been serving The Woodlands and greater Houston area since 1988.
For more information, visit www.johncooper.org.