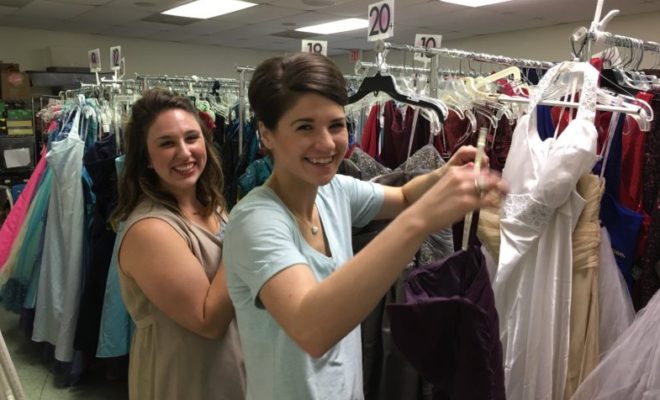 Calendar
Local High School Girls To Receive Cinderella Experience at Boutique Day
By |
Junior League of The Woodlands (JLTW) is partnering with The Giving Gown Foundation to host a Boutique Day for high school girls in Harris and Montgomery Counties. Boutique Day is an opportunity for girls to come shop at an amazing pop-up boutique filled with thousands of dresses, shoes, and accessories that they can take home and wear to prom. The Giving Gown Foundation is a non-profit organization that provides girls with formal dresses who might not otherwise attend their formal events. Donations of new and like-new formal gowns and accessories are collected and provided, free of charge, to local high school girls. All high school girls are welcome to attend and shop for the dress of their dreams. Each girl will be paired with a "Fairy Godmother" who will help her select and try on dresses, shoes, and jewelry. A self-esteem workshop is offered to girls throughout the event. Girls will receive a swag bag as they exit the boutique, (courtesy of JLTW) filled with personal hygiene and beauty products. The girls will also receive lunch, which was graciously donated by Strike Energy.
"The Junior League is about a simple, but powerful idea that women with energy and passion can lead their communities in change. Our partnership with The Giving Gown Foundation is a perfect example of this philosophy in action! Together we are changing the lives of thousands of high school girls each year. Boutique Day is about so much more than just shopping for a prom dress," said Bobbi Jo Miller, President of Junior League of The Woodlands. "Our goal is to make each young lady feel like a princess, and to empower her with self-esteem and confidence to go out into the world and feel beautiful every day, not just on prom day. We are honored to partner with The Giving Gown Foundation for the fourth consecutive year and look forward to making this year's Boutique Day the most successful yet!"
Boutique Day will take place from April 5th – 8th at Bammel Church of Christ Teen Center located at 2700 Cypress Creek Parkway, Houston, TX 77068. To become a volunteer visit https://www.givinggown.org and to make a donation contact email givinggown@jltw.org. For more information about JLTW, visit www.jltw.org or call 281-376-5754.