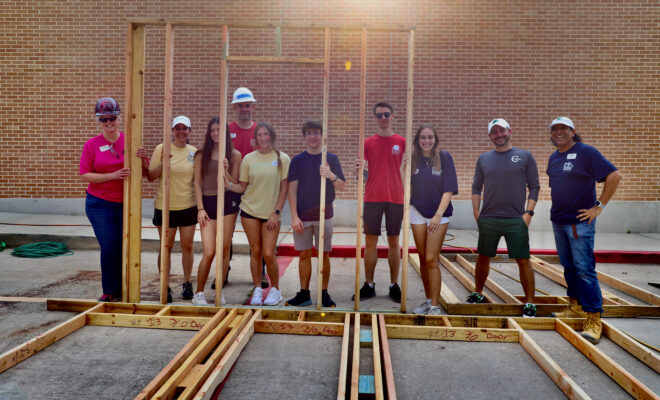 Photo Credit: Rod Prado, Hello Woodlands
News
John Cooper students participate in Habitat for Humanity Construction Day
By |
On the morning of Saturday, September 10, 2022, The John Cooper School students, faculty, and volunteers participated in the Habitat for Humanity Construction Day on campus.
With assistance and guidance from local non-profit Habitat for Humanity of Montgomery County and professional contractors, students constructed seventeen walls of house – including interior walls – for a Montgomery County family in need. Volunteers worked to frame the exterior and interior wall during the "hammer-build," using no power tools.
View photos from the event on the Hello Woodlands Facebook page and on Instagram:
Samir Muhith, The John Cooper School 5th Grade Teacher and Faculty Sponsor of the Habitat Project, shared that the school has had a long and successful partnership with Habitat for Humanity and students age 14 and older, parents, Faculty Sponsors, and volunteers had the opportunity to work on this particular house project on campus in the Lower School Staff Parking Lot.
The John Cooper School's Habitat Project is led by a steering committee of Upper School students – 15 juniors and seniors – who along with additional student volunteers raise a portion of the necessary funding and construct a new home annually in partnership with the Habitat for Humanity of Montgomery County. Upper School student volunteers are responsible for the majority of the home's construction, Middle School student volunteers participate in the painting of the home, and Lower School student volunteers plant flowers and provide landscaping. Cooper has partnered with Habitat for Humanity to fund and build a family home each year since 1999. Learn more about The John Cooper Habitat Project and make a donation at https://www.johncooper.org/habitatgivingpage.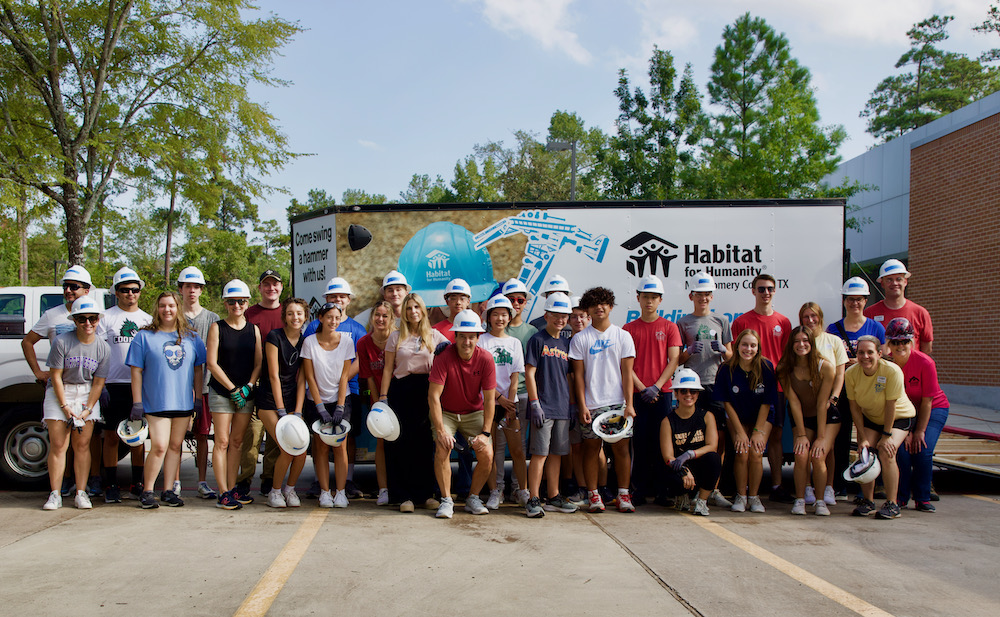 The wall built on the Construction Day will be moved to Habitat Montgomery County's Cedar Creek subdivision in Conroe where the wall will become part of the frame for a new home for a qualified family.
Habitat for Humanity of Montgomery County has a mission to build safe, decent, affordable homes for families in our community. Since 1989, Habitat for Humanity of Montgomery County has worked with the loving hands of volunteers and donors to improve the lives of families and individuals through affordable homeownership. Habitat MCTX volunteers build strength, stability, and self-reliance through shelter. Volunteers and donors build the hope. Learn more about Habitat for Humanity and how to get involved at www.habitatmctx.org.
UPDATE on 9/27/22: Edited to "seventeen walls of house – including interior walls"
Advertisement