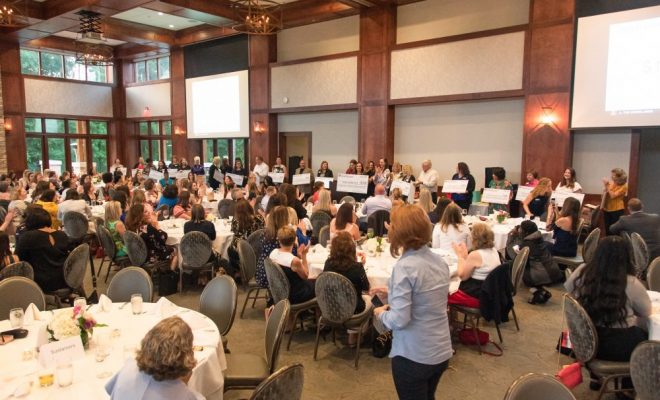 Lifestyle
Junior League Donates Over $131,000 to Community
By |
THE WOODLANDS, TX – On May 21, 2019, Junior League of The Woodlands, Inc., (JLTW) hosted its May Annual Dinner to recap the 2018-2019 League year, recognize JLTW members for their contributions, and present selected community partners with funding grants.
The following organizations received 2019 funding: Angel Reach, Arrow/Freedom Place, Assistance League of Montgomery County, Buckner Children and Family Services, CASA, Community Assistance Center, Community Partners of Montgomery County, Cy-hope, Family Promise of Montgomery County, God's Garage, Grace Manor, Home Place of Texas, Humble Area Assistance Ministries, Inspiration Ranch, Interfaith Community Clinic, Interfaith of The Woodlands, JoyRide, Love Fosters Hope, Montgomery County Food Bank, Pearl Fincher Museum of Fine Arts, Tamina Community Center, Texas Children's Hospital, The Periwinkle Foundation, and Yes To Youth.
In addition to monetary donations, each year JLTW supports the local community with over 40,000 volunteer hours valued at over $1 million dollars. Volunteer project highlights for the year include:
IMPACT hosted over 1,200 individuals to see Dr. Rigsby's inspirational and IMPACTFUL talk about lesson's learned from a third-grade dropout and donated $6,500 to 13 attending schools through JLTW's Dollars for Districts program
Healing Hearts brought happiness to over 8,500 children and prepared over 500 Christmas stockings
H.A.P.P.Y packed and delivered nearly 5,000 backpacks of food and approximately 14,000 snacks for food insecure children at 12 different schools
Literacy Carnival gave away over 500 books at its annual event in the Aldine area and successfully coordinated a little free library in The Woodlands, Creekside Park
Done in a Day provided volunteers to nearly 30 local organizations with over 16 NEW community events and nearly 1000 community shifts for League members
New Beginnings provided multiple trainings to League members on Prevention and Education of trafficking matters
KITK hosted numerous educational events for children in our community
REACH served over 1,300 children and recognized over 150 CPS caseworkers
The total award amount includes funds from Community Assistance Fund (CAF), Community Committees, and proceeds from the following JLTW fundraisers: Holiday Market Funds, Little Black Dress Initiative, Giving Goes Glam.
To celebrate its 30th Anniversary, JLTW will be awarding a singular large gift to the community.
Previous gifts include:
1996-1997-JLTW built a Habitat for Humanity Home
2001-2002- "Baby Think It Over" program to area high schools
2005-2006- Established the JL Endowment fund with the Lone Star College System
2009-2010-Read-A-Lot Kingdom Exhibit and Reading Tree at The Woodlands Children Museum
2013-2014- Inspiration Ranch's purchase of horse trailers
The League also welcomed 62 Provisionals as new Active members after completing their first year. The Provisional Class partnered with The Giving Gown Foundation for their Provisional Project. They were able to collect 2,180 gowns, 2,310 accessories, 456 pairs of shoes, 55,606 swag bag items; they also worked a total of 555 Boutique hours and served as Fairy Godmothers to 1,250 teenage girls from 28 schools.
The League also welcomed 31 Transfer members who spent the year getting to know the community and the League.
Three deserving League members were recognized as Volunteer of the Year for their individual hard work they have put into the League this year. Congratulations to Kathryne Pruitt (Active of the Year), Alison Judge (Sustainer of the Year), and Kara Hall (Provisional of the Year).
Junior League of The Woodlands, Inc., is a nonprofit organization of women committed to promoting voluntarism, developing the potential of women and improving the community through the effective action and leadership of trained volunteers. Its purpose is exclusively educational and charitable. For more information about JLTW, please visit www.jlthewoodlands.org or call 281-376-5754.