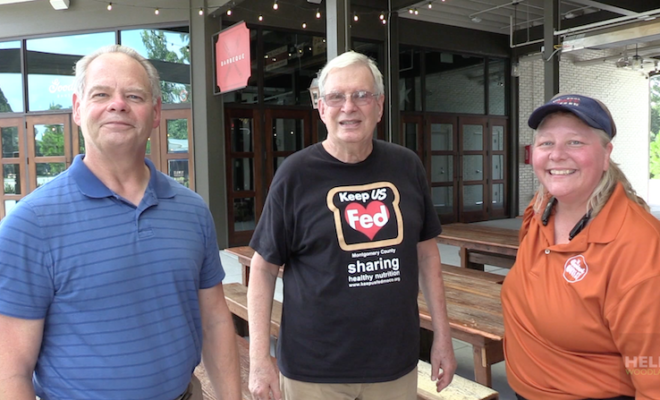 News
Keep Us Fed Montgomery County benefits from Referral from a Cause Program
By |
Through his "Referral for a Cause" program, Randy Lovelace of Paragon Independent Insurance Agencies gives back to a local non-profit in Montgomery County by donating $15 to the designated organization of the quarter for every insurance quote that references the campaign. This quarter – from July to September 2018 – Keep Us Fed Montgomery County will be the beneficiary of the program.
Watch the Hello Woodlands interview below with Randy Lovelace, Larry Blocker of Keep Us Fed Montgomery Montgomery and Mary Carr of The Abundant Harvest Truck.
A special thank you to Goode Company BBQ for allowing Hello Woodlands to film at the restaurant in The Woodlands.
Located in Montgomery County, Keep US Fed Montgomery County (KUSF) is a 100% volunteer based organization that partners with donor organizations, such as local restaurants, catering companies and event planners – just like Goode Company in The Woodlands. When they have extra food that may otherwise go into the trash, they contact KUSF to schedule a pick up. KUSF's Certified Food Handlers volunteers pick up the food, weigh and sort the food, and then pack it for safe delivery to their partner recipients, such as shelters, group homes, food pantries, and The Abundant Harvest Truck.
KUSF was developed out of the project of Leadership Montgomery County Class of 2015, with the guidance of the Montgomery County Homeless Coalition and Keep Austin Fed. The vision is that KUSF will help solve hunger in our county using perfectly good food that otherwise would have become part of the waste stream.
Four major ways that you can help are to contribute, donate food, volunteer, and/or be a recipient. Learn more by visiting keepusfedmoco.org.
The Abundant Harvest is one of KUSF's partner recipients that supports and creates experiences around the table that feed the body, nourishes the soul, and transforms our community. In our community, the Abundant Harvest:
Gathers people around the table, feeding the spirit through belonging and understanding.
Feeding the body with tasty food, prepared by a trained chef, and a team of volunteers.
Providing fresh fruits, vegetables and other perishables in a mobile food pantry.
Able to deploy in the event of disaster to serve food to the affected community.
The Abundant Harvest also supports and sponsors 26 monthly food pantries, serve 3 monthly community meals, in which they share over 450 meals, and caters events. Donations cover the meal served, and a meal they serve in our community dinners.
Learn more about the Abundant Harvest and how to get involved at www.harvesttruck.org.
To learn more about the "Referral for a Cause" program and Paragon Independent Insurance Agencies, contact Randy Lovelace by calling (281) 298-0440, email rlovelace@paragoninsagencies or visit www.paragoninsagencies.com/woodlands.