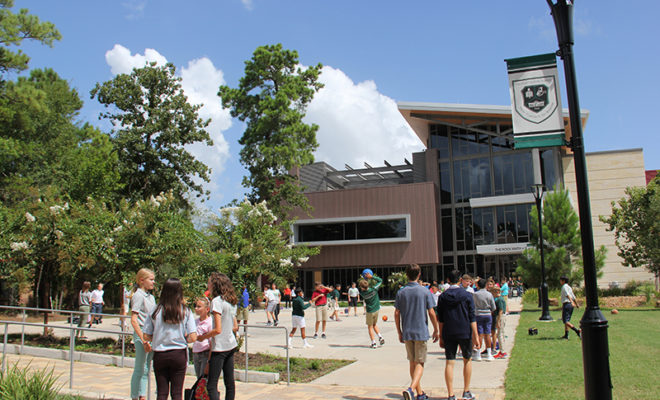 News
Cooper Begins School Year with Record Enrollment
By |
THE WOODLANDS, TX – The John Cooper School enrolls students in Pre-kindergarten through Grade 12 and began the 2018-19 school year on August 16 with a record enrollment of 1,242 students. The Class of 2019 is the largest to date, consisting of 112 seniors, and the high school began the year with the largest enrollment in the history of the school at a total of 448 students.
Teresa Robson, Head of Lower School for The John Cooper School, said her school year began on the best note possible, thanks to a returning third grade student. "This student walked in the door and pronounced, 'It's so good to be home!'" Robson said that sense of community is a hallmark of the college preparatory, independent school that is embarking on its 30th year.
"For me, the opening of this year is highlighted by the fact that there is no construction equipment on campus," said Michael F. Maher, who is beginning his 19th year as Head of School. "It's the first time in 10 years that we haven't had a construction project being completed." With the recent completion of a new Lower School library, the number of educational facilities on campus now totals 13. Additionally, instructional and administrative space was upgraded or constructed so that educational and athletic facilities have now caught up to facilitate the school's consistent growth over the last decade.
Cooper opened for its first school year on September 6, 1988, on a 43-acre campus designated for this purpose by founder George Mitchell as part of his vision for The Woodlands. The school has grown in both size and distinction to become one of the premier independent schools in the Houston area.
Advertisement
"We are proud of our steady growth since our first opening day and we look forward to celebrating our successes during our anniversary year," Maher said. "We opened in 1988 with 175 students in Pre-k through Grade 7 and have grown steadily since then," Maher said. "We are excited to begin this 30th year with 824 families that represent a broad spectrum of diversity and international cultures, plus dedicated faculty and administrative staff members who enable students to become critical and creative thinkers, effective communicators, responsible citizens and leaders, and lifetime learners."
Established in 1988, The John Cooper School is an independent, college preparatory school for students in Pre-K through Grade 12. www.johncooper.org