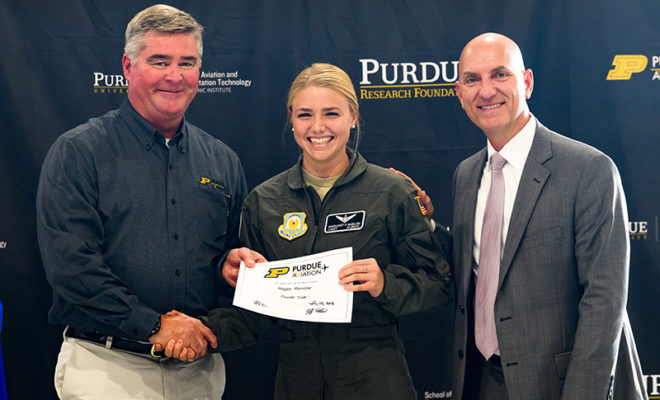 News
The Woodlands High School student completes new AFJROTC Flight Academy Program
By |
THE WOODLANDS, TX – Maggie Marlow, a senior student and Air Force Junior ROTC cadet at The Woodlands High School, has completed the private pilot license training course at Purdue University, earning her private pilot license.
Marlow is one of 120 AFJROTC cadets around the world to receive the Chief of Staff of the Air Force scholarship from Headquarters AFJROTC, Air University, Maxwell Air Force Base in Montgomery, Alabama. More than 750 cadets applied for one of the 120 scholarships, valued at approximately $20,000.
The Flight Academy Scholarship Program is a new Air Force-level initiative. In collaboration with the commercial aviation industry to address the national civilian and military pilot shortage, AFJROTC has been charged by the Air Force Aircrew Crisis Task Force to bring back the "luster of aviation" to high school students and to increase diversity in aviation fields.
During Marlow's time in the program, cadets faced many challenges, but completing the program is something she says she will always remember. "It has always been my dream to be a pilot, and I am very thankful for the opportunity the Air Force gave me. It was a very rigorous program, but in the end I earned my private pilot license and made lifelong friends!" said Marlow.
Contingent on funding, this program will grow exponentially in the coming years. This year, the Air Force awarded 120 scholarships, and if financing continues, will grow to 250 summer 2019, and 500 summer 2020. There are also plans to open the program to Army, Navy, and Marine Junior ROTC programs as well as Civil Air Patrol cadets by 2020.
The application process for the summer 2019 program will begin in late September or early October.
The mission of AFJROTC is to develop citizens of character dedicated to serving their nation and community, while instilling values of citizenship, service to the United States, personal responsibility and a sense of accomplishment. There are more than 120,000 high school students enrolled in AFJROTC at over 880 high schools in the U.S and overseas.
For more information on the JROTC program, visit www.woodlandsjrotc.org.