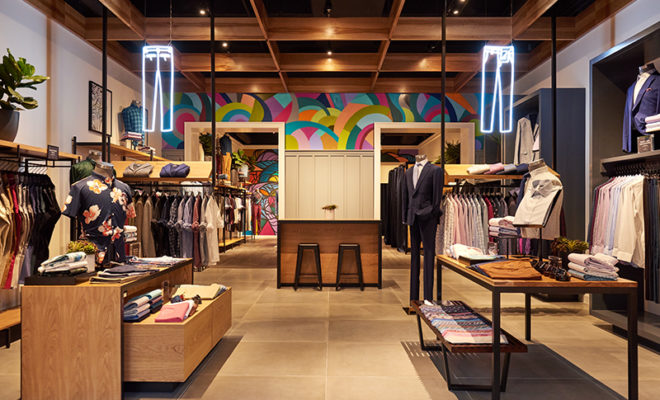 Lifestyle
Bonobos opens first guideshop location in The Woodlands
By |
THE WOODLANDS, TX – On August 16, 2018, Bonobos, the e-commerce menswear brand known for better-fitting clothes, opened its first Guideshop location in The Woodlands. The new 1,500 square-foot location at Market Street will enable customers to experience Bonobos' unique approach to shopping for menswear. Customers can come and get expert advice on the best fit for them and receive great style advice, prior to making a purchase in store or online.
"Opening our first Bonobos Guideshop in The Woodlands is a huge win for our brand, so when the opportunity to open in Market Street presented itself, we jumped at the opportunity," said Micky Onvural, Co-President at Bonobos. Market Street is a lively shopping center full of restaurants and clothing retailers and we feel that the Bonobos Guideshop will fit right in."
Pioneered by Bonobos in 2011, the innovative Guideshop retail model evolves the in-store shopping experience by providing one-on-one customer service and eliminating hassles associated with a traditional retail store. Rather than searching for assistance, customers are assigned a Guide upon arrival. Bonobos Guides, similar to personal shoppers, are experts trained in fit and style who guide customers through the wide range of Bonobos merchandise such as suits, pants, shirts, jeans, swim, underwear, outerwear and more.
This Guideshop location showcases the expansive website offering a range of fits and sizes to try on with Bonobos.com serving as a virtual stockroom. Size and style preferences are more likely to be available as inventory is housed in a single location instead of spread across multiple stores. Finally, purchases are shipped free-of-charge directly to the customer eliminating the load of carrying around cumbersome bags.
With fit and styling as the focus, the Guideshop location is designed around the fitting room experience complete with a lounge space for friends and family. The Bonobos Guideshop in Market Street is designed with colorful custom murals for the walls curated by local Houston Street artist Daniel Anguilu.
The Bonobos Guideshop's Market Street location is the brand's fifty-fifth store nationwide. The Guideshop location is at 9595 Six Pines Drive, Suite 875. Hours of operation are Monday – Saturday from 10:00 a.m. to 8:00 p.m. and Sunday from 12:00 p.m. to 6:00 p.m. Guideshop appointments can be scheduled by visiting www.bonobos.com/guideshop. Walk-ins are welcome and appointments are always complimentary.