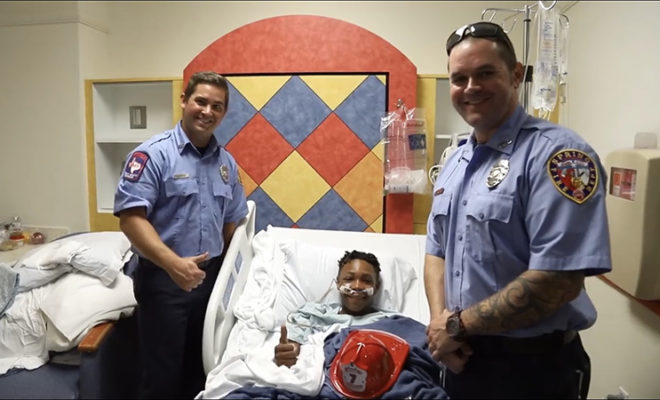 News
Spring Fire Dept. Raises $2K from Lip Sync Challenge for Hospitalized Kids
By |
THE WOODLANDS, TX – Spring Fire Department raised over $2,000 from their recent Lip Sync Challenge video to buy toys for hospitalized kids at Children's Memorial Hermann in The Woodlands. On August 20, 2018, officers delivered the toys in a fire truck to bring joy to kids spending the first day of school in the hospital.
This summer, police and fire departments from around the country have been challenging one another to lip sync battles. Videos typically use the hashtag #lipsyncchallenge or a similar derivation, and invite other departments to accept the challenge. Spring Fire Department decided to make their lip sync challenge video create good through a charitable effort.
On Spring Fire Department's Facebook page with their lip sync video, viewers were asked to make a donation to buy toys for kids in the hospital who suffered burns and other trauma. The fire department was able to achieve its goal of $2,000 in time to deliver the toys by the first day of school. Children's Memorial Hermann graciously allowed Spring Fire Department to videotape parts of the toy delivery and HEB allowed Spring firefighters full run of the toy aisle.
"The firefighters decided to give back to the kids at Children's Memorial Hermann Hospital," said Spring Fire Deputy Chief Scott Schoonover. "We filled up a bunch of carts and went room to room at the hospital letting the kids pick out toys, providing fire helmets and having a lot of good interaction."
Watch the lip sync video that raised the $2,000 for hospitalized children below or on the Spring Fire Department's Facebook page here. 
The video of the officers toy shopping at HEB and delivering the toys to brighten the spirits of children at the hospital can be viewed below or here.
Spring Fire Department is located in Spring, Texas, approximately 25 miles north of downtown Houston. Founded in 1953, Spring FD is one of the largest combination fire departments in the state of Texas serving 62 square miles of unincorporated Harris County. Spring Fire Department provides fire suppression and certain rescue services to a population of 152,000 residents. Operating out of nine stations, with a fleet of 40 apparatus, Spring Fire Department is under the leadership of Fire Chief Scott Seifert. For more information about the department, visit www.springfd.org.