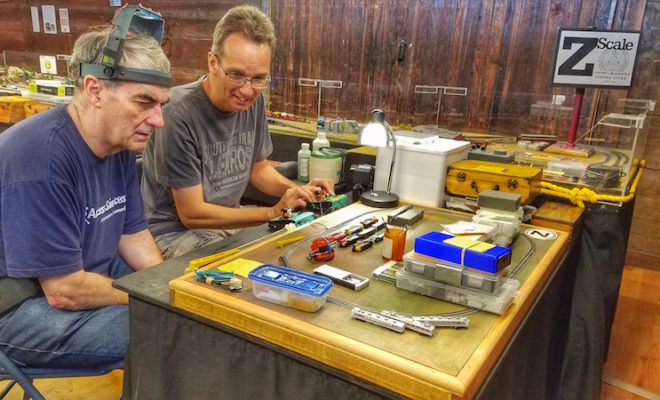 News
Tomball's Depot Museum draws International Model Railroad Pros
By |
"The Depot" recently welcomed two of the world's most well-known model railroad personalities to Tomball for a look at the City's refurbished 1907 railroad depot museum and its new model railway layouts.
Japanese toy train manufacturer Tony Ichikawa, Managing Director of Rokuhan Co. LTD, and Z scale railway master modeler Joerg Hausmann from Bielefeld, Germany stopped by The Depot while in the United States attending the National Model Railroad Show in Kansas City.
While inside the Depot both model railroaders took the controls of "Mister Dave's Golden~Blackhawk & Central City Model Railroad", an award winning Z scale layout depicting a rail ride from the mountains of Colorado to the shores of New England on multiple tracks.  They then drove the O scale "T&W Model Railway" around the more than 150 square foot Lionel model train display inside a nearby 50-year-old caboose.  The T&W features elements representing Tomball's past including iconic buildings along Main Street and throughout the countryside, and more.
Both Ichikawa and Bielefeld agreed that Tomball's new model railway displays were a creative addition to the Depot's list of railroad exhibits, and among the most innovative layouts they've seen.
The Depot – A Railroad Museum at Tomball is at 201 South Elm Street in downtown Tomball.  The museum is open weekends from noon to 5 p.m. and on weekdays for groups by appointment.  Admission and parking are free. Call 281-351-5484 or visit "Tomball Texan for Fun" on Facebook for details.