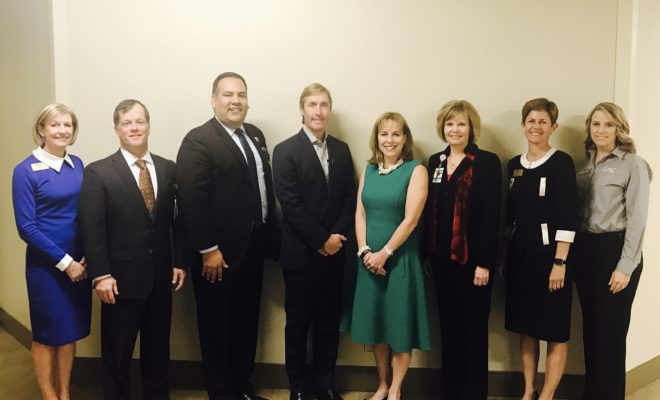 Health
Leadership Montgomery County gains insight into Local Healthcare
By |
The Leadership Montgomery County (LMC) Class of 2017 recently gained insight into the realm of healthcare in Montgomery County during their Healthcare session, sponsored and hosted by Conroe Regional Medical Center.
Session Director Linda Nelson welcomed the class to the session and gave an overview of the day's events before Walter Wilkerson, Jr., M.D. presented the history of healthcare in Montgomery County.
Freddy Warner with Memorial Hermann Health System presented the class with legislative healthcare updates. The class then heard about the issues facing hospital leaders in Montgomery County with the CEO panel, consisting of David Argueta of CHI St. Luke's Health – The Woodlands & Lakeside Hospitals, Matt Davis of Conroe Regional Medical Center, Melinda Stephenson of Kingwood Medical Center, Dr. Debra Sukin of Houston Methodist The Woodlands Hospital, and Josh Urban of Memorial Hermann The Woodlands Hospital. Each CEO spoke on a different topic, giving insight to real concerns and issues they face.
"I am honored to participate in the healthcare session each year with the other hospital CEOs representing Montgomery County," said Debbie Sukin, PhD, Houston Methodist regional senior vice president and CEO of Houston Methodist The Woodlands Hospital. "Each year, the LMC class has an opportunity to hear what keeps us up at night as well as learn about the great medical care available in our community.  LMC class members ask great questions and are often surprised to hear our similarities and perspective on a range of health care issues."
After learning about the role healthcare centers play in the community from Missy Herndon of Interfaith Community Clinic, Bonnie Thompson of Pregnancy Assistance Center North, Karen Harwell of Lone Star Family Health Center, and Evan Roberson of Tri-County Services, the class enjoyed an informative tour of Conroe Regional Medical Center, which is now a Level II Trauma hospital – the first in North Montgomery County. The day ended with the Leadership Series facilitated by LMC alumni.
LMC Class of 2017 member Ashley J. Harrison-Peña, Assistant Vice President, Healthcare Commercial Banking, Relationship Manager for Woodforest National Bank, added, "The healthcare day was very enlightening. We began with a look back at the healthcare history in our county and then had the opportunity to have a legislative overview of  healthcare on County, State, and National level.  It was a real honor for our class to have the five CEO's from the five major hospitals in our county speak to us about how they all work together to give our community quality healthcare. I'm so proud that I live in Montgomery County and that we have such a talented group of individuals dedicated to making sure we have the medical infrastructures and care for our families.  I'm also grateful to be a part of the LMC Class of 2017 and have the opportunity to share this learning experience with such a great group of people."
Leadership Montgomery County (LMC) is a 501(c)(3) nonprofit organization, dedicated cultivating the future leaders of Montgomery County. The mission of LMC is to prepare emerging and existing leaders to understand local issues, grow their leadership skills and connect with others to better serve Montgomery County.
The Conroe/Lake Conroe Chamber of Commerce, The Woodlands Area Chamber of Commerce, the Greater Magnolia Parkway Chamber of Commerce, the Greater East Montgomery County Chamber, and the Montgomery County Hispanic Chamber are all partner Chambers in the LMC program. Participants are chosen by application process in June of each year.
For more information about Leadership Montgomery County, please visit LMCTX.org.